Magic of our voice(s)
On April 7, 2021 Voice turned five. On the same day in 2016, the contract was signed and Voice came to life beyond words on paper. Five years and 400 Voice grants later, Voice has become #prouderandlouder. If you like to see evidence of how we celebrated go visit this page.
Our Voice(s) are loud. Proud. Our Voice(s) carry magic.
On this page we share the Magic of our Voice(s) as told by you and us. A Voice moment that touched you, whether in your project or a Linking and Learning event organised by Voice. A moment that will remain with you forever. The picture is already testimony but the magic comes from your unique voice(s) explaining why it was so special.
Join us by sharing your magic! Please E-mail us a good quality photo (at least 1 MB, JPEG/PNG file) and an audio file (in mp3) at hello@voice.global The story can range from a one-liner to a short story with a maximum length of 2 minutes. You can submit in French, English or a local language. If the latter please share a short summary in French or English.
Please click on the photo to enlarge and read the story in writing. To listen to the voice please click audio.
Organisation
Advisory Board

X

Grantees

X

Linking and Learning

X

Rightsholders

X

Steering Committee

X

Voice Staff

X
Countries
Cambodia

X

Indonesia

X

Kenya

X

Mali

X

Multi-country

X

Netherlands

X

Niger

X

Nigeria

X

Philippines

X

Tanzania

X

Uganda

X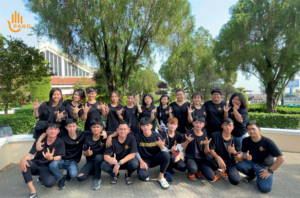 Tien's magic happened when she went back home after the NoW-Us! Awards and organised the Nothing about the Deaf without the Deaf in Vietnam