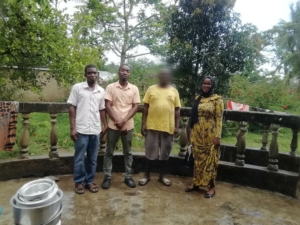 Empowering Stateless communities in Tanzania: Makonde Community in Zanzibar
In 2018, DIGNITY Kwanza in collaboration with the partners in Uganda and Kenya received a grant from Voice to empower stateless communities in East Africa (Kenya, Tanzania and Uganda).
Through this project we experienced different magic moments as it was one of a kind initiative in Tanzania since statelessness is an unpopular concept in the country. It was exciting to meet directly with some stateless and at- risk- of- becoming stateless communities in Tanzania which include Makonde, Kamba, Comorians and others during the profiling exercise. This exercise was done after several sensitisation workshops on statelessness and right to a nationality with representatives of these communities, government officials and members of CSOs.
The communities we met were unaware of their legal status and frustrated at the government authorities as to why they are not recognised as Tanzanians, in particular the Makonde community in Zanzibar. During the meeting with the Makonde community, one Mzee (elderly man) said that he participated in the revolutionary struggle in Zanzibar, only now to be told he is not Tanzanian. You could see/feel his frustrations. Youth were complaining as to why they couldn't be issued with a national ID. They insisted that most of them have never been in Mozambique.
The Makonde community in Zanzibar has origins in Mozambique, but migrated to Zanzibar in the early 1900s to work on clove plantations. They have been in Zanzibar for many years but most them are not recognised as citizens of Tanzania, although they were required to register as citizens post-independence and naturalisation fee reduction of 17% -18% in 2017, due to social and economic marginalisation, hence at risk of statelessness.
Currently this community has access to social services only by the government's generosity instead of law, but have no access to national IDs, they can't own a sim card for a mobile phone, since its registration requires a national ID, they cannot travel abroad as they have no passport. This status is also passed on to their children. However, the Makonde community had never raised these concerns with authorities unlike other stateless communities we met.
Through this project, we enabled Makonde to understand the legal implications of their status and the consequences of this status. We helped them to understand the need to advocate for their recognition as Tanzanians and we equipped them with the relevant advocacy skills. DIGNITY Kwanza was able to provide these communities and individuals with the platforms to share their experience and learn from other statelessness communities from Kenya and Uganda.
After the end of the project, it was exciting to see that the Makonde community in Zanzibar had become more organized. The Makonde were taking initiative and advocating to be granted citizenship with waiver to the naturalization application fee. They also met with their member of the House of Representative and District Commissioner. Makonde have requested for an appointment with the House of Representative to advocate for their legal inclusion and recognition as Tanzanians. They are registering themselves so they could know their number for advocacy purpose and more than 800 were registered by the end of 2020. Thanks to Voice for the support to experience this magic moment of positive transition of the Makonde becoming a courageous community which has the determination to find lasting solutions in their quest for citizenship.