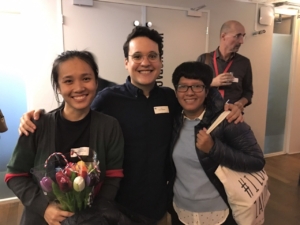 Tomas Chang' Pico, ex-Voice
I am super proud to say that working with Voice made me all-in-all a more compassionate human being and a better professional. As the Global Programme Officer between 2018 and 2020, I had the privilege to work with passionate colleagues, community leaders, activists, and organisations from all over the world. I was able to connect to the stories of so many people who refuse to be left behind, who want to take an active part in their societies and contribute to see them flourish. I got to learn about their struggles, their motivations, their dreams, and why their unique stories are so inspiring!
Really, I can spend weeks telling how much I have learned and grown. It is because of this experience that inclusion has now become so important in my life. From them, I have really learned how, despite all of our differences and diverse identities, from LGBT groups in Uganda to indigenous peoples in the Philippines…we all have much more in common than we think. So cliché, I know… But it is so easy to forget! In the words of Martin Luther King Jr:
"Injustice anywhere is a threat to justice everywhere. We are caught in an inescapable network of mutuality. Whatever affects one directly, affects all indirectly."
Personally, one lovely story that comes to my mind is how I met Tien and Anh, from a grassroots initiative called HandSpeak in Vietnam. They came to the Netherlands to participate in the first edition of the NOW-Us! Awards back in 2018. In that opportunity, I learned about their tireless work to enrich the local sign language with new words, and bring young deaf people together across the country as part of a big family. The jury was blown away by their passion, and because of that, they took home the big prize. It has been amazing to be part of their journey, and see all their projects blossom. And last year, in 2020, they proudly managed to establish the very first local NGO lead by deaf people for deaf people in their country. They taught me and many others the real meaning of the principle "Nothing About Us With Us".