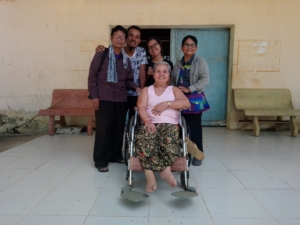 This is a proud couple I met during a village exhibition in Kompong Cham province. Sar Voeun; a lesbian and a tailor and Chhim Sok, who identifies as a transgender man and Voeun's husband. He plants water lily, wax gourd, African cabbage, rice paddy-herb, marigold, lemongrass, and he sells them at the Phaav market and nearby villages in Me Pring commune. They met before 1979, and they were separated during the Khmer Rouge regime and reunited after that.
They are homeless but the head monk of Me Pring Pagoda provided them with accommodation for almost 20 years. He said that even though they are lesbians, it is not contradictory to Buddhism, and it is not against the state's law, as the law does not forbid women from falling in love with each other. No one can force anyone.
They participated in our projects. They hosted a village exhibition in their space where they invited neighbours, the village chief, police, and monks to attend the exhibition. Both Sok and Voeun were surprised and excited because they never thought that any neighbors, police, village chief would come to participate in the exhibition. Voeun never expected that they supported them; she never talked to many people; she only talked to a few neighbors and relatives who came to visit her often.
They both become brave and opened up their life to the public and they asked us to support them in hosting two more village exhibitions in their community. This amazed me at that moment.