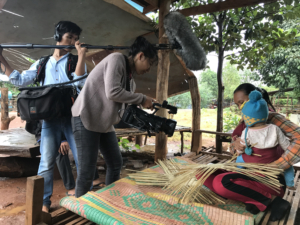 My name is Rany Phok and I was born and raised in Ratanakkiri province of Cambodia, where many indigenous people live. Growing up I saw the many problems that Indigenous women and children faced, including gender-based violence, early marriage, and lack of access to social services such as public education and proper health care.
In 2019, I got an exciting opportunity to learn filmmaking under the project "Amplifying Voices of indigenous women and discriminated groups through innovative multimedia", supported by Voice and implemented by Bophana Center. I directed a film, "Don't Give Up" which featured the resilience of a Kreng teacher. She teaches children in her community in Kreng language – one of the indigenous languages in Ratanakiri Province, North-Eastern of Cambodia.
The film has been showing on various occasions, including a national and sub-national dialogue event and I believe it amplified the voices of indigenous women. The film has been used to raise public awareness and make the voices of the indigenous people louder. This has changed my life and that of my community.
#Nothing about us without us!