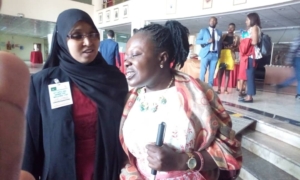 My Name is Kyerewa Asamoah Sekwe. I am the coordinator for the Leave No Woman Behind project in Ghana, Kenya, Mali in Africa and globally. I had the opportunity to travel and participate in meetings with rightsholders groups of women with disabilities and experienced some magic moments.
The first one was when I travelled with Madam Alice Appiah, a visually impaired teacher from Ghana for the Africa Forum in Addis Abeba, Ethiopia. I was amazed at how she was interacting and engaging with other speakers on policy issues affecting women with disabilities in Africa to ensure they are not left behind but their voices are heard at all levels. When I inquired about her passion for advocacy she indicated that, she cannot see but she can speak for her voice to be heard. Therefore, she will use her voice for the voiceless in society.
The second one was my visit to Mali, for a review meeting. In one of the communities visited, I saw women with disabilities in a meeting discussing issues affecting them in the community and how they can engage the local authorities to address them. I joined the meeting to listen and shared experiences with them. My interaction with all these women has changed my perception about women with disabilities on their resilience to break the societal school. They do make use of the opportunities given to them through this project to speak confidently in every meeting at all levels. This is indeed a life-changing experience.