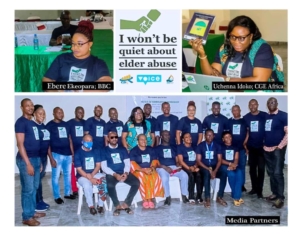 My name is Uchenna Idoko, the Executive Director of the Center for Gender Economics. The media plays a significant role in influencing public opinions and public policy formations on different themes. The funding support from Voice helped the Center for Gender Economics (CGE Africa) to empower media actors in Enugu State (Nigeria) on how to enhance elder abuse coverage. These journalists have now dedicated their work to educating citizens on the growing epidemic of elder abuse in the state. In the course of implementing the project we held three media events with our twenty-eight media partners in Enugu city.
During our media dissemination workshop in November 2020, my magic moment happened!
One of our media partners Ebere Ekeopara who reports for BBC Nigeria shared with us how being part of the project inspired her to start imagining a more humane state coordinated protection system for the elderly, keeping them safe and away from any form of abuse. She personally committed to mainstreaming her imaginations in her work. Most times when I close my eyes now I still have a glimpse of those visualisations that we shared at that magic moment in November 2020; that exercise still informs my work with the elderly to date. Our media partners have formed a loose coalition that directly gets involved in the coverage and media inquiries of elder abuse in Enugu state. For us, at the Center for Gender Economics, the gains from this project have been very rewarding!