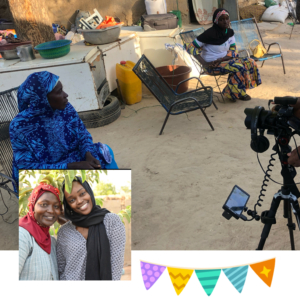 Sitan Coulibaly, Voice staff
My most magical moment with Voice happened just a few months ago. It was in November 2020 when I was taking stock of the results of Voice funded projects in Mali.
One day we went to a village in Ségou, the fourth region of Mali, to exchange with Kadia and her mother, rightsholders of the project entitled Inclusive Dialogue between young women and girls and their parents on subjects such as education, sexual and reproductive health, marriage, and so much more, carried out NGO Coeur Citoyen. When we arrived in the morning, we received a warm welcome. We started talking with the young girl Kadia, and at that moment I was looking at the mother who observed her daughter with great emotion. Afterwards we spoke with the mother and at the end of the interview, I asked her: "Are you proud of where your daughter has come today? I asked this question because her daughter had dropped out of school but thanks to her participation in the activities, she regained interest in her studies and had just graduated. And the mother responded with tears in her eyes saying I am more than proud of her because today she has become a model in the village and is raising awareness among her peers.
That day I had so much emotion and I too was so proud of the work we do with the community that I said to myself Sitan, you have never been wrong because that is your vocation, because with Voice the magic happens in me every day.