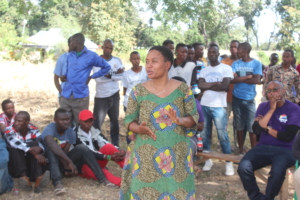 The magic moment happened in the first year when we partnered with 'Voice in Tanzania' to visit youth groups for mentorship in Daraja Mbili – Arusha, Tanzania. I was thrilled to learn how young people are self-aware and open about their history of involvement in development issues in their ward. The youth revealed several organisations have reached out for support but V4Y (Vision for Youth) has gone the extra mile by continuous follow up and monitoring to ensure youth take actions for change. I remember listening to their stories of change, empowered voices that have actively been engaged and learned that their voices matter.
When V4Y started working with Daraja Mbili youth groups they were isolated, and everyone did not want to get involved because people did not believe success would come through them. During the visit, it was fascinating to see the eagerness from the youth groups to meet ward councilor, exposed opportunities available for them and get involved in the WDC meetings. At this point, I learned that V4Y team nurtures and fosters future leaders, inspires leadership in youth who are responsible in society and can make a difference.
The partnership with 'The Voice' has opened doors and expanded the possibility for the youth in Arusha to get involved in development aspects in the community. Through this visit to Daraja Mbili, it was evident that community programs recognised youth as agents of change and developed them into better adulthood.