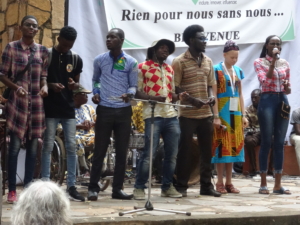 Anke Van Dam, Retired Dutch Ministry of Foreign Affairs
I was invited, as a member of the Advisory Board, to be part of a visit to the Voice programme in Mali. This was, in general, a very inspiring visit showing how important the different activities are, to give a voice to those groups that hardly had any voice. In the Advisory Board, we had been discussing several principles and ideas behind the Voice programme, and it was very interesting to see how this worked out in practice.
There were, for me, two magic moments. The first one was during the festival, where different groups that were part of the programme presented themselves. There was a moment that the different groups came all together to the stage showing their solidarity towards each other, their commitment to work together, and showing their enthusiasm to be there sharing their experiences. This was an impressive example of intersectionality, a topic that has been discussed broadly in the Advisory Board.
The second moment was a meeting with the LGBTI community. There are no photos available because, for this group, it is difficult to be very visible. Talking to them was very emotional. Knowing what their difficulties in life are. They are not able to show their own identity, but at the same time, they are very active to change society and be accepted. That was really impressive.