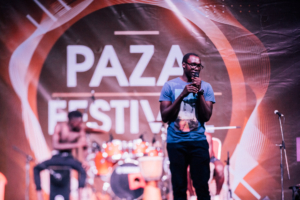 Emmanuel Waisai, Voice Staff
I have experienced so many magic moments within the Voice programme! Most of which have never happened before, like the privilege of being part of Voice Tanzania country team, working and learning from diverse rightsholders groups where people of different age, race, gender and nationality work together so that no one is left behind.
It's hard to choose one moment but let me highlight one that still sits with me. I remember that it was on the 26th of October 2019 when I was attending the regional linking and learning event "PAZA FESTIVAL" in Zanzibar, Tanzania.
Imagine meeting, listening and connecting to inspiring stories from 59 diverse rightsholders led groups across Kenya and Tanzania! In the evenings when we were having dinner, I sat together with inspiring individuals. There was Emma, who is a Human Rights Defender from Kenya with a passion for access to healthcare for Sexual and Gender Minorities. Elvis, who works with young creatives to use of Art and social media in addressing societal injustices from Kenya. Bob, who is a vibrant human rights activist in Tanzania. Nalemuta is the assistant project officer of women rights and leadership at the pastoral women's council and Wilfred, a teacher for students with hearing impairment in Tanzania.
I learnt that despite such a diverse society, we all share the same values and all our rights are equal. That moment taught me the real meaning of the quote from Pat Wadors, "When we listen and celebrate what is both common and different, we become a wiser, more inclusive, and better organisation ".