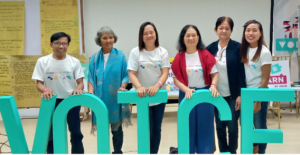 My name is Bernardo Marino Sr., project coordinator of AHRAP, Voice assisted project in Aurora province, Philippines.
Our project is focused on the empowerment of the rightsholder groups, the elderly and youth to claim their right to housing. Our pilot communities are confronted with a common problem: they do not own the lots they use for their houses for a long time already. Their dwellings are at risk due to different legal actions taken by the owner/claimant of the land against them.
During a seminar I attended with an elderly group, I asked why they were eager to claim their rights to land? "You are already a senior citizen with physical limitation?" One of the elderly leaders said: "No, we're not old enough, we continue the efforts of our former leaders to legitimately own this land we live in. Besides, if we succeed with the support of the Voice project, this will be a legacy for the future of our siblings and grandchildren".
A magic moment as I was deeply touched by what he said. It has inspired me to continue serving the rightsholders groups despite the challenges we are encountering while implementing our project. Salamat po!