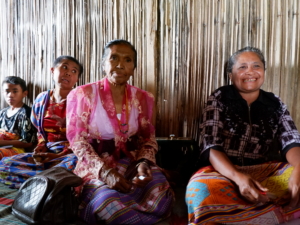 Women Environmental Defenders
We have a dark history related to the practices of mining companies that destroy our nature and ecosystem, which greatly supports people's agriculture, in addition to the fact that the areas being mined are cultural sites that have strong links to the clan system and the beliefs of Mollo Indigenous Peoples.
But not many of Mollo's younger generation today know about women who fought for the environment who, decades ago, managed to drive the miners out of Mollo's land. These women sacrifice many things in their lives: their families, their jobs and even their own safety. They fought in a cultural way, weaving between stone cutting machines. Mama Lodia, Mama Deci and Mama Anaci attended the Being and Becoming Indigenous program, sharing enthusiasm and inspiring stories to the young generation about the struggle to preserve nature and their identity as women and indigenous peoples. Yes, nature is the identity of the Mollo people.