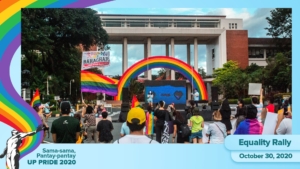 The University of the Philippines or UP is supposed to be one of the most,
if not the most, progressive university in the country. However, just like in
the rest of the Philippines, LGBTQI people are still not fully accepted.
Within the university, we continue to face prejudice, discrimination,
harassment, and even violence on the basis of our sexual orientation,
gender identity and expression, and sex characteristics (SOGIESC).
To respond to these threats, UP Babaylan, our organisation, was founded
in 1992 – making it the longest existing LGBTQI student organisation in
Asia. For almost 30 years, we have been both a support group for queer
students in the university and one of the premier advocacy organisation for queer rights in the country.
Since 2008, UP Babaylan has been spearheading UP Pride, the annual
LGBTQI Pride celebration of UP Diliman. UP Pride is a safe haven for the
community, a site for queer solidarity, and one of the biggest platforms for
our human rights activism. Thanks to the efforts of the fearless queer
trailblazers and allies who came before us, UP Pride has helped make UP
a safer place for people like us.
However, while things now are certainly not as bad as they were in 2008,
the community is still not free from discrimination. That is why in 2019,
together with Babaylanes Inc., the UP Center for Women's and Gender
Studies, and later on with the support of Voice Philippines, we proposed the
idea of having a university system-wide policy on equality and
non-discrimination on the basis of SOGIESC or a UP SOGIESC Policy, our
very own university anti-discrimination code.
"Pass a SOGIESC-specific UP policy!" was the battle cry of UP Pride in
2019 as we celebrated it with the theme Embracing Diversity Towards
Equality. Through UP Pride, advocates and allies from the students, faculty,
administrators and staff came together and rallied behind this shared goal
of equality in UP. Months later, we were able to write a policy draft,
something we're still trying to develop to further reflect the concerns of all
our stakeholders in the university.
Perhaps our most unforgettable experience in this Voice project is
organising the most recent UP Pride. Amidst or precisely because of this
global pandemic, we pushed through with the tradition of Pride and held UP Pride 2020: Sama-Sama, Pantay-Pantay through both online events and
an on-ground program. Together with other advocates and allies, on the
last day of Pride, we physically came together in UP Diliman and showed
the entire UP community and the country that we're serious about equality.
COVID-19 or a little rain can't stop us from fighting for human rights,
because these are non-negotiable.
Two years later, we're still fighting for the passage of UP SOGIESC Policy.
As classes became online, SOGIESC-based discrimination also followed
suit. In fact, just this month, one of our non-binary members had to drop
their class because their professor refused to use their lived name and
pronouns, and even went as far as suggesting that they're mentally ill just
for being non-binary. That just strengthened our resolve to fight for the passage of the UP SOGIESC Policy. A lot still needs to be done, but with the support of Voice, the wonderful community it has created, and with the solidarity of our fellow advocates and allies in UP, we know we'll get there soon.