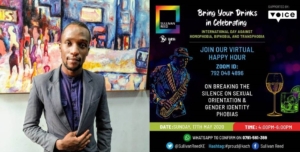 My magic moment happened on the 17th of May, 2020. This was the International Day Against Homophobia, Biphobia and Transphobia (IDAHOT). The theme of the year was, "Breaking the Silence". With the COVID-19 pandemic, there was immense loneliness, isolation and all of us wanted a place to just be, and belong. Sullivan Reed had lined up a virtual happy hour for that Sunday – where we would bring our members together and have a local saxophonist play some favourite songs live on Zoom as we connected with each other.
Our team had the logistics of the event at hand: a planning excel sheet, moderators, virtual posters, invites and follow-up calls and emails. I was so anxious and nervous at how this 'new way of connecting' would turn out. To my surprise, it attracted over fifty participants–mostly LGBT+ university students and community youth. Folks brought with them drinks of their choices. The idea was to chill out together, connect, just talk and share experiences ideas and celebrate the milestone of the LGBTI+ community at large. We incorporated the IDAHOT theme into the happy hour. The key takeaway was, " Humanity should be our race. Love should be our religion."
There was so much laughter, happiness, community and a sense of connection. People got to know each other, shared jokes, and how they were coping with COVID. It was at that moment, that I realized our work of building safe spaces was worth it, and that we were making a difference in the lives of many young people who have faced rejection, isolation and loneliness for being themselves.
I can never thank VOICE enough for making this possible. That was my magic moment!