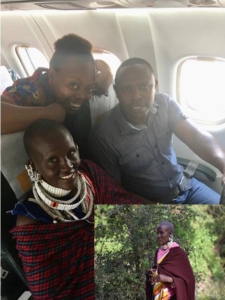 Ruth Njambi Kimani, Voice Staff
I have experienced so many magical moments within Voice. I have met different people from different walks of life: some challenge me, while others inspire me. Not often do I meet one who changes my perspective, my bias on culture, or my definition of my identity in a modern world devoid of authentic expression of my pride as an African woman.
Then I met Mrs. Napano L Mukwe, from Oltoito Le Maa (OLM), one of the winners of NOW-Us! Awards in Tanzania – Tuzo Ya Hakuna Chetu Bila Sisi! Interacting with her during the bootcamp, and travelling with her made me witness the embodiment of power in a culturally appreciative and modern day woke woman!
We had an episode at the airport, and at the checkpoint, they wanted her to strip off her regalia. She was very confident and unapologetic in expressing her feelings. No. She owned her space and that of her image in a modern world that is inclined to swiftly judge, patronise and condescend based on image, class and fashion.
Yeyo Napano, you stand unfazed, unafraid, a wonder woman! Thank you for cleansing my misty lenses that feed my perspective of the world. With women like you around, I am convinced the world will change its perspective of a powerful woman. I appreciate you for being authentic. Ashe Oleng