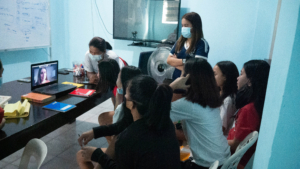 I am Ronalyn. I live in Payatas, home to one of the largest garbage dumpsites in the Philippines. Many people here in our community depend on the dumpsite as a source of livelihood, including my family.
I started out as a Fairplay Scholar and then I became a youth football coach. Now, I manage the sports program of Fairplay, and I also facilitate the EQ Club and Youth Group sessions at our Youth Center every day for 5 different age groups. The EQ Club is one part of our Voice Philippines project, and is all about implementing the social and emotional learning curriculum, while the Youth Group is all about social support. Together, the activities aim to provide psychosocial and emotional support for our children and youth participants in the community of Payatas.
One of the best experiences I have doing these activities is when the kids and I share inspirational stories to each other; we openly talk about our life and how we have become the people we are today. Sometimes we end up talking for 1-2 hours and we don't want to go home yet because we feel safe with each other, we can relate with each other, and we give each other comfort and strength when we share our thoughts, feelings, problems, weaknesses. We are each other's inspiration. We are each other's support system. We are a family.
It makes me feel so happy when our young people share their proudest moments, their dreams and hopes for the future. I am happy to get to know them more. We grew up in a community where negativity is rampant and doing self-harm is something that we see as an escape from the pain. Now I am happy that I am able to share with them my experiences and to show care for each other. And prove to them that we are capable of doing something great. That we can break the cycle of poverty.
The role has its challenges, but I am happy for being there for them. I am happy to be part of this project.