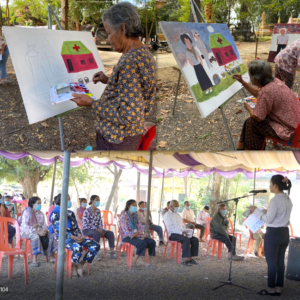 Motivation to work harder to increase voicing of marginalised older people
This gives me the motivation to work for the voice of the elders, through the senior' talent program that uses art as a creative tool to help the elders have the opportunity to express their challenges. On top of that, helps the elders show off their talents that have been embedded since the war.
Mrs. Chhay Chhorn, 78 years old, chose the painting in the competition. With her hard work and creativity, she won the first prize in the art program among more than hundred elders. The meaningful and colourful paintings were appreciated by the participants, including myself. I was thrilled and amazed by her ingenuity. The quiet woman showed her amazing ability.  This is a magic moment that I could involve in helping to improve life encountered obstacles and ensure they are not ignored or left behind.