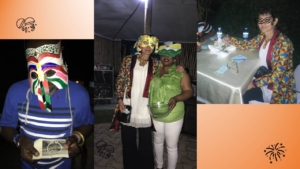 Inez Hackenberg, Voice staff
It is a knowledge exchange on self-led influencing in Masaka Uganda. After four days of intense listening, sharing and bringing together our learning on the journey of a self-led influencer, the atmosphere is so special. Loaded with gratefulness and excitement about all the new insights we gained. Deeply moved by the individual stories, the struggle some had to endure, the mountains conquered and the enormous force and inspiration of a room full of amazing activist leaders from at least 13 countries. New racing energy in our veins, eager to take ideas home and apply what worked for others in our own context.
Tonight is special. First our closing ceremony, honouring the presence and uniqueness of each of us, celebrating the fire ignited by joint curiosity and discovery. But that's not all, the space is vibrating! Thrilled about the upcoming dinner with a magic secret friend, only to be revealed by holding the same image. And finally, a magic masquerade ball, dancing the night away….
All throughout hotel staff has been amazing and makes all of us feel welcome.
Such MAGIC only happens when many stars align, accepting each other, complementing each other, sharing a passion and a heart for human rights, our rights, our lives.