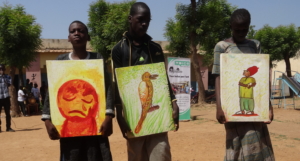 Hadiza Amadou, Voice staff
It was in October 2018 in Bamako, I had the privilege to take part in the visit of the Advisory Board of the Voice programme to the AMALDEME centre, a centre supported and set up by a Malian association fighting against mental deficiencies in youth. It was the first time I have ever seen a young person with a mental disability in Mali.
I was very touched to see that such a sensitive group as the young people with intellectual disabilities were being sidelined in this specialised centre, because they simply had a disability! A condition they had not chosen as a way of life!
But more amazed, I was to notice and experience 'live' the magical contributions of the Voice programme in the development of the children at AMALDEME.
The joy in life
to flourish,
to participate
These sentiments were felt through the strong mobilisation of young people with intellectual disabilities. The joy of welcoming the visitors to their premises revived these children in every nook and cranny of the centre.
The singing, painting, dancing performances were simply moving spectacular and immense.
From that memorable moment, I had discovered the magic of Voice! The magic of making inclusion a shield to protect, the magic of making inclusion a weapon to fight discrimination and marginalisation in all its forms regardless of gender, race, age and more.
From this magical encounter, the unprecedented intelligence and capacity to assimilate of mentally and intellectually challenged youth was no longer in question and that no one is actually disabled but rather it is exclusion in all its forms that makes one disabled
This meeting in Bamako was simply magical and unforgettable!
Merci !