The more times we meet, the merrier!
By Teyaorm Mas and Daro Chheang, This Life Cambodia, Linking and Learning Facilitator, Voice in Cambodia.
The Voice Cambodia Linking and Learning community is back with a bang! And that only a few weeks after their last adventure! We were fortunate enough (considering Corona) to host our Bi-Annual Linking and Learning event in a face-to-face meeting in Phnom Penh, last September with 43 participants from 19 grantees. The event was outstanding as grantees were well-prepared with resources to share and actively participated in each session.
Here is how the two days flew by.
Grantees Ownership Day
We at This Life, the Linking and Learning facilitator organisation for Voice in Cambodia, planned, facilitated and created a comfortable space for all Voice grantees to become facilitators themselves. We chose to do an un-conference to give space for grantees to take the lead, to make decisions and to create their own agenda. It was a renewal as well, of their commitment to creating a culture of sharing, which was a suggestion at last year's event. Grantees took seriously the responsibility of developing the content of their sessions in response to each others' needs. Participants voted on 6 topics out of 17, that were discussed within three main groups. The topics were: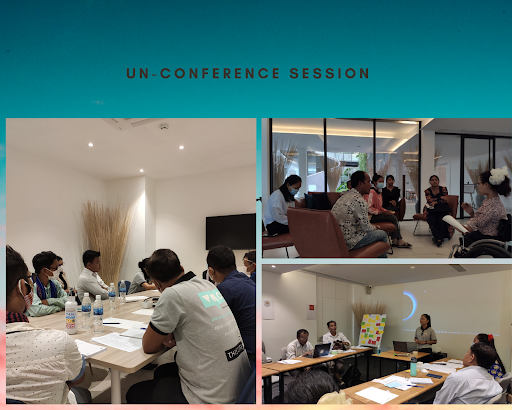 Encouragement hosted by Mr Chhorn Ann from Cambodian Women for Peace and Development. He focused on how to succeed in life, reduce failures, and encourage others and oneself to be a good leader. 
Finding support from local authorities led by Ms Chheun Tevy from Light for the World and Mr Hun Touch from the Rabbit School Organisation. They focused on what is called "Let them perform", which means proposing to the local authorities to join in a role play. For example, the local authorities were blindfolded and made to sit on a wheelchair. By role-playing, they started to understand the concerns of rightsholders ( in this case, the people who use wheelchairs) and local NGOs.  
Elderly got talent hosted by Mr Sambath Reaksmey from Phare Ponleu Selpak. He focused on the objectives and actions for the elderly got talent program. The objectives are to improve the attitude of young adults toward elderly women with disabilities through arts and to encourage elderly women with disabilities to participate in society activities.
Indigenous People (IP) Language preservation led by Mr Sok Socheat from Cambodia of Indigenous People Culture Care's Organisation (CICO). He focused on the introduction of IP languages in Cambodia, what challenges they face, and what has been done/recommended towards their preservation.  
Conversations with People With Disabilities (PWDs) discussed by Ms Chheun Sreypich from Women with Disabilities Leadership and Advocacy Network (WWD-LAN). She focused on her own experiences, her transformation from isolation and silence to being active in the advocacy for the rights of PWDs. 
The usage of theatre in community performances by Mr Chhit Chanphireak from Lakhon Komnit Organisation. He focused on using fun activities and performances in creating awareness and overall knowledge using entertainment.
At the end of the sessions, participants had new ideas to help them in their project implementation. One of the participants commented about the Let them perform methodology,
"I like the idea. I believe we can better convince them (local authorities) using this as they will clearly understand what challenges people with disabilities face. I am sure that they will begin to consider our proposals to them such as building an accessibility ramp for people using wheelchairs in public spaces."
After a delicious lunch, we presented our research findings on the current situation of rightsholders in Cambodia. We hope Voice grantees will be able to use the data and information gathered in their future project implementation. Some key highlights from the research include: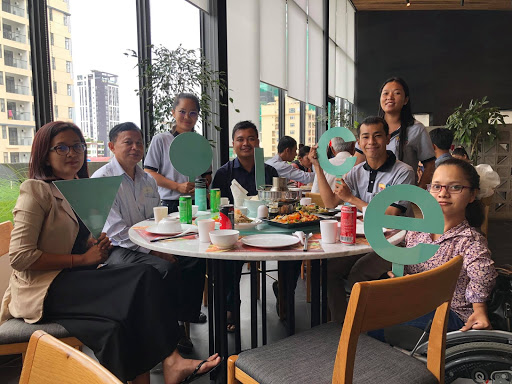 Social media and television have become very popular information sources to the rightsholder groups;
Rightsholder groups are slowly understanding their roles in society and the need for their participation in development spaces especially in the commune development plan;
Economic improvement is still viewed as the primary strategy to address many rightsholder concerns;
Nearly 70% of the respondents perceived Cambodia's and their own household economic condition to have worsened, with 40% of them saying they do not know the reasons. However, some said it's due to Covid-19.
Rightsholder groups still have limited capacity and passion for participation in community events and meetings.
The participants valued the research results as a contributing source for the development of their future project proposals, whether within Voice or not, and the strategic planning activities.
Grantees' centred day!
Day 2 was colourful! The room was filled with art, music, ideas, connections and joy to urge collaboration between grantees. To create a safebox of teamwork and collaboration for grantees, we started with a game called "Zoom" created by Istvan Banyai, a Hungarian illustrator. Participants were asked to put together a 30-piece puzzle in the correct order, from the smallest to the biggest in terms of size but the biggest to the smallest in terms of details. As participants grouped themselves, they agreed to select a team leader to facilitate the discussion on how to solve the puzzle and provide their insights. It reflected many important aspects of work, including teamwork efficiency, leadership skills, as well as negotiation and communications skills. We were glad to see how well each participant adapted and worked well with others from different contexts.
The game was followed by a large photo collage displayed in front of the meeting room to bring back all of the participants' memories with Voice Linking and Learning Cambodia since 2018 to 2020. We got truly excited when participants started expressing themselves with sticky notes on the photo collage itself.
"Linking and learning is a library of knowledge and a space of sharing, love, friendship, value and networking".

Noted Mr. Vong Vuthy from The Rabbit School
"Linking and learning is the pillar that brings everyone together to reach the goal of Voice."

Said Ms Chheun Tevy from Light for the World
As the Linking and Learning Facilitators, we felt grateful upon hearing all those statements on the work we have done so far. It motivates our team to explore new ideas/methodologies to strengthen our networking and response to grantee needs.

Women PeaceMakers (WPM) an empowement grantee implementing the Our United Voices project took on facilitating the next session where Ms Mourng Kagna introduced the Facilitative Listening Design (FLD) tool to collect stories from the rightsholder group. It is a process where rightsholders tell their story while having the other person only listening during the conversation. The story is then written once the conversation is finished. This way, the rightsholder is more comfortable talking to a listener without feeling like they are in an interview.
Watch this video of the method in action: 4 Women 4 Community 4 Stories! What is even more inspiring is how they captured the story into one beautiful song "Invisible Knot".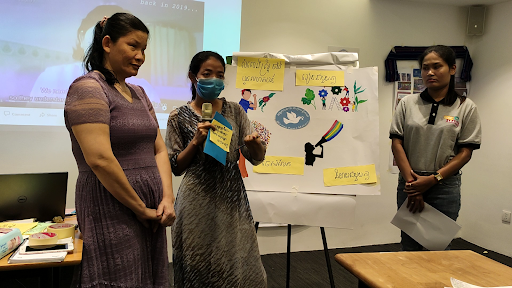 On that same note, WPM members Ms Tat Nika and Ms Chheun Sreyneang presented how their small business was established despite the challenges that came with it. As people with visual disabilities, they worked hard to establish their own massage therapy centre which consists of other people with disabilities as staff, providing their skills and heartwarming services to customers.
"Most massage centres are likely to have young healthy staff who attract a lot of customers. That is unlike us. We provide the best services we could with a respectful attitude to our customers. And the good services we have provided so far help bring more customers to our place. This session has motivated participants, including us, to consider different other strategies for income generation activities,"

Said Nika.
Throughout the event, the grantees took ownership of their own linking and learning journey through facilitating un-conference sessions, strategic planning for the next activities, and looking for ways to build strong and concrete collaborations.
The two days resulted into an agreement by Voice grantees and the Linking and Learning facilitator team. Together we developed a service map that allows Voice grantees to access key information of each others projects that will benefit their own project. Grantees are going to take more initiative on leading and hosting meetings/events for each other as part of making Linking and Learning more sustainable.
Lastly, the next communities of practice will be shifting from being geographically focused to being rightsholders' centred instead. Grantees strongly believed that having more opportunities to work closely with groups who focus on or come from the same rightsholder groups will drive them all to have a louder voice.