Making our voices louder
By: Teyaorm Mas, Research and Consultancy Project Officer, This Life Cambodia, Linking and Learning Facilitator
The title "Making our voices louder" beautifully captured the two day Linking and Learning event in Cambodia that took place on 20th – 21st of March early this year. The third event organised by This Life Cambodia the Linking and Learning facilitator for Cambodia was a platform to share, understand and find solutions of how best to amplify the voices of the unheard creatively. Forty-two people from eighteen Voice grantees in Cambodia were in attendance for this amazing learning opportunity.
In order to create a freer and more creative learning environment, the event took the "Un-conference style" approach which aimed to help grantees think about doing things differently when amplifying their voices.
Let's break down the dates…..
DAY 1
On the first day, the event explored topics for learning that had been proposed by Voice grantees in the previous Linking and Learning event back in December 2018. Monitoring and Evaluation was led by Cambodian Women for Peace and Development and Cambodia Women's Crisis Center​ which are specialists in this domain while IDEA, an empowerment grantee, demonstrated to the group how to produce a short video using the 'FilmoraGo' application. The next learning session focused on grassroots advocacy, hosted by Representative Self-Help Disabled Organisation Bathay and advanced advocacy by Oxfam. This session allowed everyone to share the journey of implementing their projects.
Ms. Samphors – IDEA is guiding participants to process the FilmoraGo application

Ms. Ashisah from Oxfam presents on Advocacy/Influencing Campaigns
Day 2
The second day was also organised in "un-conference" style where all the members were encouraged to "hijack" the schedule and run separate interactive sessions involving games, role play and arts. Six topics were chosen.
Lion and ant (leadership and management skills)
Positive thinking
Positive parenting
Art and advocacy
Grassroots and advanced advocacy
Good practice
Mr. Chay Kimsan, ICS-SP officer, presenting on Positive Parenting

Participants' roleplaying in the exhibition and stories session
For the session on "Advocacy", presenter Mr Von Bureth from HelpAge Cambodia noted, "We work to advocate through the higher level. Take for example screaming from inside a glass room to a neighbour. Change will not happen until we break that glass wall first then together voice out our problems so that the public can hear us. Even when we can't present ourselves to the higher level people, we need to first show up in that particular space and step forward together. Only then will positive outcomes begin to show . We must start building up our networks at the government level in order for us to gain the strength to move forward."
Grantees enjoyed the un-conference style and suggested that there should be further future sessions where more participants are able to build and execute their own topics.
Towards the end of the event, a Storytelling to strangers' session was hosted by the Linking and Learning Facilitator. Voice partners discussed different ways to effectively present successful stories of their work from the national level to the globe. All participants agreed that the essential elements of stories are an introduction, narrative, and conclusion in order for the audience to follow the story being told. In addition, they all agreed that storytelling should be creative so as to grab and maintain the audience's attention.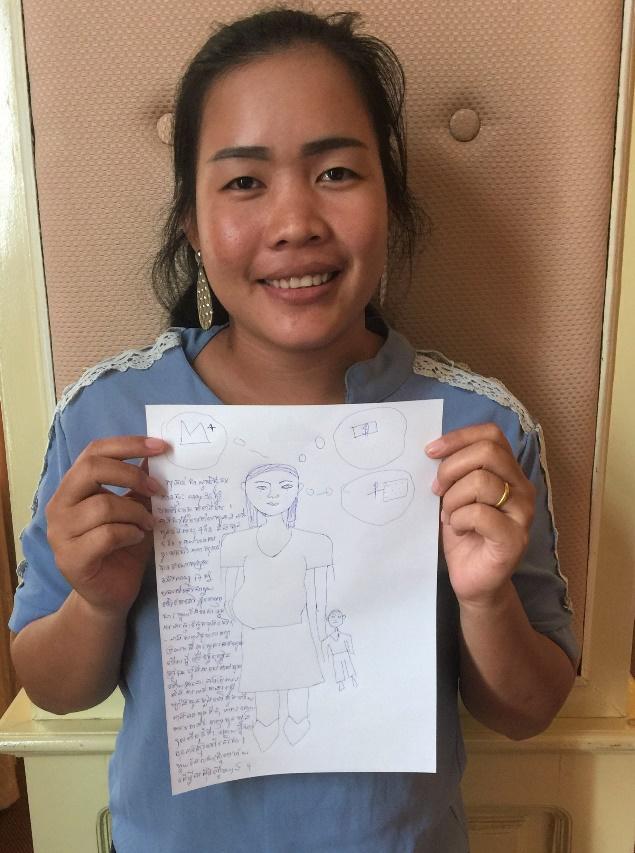 During this session, participants were given the time to practice: each grantee was asked to write a story related to their work based on the principles presented by the L&L facilitator.
The photo on the right is of Ms. Samphors from IDEA who developed a story by a drawing and text on the side.
We will be back for an even more exciting future gathering in September 2019!!