Domestic workers rights – A Cambodian Nanny speaks
By Zack Lee, Regional Roving Grants Officer Asia, Voice.
What do you do after spending the whole day taking care of your children? Where do you go after cleaning your house? How do you feel after watching over a sick elderly relative? Will the situation still be the same if they were someone else's children? Another person's house? Somebody else's relatives?
If you meet Vun Kim Srey, she might show you that the best way to spend a sunny Monday afternoon is to meet with your friends in the park. Kim Srey is a nanny by profession and a member of Cambodia Empowerment grantee Independent Democracy of Informal Economy Association (IDEA). IDEA is a member-based organisation bringing together workers from the informal economy such as tuk-tuk drivers, street vendors, and domestic workers.
I met Kim Srey at Wat Botum Park in central Phnom Penh where she and other domestic workers were gathering for an IDEA members meeting. This group of 10 women found an open space, sat down, and quickly started chatting. They discussed how many vacation days domestic workers are legally entitled to . There was a conversation on how to make strong passwords for their social media accounts. People exchanged strategies on how to deal with conflicts with their employers. Topics simply transitioned from one to another.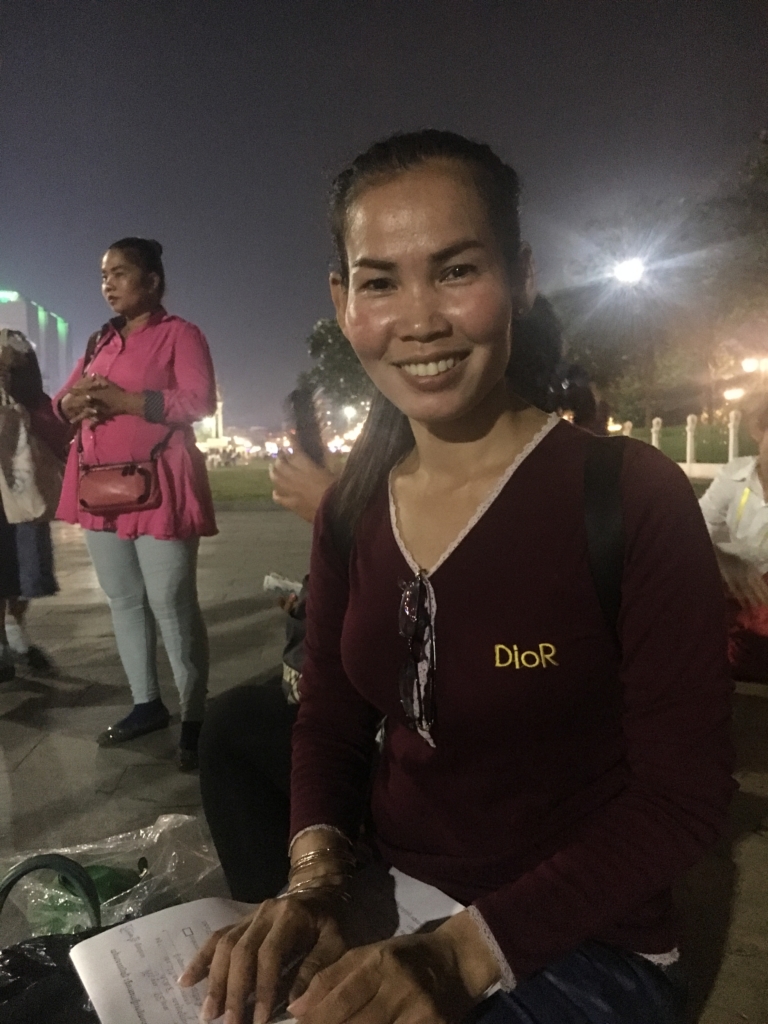 As the sun was setting and as the group grew to 17 members, I spoke with Kim Srey about her experiences as a domestic worker and what has changed since she joined IDEA. You can listen to our conversation in this podcast or read the lightly-edited transcript.
What do you do for your employer?
I'm a nanny.
How many children are you looking after?
My employer has two children but I only take care of one. The big one goes to school until 3PM.
How long have you been with your employer?
With this employer, it's been more than 3 years.
What kinds of jobs did you do before?
Before, I was also a nanny. My job has always been a nanny.
How long have been a nanny?
Maybe about 19 years now. I started around the year 2000.
When did you join IDEA?
I joined IDEA last year. I've only been with them for one year.
How did you learn about IDEA?
Before, somebody asked me to join IDEA but I didn't want to. I didn't know how was it. I had no idea what IDEA is. But one day, I had time to watch TV then I saw Ms. Samphous. She was on an evening programme and was talking about IDEA.
What did she say on TV that convinced you to join?
She talked about how we can enjoy being with IDEA and what can we learn. It made me want to be with IDEA.
How was the first time you went to a meeting?
My mind was very different before I went to the meeting. IDEA has taught me a lot and now I lot from IDEA.
Can you give me examples of things you learned?
For example, I learned how to think differently, value my time, and what's important at work. Before, I could not talk to employer about tasks that I don't want to do but I still do for them. Now if I don't want then I can say no to them.
What do you think changed?
For me, everything has changed a lot. I've changed the way I think and I'm also more brave now.
Was your employer okay with you joining IDEA?
Yeah, it's ok. There has never been a problem with my work and me joining IDEA. I usually do my IDEA activities on Saturday or Sunday.
What do you get out of a meeting like this?
I learned from the experiences of other people but also exchange knowledge with others with a similar job. It's a time where I can meet my friends. I'm happy to be able to talk and share and be a member of IDEA. I also help in orienting new members and introduce what IDEA is.
What do you tell the new members?
I usually tell them what IDEA is, what tools we have to help them. I also say that I was like them before. I didn't know anything but now everything has changed. It builds trust. Sometimes they're still unsure so I ask them to attend a meeting first. After that they can say yes or no.
Do they usually stay?
People mostly stay after I convince them. Some people immediately become a member when they visit the IDEA office. Others need time to consider it and make a decision. They usually leave their phone number with the team who usually follows-up. Later on, most people decide to join and become a member.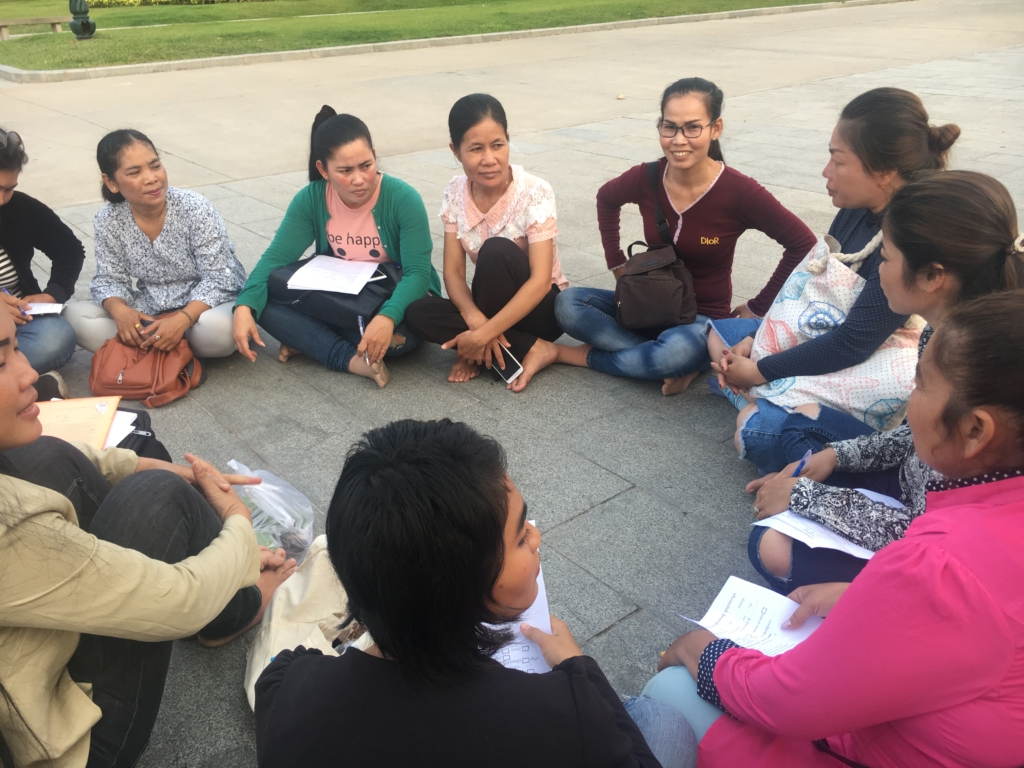 What's the biggest change you've seen in yourself since you joined?
Now, I see myself having better negotiation skills with my employer. Compared to before when I interview for a new job, I'm always afraid that the employer might not accept me. Whatever they offer, I always accept. Now, it's different. I will demand for what I want. I don't care if they accept or not, I will demand what I want and what are my rights.
What is your message to other domestic workers?
I want other domestic workers to join IDEA. It's important to have a bigger group and a stronger voice. We can then talk and convince the government to respect the law and the rights of domestic workers. When you become a member, you will learn what are your rights are as a domestic worker and get better job protection.
What is your message to employers?
I want employers to respect the rights and the law on protections for all domestic workers. They should provide also provide vacation leaves when domestic workers get sick or have some urgent personal task they need to do. They should also provide support and free healthcare, especially when they get into an accident.
Thanks to Voice Cambodia Grant and Partnerships Specialist Sokha Srey for providing translations during the interview and to Kim Srey for opening up to Voice.
Music by Josh Woodward.