Making some noise!
Finally, Voices in Cambodia heard in person
By Teyaorm Mas and Daro Chheang, This life Cambodia, Voice linking and Learning facilitator
It has been six months since the Voice Cambodia family last met in person! Fifty-three rightsholders from twenty-five grantees in Cambodia were excited to join us as we, This Life the Linking and Learning facilitator in Cambodia, organised the Learning Exchange "Linking and Learning" in Battambang province early September 2020. We specifically focused on making a comfortable space for grantees to learn from each other through training, art, and direct field visits to project areas. Moreover, we encouraged discussions on future collaborations, creating opportunities for stronger networking.
Lets get into what exactly happened
Day 1 – Media training
We started with welcoming remarks from Ms Srey Sokha, Voice Grant/Partnership Specialist with Oxfam in Cambodia. Phare Ponleu Selpak an Innovate and Learn grantee, made this amazing and insightful day possible by providing the venue and the expertise of their media production team on how to produce photos and video using Smartphones. They provided participants with basic but necessary skills such as framing, angles, rules of shooting video, the uses of A-roll and B-roll, and extra equipment like microphones and a tripod for producing higher quality photos/videos.
In the afternoon, it was time to get to work! We practised the lessons we learned in the morning and explored the venue to shoot videos for editing purposes. Afterwards, we all gathered for the final lesson – editing videos using a smartphone app named Kinemaster. Our videos were uploaded and shared with everyone immediately after we finished. Watch what we did after one day of training!
Day Two – Visiting HelpAge Cambodia in the morning
We got the chance to visit the project areas of HelpAge Cambodia, an Influencing grantee. We divided ourselves into two groups to visit Banan and Moung Russey districts in Battambang province. We attended the monthly elderly commune meetings, visited several elderly residents supported by HelpAge Cambodia. We had fun playing local instruments and physical exercises to keep ourselves and the elderly fit and active. Below is one of the exercises!
During the visit, the committee of the local Older People Association (OPA) shared their monthly report with their members. They also discussed their next action and decided who would be the first member in the village to be supported within the next few months. One of their agreements as a group is to focus support on two members who need help the most every month. This includes daily visits, food and medical support from members.
One of the group leaders said,
"I am so grateful to be part of the OPA, I can enjoy myself at this age and help an elder in the village at the same time. We have to admit that the elderly are the people who need the most care. All of us will become one in the next 10 or 20 years. So taking care of the elderly means a lot."
Luckily for us, one of the OPA members was also celebrating their birthday! She received a surprise birthday gift from the group and said with some tears "I never felt this connected and cared for. This is my first birthday gift after my 50s. Thank you OPA!"
Day two – Reflections on the visit in the afternoon
In the afternoon, we were back at Phare Ponleu Selpak. There were discussions from the household visit, focusing on what the participants experienced and what could be improved. Moreover, we discussed intersectionality among and within rightsholder groups.
Overall, the participants appreciated the visit to the OPAs in Banan and Moung Russey. They were amazed at the formation of the association at the village level where vulnerable senior citizens joined freely with support from local young people. The engagement of the youth is a step to ensure the sustainability of the association and support to vulnerable senior citizens.
They also observed that the groups had savings accounts that support the members. There were clear guidelines on how the money is saved, who receives support each month and all other expenditures. A very transparent system! The provision of loans also encouraged the members to increase their level of participation and attracted others towards membership. Lastly, participants liked the capacity strengthening efforts of the OPA on income-generating activities for the members, inspiring others to think of similar strategies.
Some participants also shared some critical reflection points as questions to consider. They were;
How do we include the concerns of vulnerable senior citizens into commune planning with a clear monitoring mechanism?
What would be the long terms plans for the groups? Raised by Rabbit School, an influencing grantee in Cambodia
How can the elderly continue working as ageing may lead to increased barriers to mobility and access, and in some cases disability?
Last but not least, we discussed and planned what all of us can do to continue linking and learning over the next six months. A lot of great ideas came up around four main categories:
Continuity of the focal grantee that facilitates Linking and Learning;
Grantees want to map the services of each grantee to help others look for support and joint collaboration for the next phase;
An M&E framework and support for empowerment grantees,
Expanding the use of the digital platform to improve household economic condition. This platform should be a website or Apps containing information of the rightsholder groups responding to sustainable development goals.
Lots of big ideas, making for a busy next six months!
The Final Spectacle
In the evening, we watched the spectacular circus show performed by the magnificent Phare Ponleu Selpak circus troupe. The performers themselves were local youth from Battambang, students at Phare's non-profit multidisciplinary art school. They did amazing stunts and tricks that were definitely something to be seen live and in person. It was a great way to finish a 2-day event of sharing, experimentation, and laughter. We had definitely missed each other!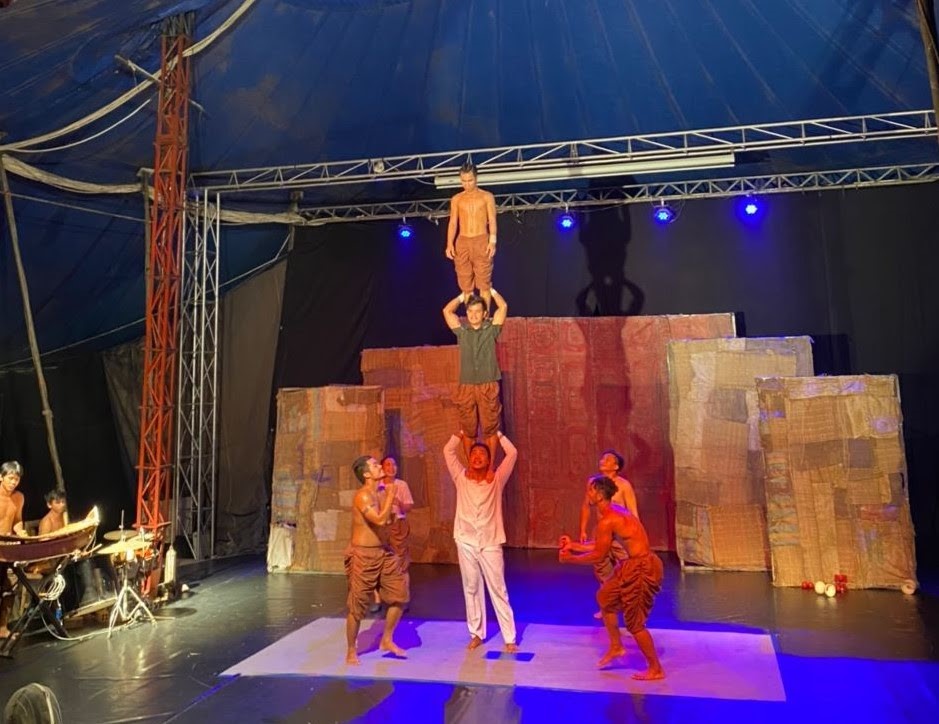 The two-day event was indeed a truly wonderful experience for everyone, especially as a quick break from the COVID-19 stress and worries. We really hope to hold these activities again in the near future!