From lived experience to social change – Meandering the pathways
Presenting our new Theory of Change
Written by Inez Hackenberg, Global Linking and Learning Coordinator, Voice
Social change processes follow a complex path where change shifts over time and through unexpected, meandering routes. Experiences of the Voice grantees thus far show that their trajectories do not follow a linear way but intersect (multiple times) with the Voice pathways of change To Empower, To Amplify and To Influence. In many cases successful influencing needs elements of empowerment and a strong action on amplification. And all the different steps grantees take are intertwined and influence each other. The Voice Theory of Change seeks to strengthen the capacity of (informal) groups, organisations and networks to seek their own empowerment, to influence, to find strategic allies among powerholders and duty-bearers, and to promote collaboration within civil society to defend rights in an ever shifting civic space.
So what has changed?
The rightsholders are now in the centre. The Voice Theory of Change (ToC) tells the story of existing personas associated with existing Voice grantees. They represent the five rightsholder groups in all its variety and diversity, often living the effect of intersecting forms of exclusion or discrimination. Self-stigmatisation is added to this, underlining the enormous value of empowerment processes.
Furthermore, the organisations, networks and groups Voice works with differ largely in experience, the way they are organised and how they go about their influencing and communications. This richness is told through their personal and organisational stories and the often unpredictable and challenging journeys they travel. Journeys are in constant movement, successes and challenges, moving up, down and sideways. Changes happen all the time, most of the time in small steps, sometimes taking a leap but always having an impact on people's lives. Together with the grantees we pay attention to both, recognising that many small steps are needed for big changes!
All of the efforts, learning, innovation, amplification and influencing contribute to smaller and bigger changes which may lead to (transformational) changes at the level of the three impact areas within Voice.
The Voice instruments (better known as grants and Linking and Learning) support the processes rightsholders and rightsholder groups find themselves in. These may focus both on empowerment of individuals within rightsholder groups and organisations as well as empowerment of organisations and/or networks themselves.
What Do I love about our Theory of Change?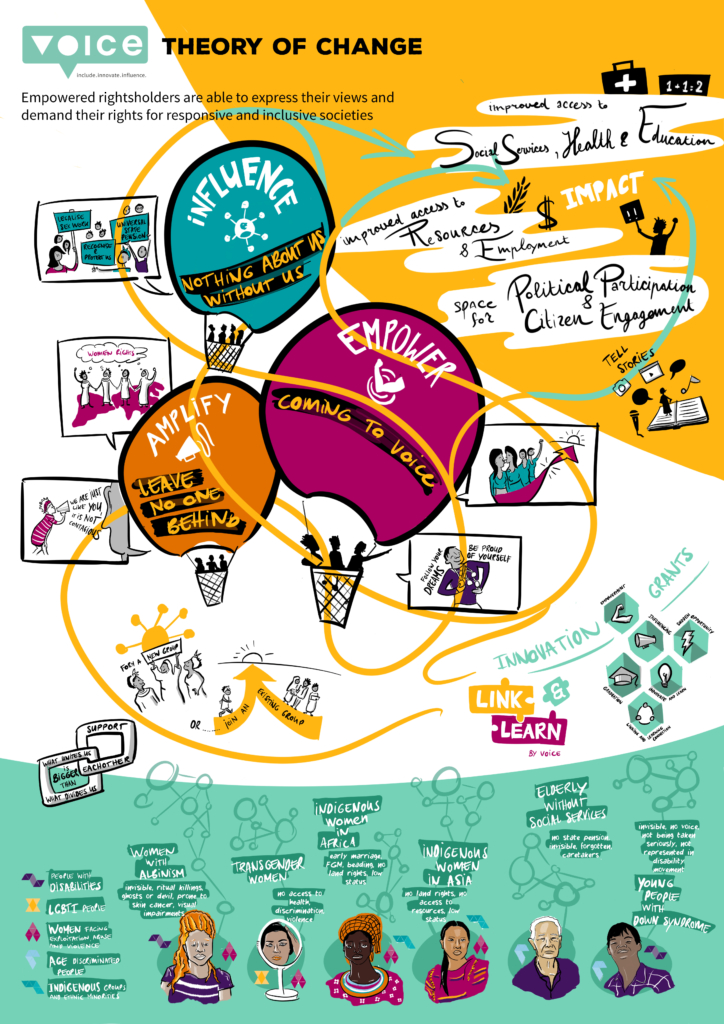 I love the creative chaos. So many variations, so many tunes! There's not one linear road to social change. It's a colourful, sometimes arduous journey to get people to see us, to respect us and to support us, but we are not alone!
The recognition of the individuals that make up the groups, or movements or networks. Yes, we are working with organised civil society, yet behind each campaign or action there are incredibly brave individuals who run the show and with and from whom we learn.
PS. For the full explanation and navigation on the ToC please download the text here .