Words from the Tanzania NOW – Us! winners
"We still can't believe that we came first!"
The co-founders of Hapo Zamani za Kale Elizabeth Mwambulukutu and Annastazia Gura teamed up with C&V Marketing Communication Solutions Ltd to create social change through writing children's storybooks known as Hapo Zamani za Kale. This is a collection of traditional stories told by elders from across various Tanzanian regions to preserve Tanzania folklore and the art of traditional storytelling.
Elizabeth is a communication specialist and an award-winning visual storyteller while Annastazia is digital marketer with a background in communications and passion for empowering youth and women.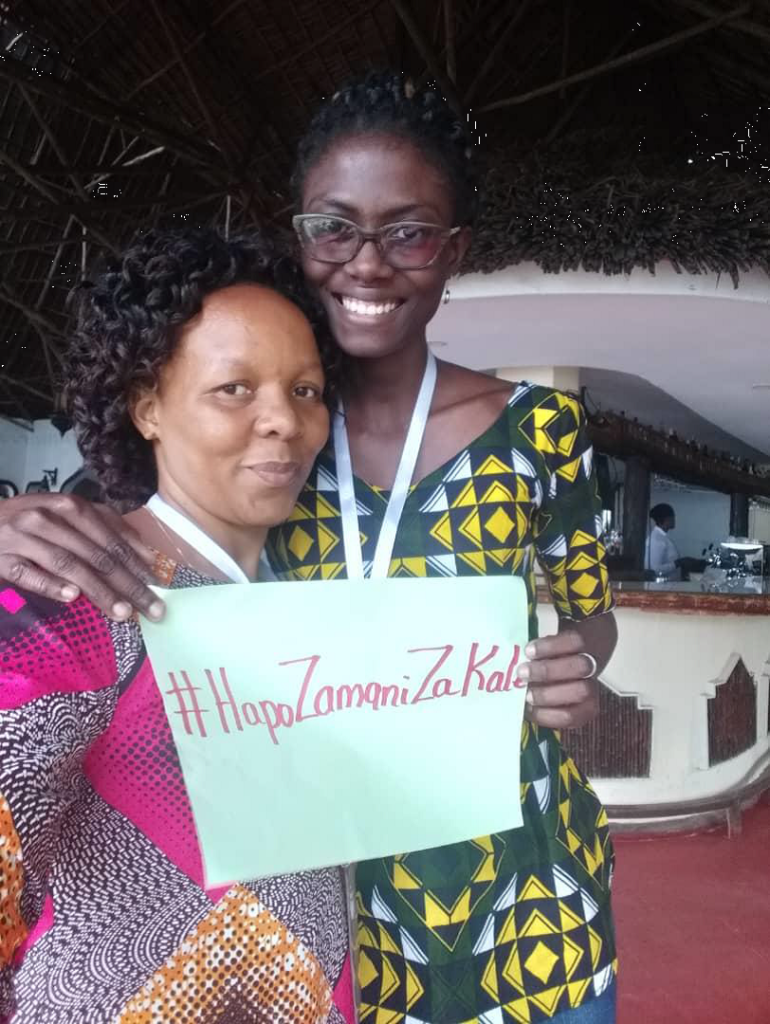 Hapo Zamani za Kale will be working closely with youth and the elderly, people with disabilities and the Maasai who are part of indigenous groups of Tanzania. They share with us their journey from Hakuna chetu bila sisi (Now-Us) award and Paza festival.
It was our first time attending a boot camp and the Paza Sauti Festival. The venue for the Paza Sauti Festival was spacious, right at the heart of Stone Town and therefore, easily accessible.
We went to Zanzibar prepared as best as we could, being among the ten nominees of Hakuna Chetu Bila Sisi Awards.  We had a PowerPoint presentation ready but shock on us as we were instead told that we would be doing a 5-minute pitch in front a jury and an audience! But in retrospect, throughout the boot camp we had time to learn what pitching was all about and got comfortable with being uncomfortable.  We must say, that all the nominees' ideas were really good. With the support of Ruth and Tomas from Voice, everyone was able to refine their ideas, Hapo Zamani za Kale included, so that they were more reflective of Voice.

Though there was no official feedback session from the judges, the pitching session was a remarkable learning experience.  There was a lot of pressure to keep time and saying the right words that would convince the judges and the audience.
Being announced as the winner of the award was a surreal moment for the Hapo Zamani za Kale team. All the organisations we were up against had fine projects and we think each team did their absolute best with their pitches. Anyone could have been a winner; I bet the judges had a tough time picking the winners!
Though we were in a competition, the 3 days boot camp brought us together as a family, some closer than others.  We shall especially remember the Stori ya Samaki, a team of zealous young people (Jerry and Nancy) who are passionate about all things marine. The Oltoilo Maa, a very charming pair (Samwel and Naponu) who narrated to us an interesting history of the Maasai and their distinctive project fighting for their indigenous group rights in Tanzania.  We met a couple of organisations that had knowledge on some of the areas that Hapo Zamani za Kale is based on.  We plan to include these as participants for our project or as consultants such as Janet and Generius from the Youth Wing- SHIVYAWATA whose passion in fighting discrimination against people living with disabilities knows no bound.
What all these people, who we are now proud to call friends, have in common is their strong belief and passion for what they do to create change and improve lives; they eat, talk and breath their passion and nothing could be more inspiring.
Our experience at the boot camp and the Paza festival was simply life-changing.