Storytelling through digital art
An empowering process
By: Elizabeth Mwambulukutu and Annastazia Gura, co-founders of Hapo Zamani za Kale, AC4D, Innovate and Learn grantee, Tanzania.
Art is not static. Globalisation has seen the growth of technological advancements in various industries worldwide, and art is no exception. In this article we are sharing our experiences and highlights of the Kutoka Canvas Kwenda Digital [From Canvas to Digital] Workshop, organised by Aqua Farms Organisation-AFO and Arts and Culture for Development (AC4D). As an organisation AC4D aims to preserve, restore and promote the culture and art of traditional storytelling and African history in Tanzania using multimedia, such as children's storybooks, visual art, podcasts and animation.
Realising the challenge facing art and artists, renowned cartoonist and media personality Masoud Kipanya teamed up with the Hapo Zamani za Kale [Once Upon a Time] cultural storytelling project. Hapo Zamani za Kale was the winning initiative of the Tanzania NOW-Us! awards supported by a Voice Innovate and Learn grant. Masoud used his journey as an artist to support, mentor and inspire six young Tanzanian artists through a practical workshop that exposed them to new art practices beyond the canvas.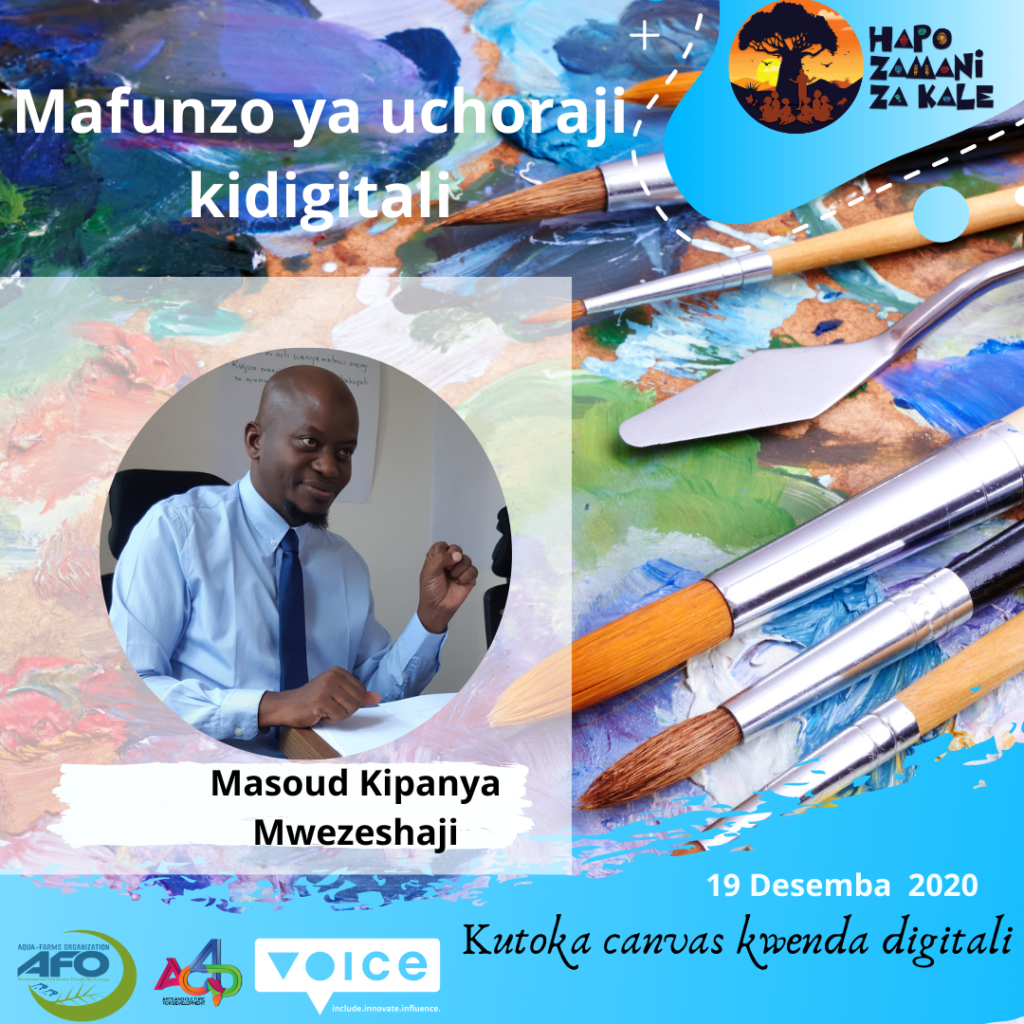 Art is like a tree with many branches into which artists can venture in and explore.

Masoud Kipanya.
Currently and globally, COVID-19 has exposed many industries to vulnerabilities, forcing them to think beyond business as usual. In visual art, most African visual artists still rely on traditional art techniques. Such limitations may lead to a mismatch between emerging global trends, the changing creative economic landscape and existing art practices, leading to African visual artists missing out on new opportunities.
Many African visual artists depend on a single traditional art form (i.e. fine art/painting on canvas) or a single consumer market (i.e. tourists), limiting their access to income generation streams. In Tanzania, visual artists have few platforms to learn practical skills from industry experts who have succeeded in the sector.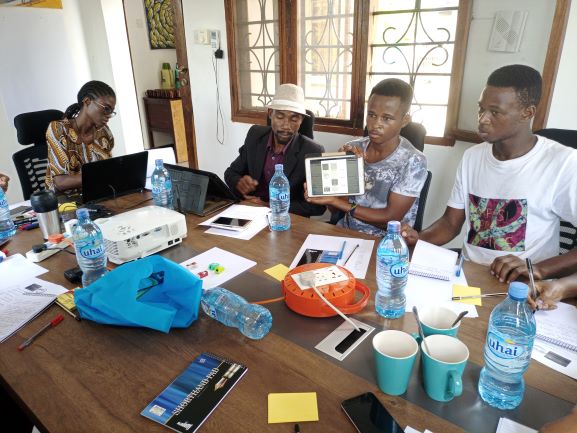 At the workshop, facilitator Annastazia Gura, co-founder of Hapo Zamani za Kale, said:
"We are thrilled to partner with Masoud Kipanya in exposing visual artists to new possibilities for expanding their art practice. The workshop has taught artists how to apply new knowledge in using digital creative tools; a canvas, paintbrush, palette knife and colour palette, to name a few. We have seen the effects of technological advancements in other sectors of the economy, and it is high time we expand these to the creative industry. This is exactly what inspired Kutoka Canvas Kwenda Digitali. We see it as a pathway for visual artists to gain new skills and seek new avenues for generating income."
The use of technology in art allows artists more flexibility compared to drawing on canvas using paints and brushes. For example, if an artist is exhibiting their work in a traditional fine art form, the digital version or presentation of their artwork will likely be an image taken of their artwork through their smartphones or an image scanned through a printer. This affects the quality of the digital version and presents higher risks of damaging the work, if not handled correctly. Unlike drawing on canvas, technology simplifies creative workflow, from resizing or repositioning objects/subject. Everything can be done through the use of technology, maintaining the quality of an artwork and saving time by enhancing the speed of the output. Advancements in technology allow artists to feel that their making progress by using the digital equivalent of artistic tools, be it on canvas, paint, paintbrush or palette knife.
"It is important that Tanzanian artists learn how to be like chameleons through their art to adjust to emerging trends and diversify their techniques." Masoud Kipanya.
Workshop Participants, Benefits and Take-Aways
The Kutoka Canvas Kwenda Digitali Workshop was attended by a total of 16 participants including visual artists; Hapo Zamani za Kale and Aqua Farms Organisation team members and a sign language expert from Tanzania Association of Sign Language Interpreters (TASLI). The cohort of artists were from Arusha, Dar es Salaam, Iringa, and Tanga regions, selected through a competitive call for artists, included different participants. They were three male artists, George Emmanuel, Mustafa Sumaya, Albano Sylvester, an artist with a disability and three female artists Shija Masele, Jennifer Msekwa and Brenda Kibakaya.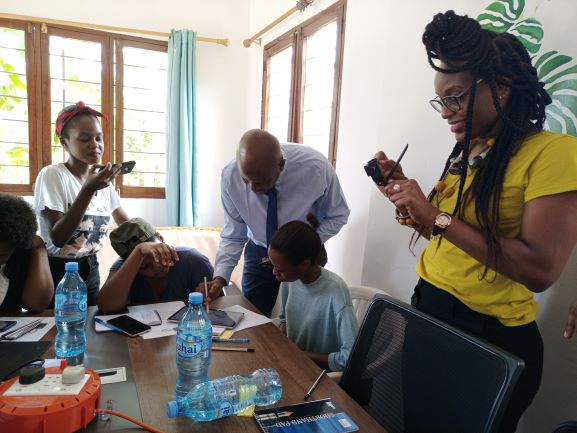 The workshop aimed to empower Tanzanian visual artists with digital skills, to compete in the 21st century. It provided artists with new opportunities for creating, showcasing and marketing their work. Lastly, it inspired and motivated emerging Tanzanian visual artists who learned about an expert's journey and industry experience. This is what the participants had to say.
As modern artists, we need to have skills that can help us to compete with today's world of science and technology. As an artist from a developing country, I think it is important to add new skills, especially through digital technology from canvas to digital skills.

Jennifer Msekwa, a Tanzanian visual artist and environmental activist,
Having a disability and [the] challenge of being unable to communicate verbally, I often go to training and I am forced to use pen and paper in order to communicate. I am impressed to have found a sign language expert at this Kutoka Kanvasi Kwenda Digitali workshop which has allowed me to learn, participate fully and enjoy sessions like the rest of my fellow participants.

Albano Sylvester
Digital arts/illustration is like killing three birds with one stone. Wherever you are, all you need is internet connectivity. There is no need for colour mixing settings as the full-colour printing of Cyan, Magenta, Yellow, and Key (CMYK) is already matched, thus giving the artists the advantage of maintaining their work quality. Lastly, there is the discarded need to scan the artwork, thus allowing [for the] easy sharing of one's work.

Artist Mustafa Sumaya, speaking about his transition to digital art
Below is a snippet of the workshop (in Kiswahili) compiled by Elizabeth Mwambulukutu showing the class in session