CEDAW for ADVOCACY
A conversation with an outsider who became an insider
By: Olam Rasaphonh, Project Coordinator-LaoPHA
The 'Dialogue on Effective Implementation of CEDAW' in Vientiane, Laos was the first formal meeting with Laotian peer support groups for sex worker communities, Women's Rights Organisations (WROs), Community- Based Organisations (CBOs), Non-Governmental Organisations (NGOs), Lesbian, Gay, Bisexual, Transgender and Intersex (LGBTI) groups and youth.
Just as in Cambodia, this meeting had similar objectives: to work with the peer support groups for sex worker projects in Laos, women's rights activists and other CBOs engaged and consulted in developing the shadow report for the Convention on the Elimination of all Forms of Discrimination Against Women (CEDAW). They especially focused on concluding observations for Laos to identify ways in which CEDAW can be used as an advocacy tool by vulnerable groups facing violence; including sex workers in Laos.
The Asia Pacific Network of Sex Workers (APNSW) had a chat with Olam Rasaphonh, the project coordinator for Laos to capture her thoughts and plans of utilising the lessons learnt from the meeting. Olam Rasaphonh, a participant in the meeting, is a transgender woman and an activist in Laos who works with and for the LGBT community, and female and trans sex workers' rights.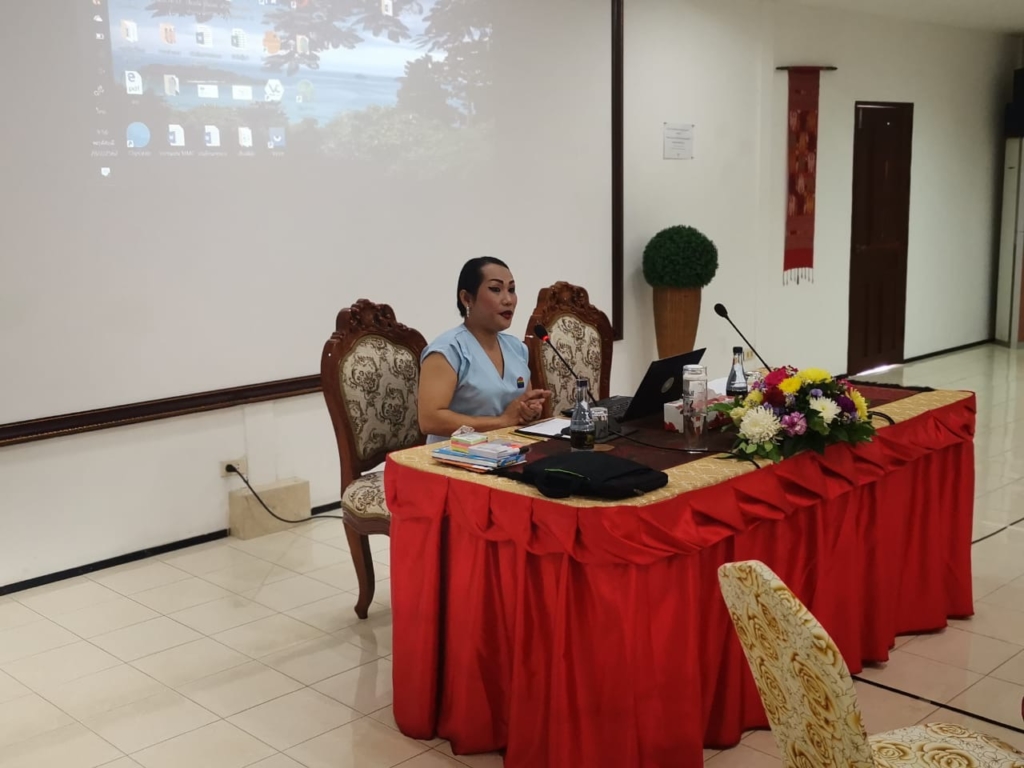 APSNW: Before this meeting, did you know about CEDAW?
Olam: Yes, I had attended a CEDAW one-day workshop which was conducted by World Education Laos. The workshop focused on general human rights issues but did not put much emphasis on educating the participants on issues and rights of LGBT and sex workers, which I also felt needs more time to understand.
APSNW: How did you feel about this meeting?
Olam: I think, as much I know, this was the first step about CEDAW with peer support groups for sex workers communities. This meeting was very productive and a good way of using CEDAW to support vulnerable groups in Laos especially for sex workers who want to move forward with projects focusing on their rights.
APSNW: Did you know that CEDAW can be used as an instrument for sex worker rights advocacy?
Olam: After this meeting, I am now a bit aware of CEDAW, its process and how we can use it for advocacy. I believe that CEDAW can be utilised as a tool for advocacy on sex workers' rights since CEDAW is an international law that the government of each country has to apply to their various local laws. As much as I know, in Lao PDR there is no proper government body, NGO or organisation which work on CEDAW for advocacy to support sex workers' rights. Some of the organisations and CSOs who work with sex workers only focus on their health, for example HIV/AIDS, STIs and general sexual health. This means CEDAW is not fully utilised as an instrument for sex workers' rights.
APSNW: Do you think this meeting will be helpful to advocate for sex worker rights in the future?
Olam: Yes, I do. Even though in Laos there are no organised or registered sex workers communities or groups. This meeting succeeds to gather sex workers communities, representatives from UN women, different CBOs, WROs all under one roof. It's an opportunity to share experiences, issues and problems of sex workers. I believe that this meeting is a stage for CSOs, NGOs, WROs and sex worker community members to plan for future work together on sex workers' issues advocacy. Similarly, we got a positive response from all the representatives from the meeting. To be specific, the representative from UN women wants to work on sex workers' rights.
APSNW: Do you have any key recommendation or suggestions for APNSW to begin a sex worker network and advocacy in Lao PDR?
Olam: I would like to recommend strongly that they establish a self-support group and peer network related to health and gender-based violence for sex workers as an initial step in Lao PDR. Sex work is illegal in Laos. I have learnt as a good practice from other networks such as People Living with HIV/AIDS (PLHIV) that they should first register in Laos so that they can have evidence to show the government before starting the advocacy work in Lao PDR.