Cambodia NOW-US! Bootcamp Awards Reflection
By Linking and Learning Team Cambodia 
On 24th August 2021, Cambodia NOW-US organizer Impact Hub Phnom Penh (IHPP) conducted a virtual innovation Bootcamp with  10 selected Cambodia NOW-US participants. All were from diverse rightsholder-led organizations or informal groups that proposed new initiatives and inclusion ideas for social participation.
The main purpose of this Bootcamp was to support each group to reflect,  refine and strengthen their ideas for the final pitching competition day that happened in the first week of October 2021.
Who were the 10 Cambodia NOW-Us Award Competitors 2021?
In The PINK is an independent digital campaign that seeks to raise awareness of maternal mental health of life-threatening warning signs during and after pregnancy and improve communication between women and their companions.
NEARY is an online platform which is an emerging group of women movement and strongly runs a campaign "I You Are Beautiful" aimed to raise awareness of beauty standard issues, and build body positivity and self-esteem to young people including men, LGBTIQ, and especially young women.
SafeSpaceBtB is an initiative LGBTIQA+ and peer-to-peer support to create safe space in Battambang province. Generate a Safe Space and a community that is welcoming diversity and love.
Hear Us​ is an LBTIQ+ group led and focus on empowerment, medical health service, and raising awareness about LGBTIQ+ Human rights, Sexual Orientation, Gender Identity, and Expression, and Sex Characteristics (SOGIESC), and SRHR.
GEM Peer is an emerging LGBTQI youth-led initially formed a "Rainbow Peer " focusing on empowerment, promoting SOGIESC, and non-violence work environment, and employability.
Untangle is a youth-led aim to raise awareness of mental health by running digital content creation, and campaigns, Telehealth, and Accredited to help recognize the signs and symptoms.
Organization for the Promotion of Kui Culture (OPKC), is an indigenous Kui led-organization based in Preah Vihear Province. OPKC's initial idea is to promote Kui culture, art, custom, and develop the dictionary written in Khmer and Kui language.
Save Vulnerable Cambodians (SVC), a local organization that supports vulnerable people such as elders, women, indigenous people to learn more soft skills, life skills, and vocational training to enable them a better future.
SAORI, a rightsholder group led by women with a disability and focused on supporting the disability field to obtain decent employment, earn a living, and live a dignified life.
CAMBODIAN ASSOCIATION OF HANSEN PEOPLE WITH DISABILITY (C.A.H.D) is the first association in Cambodia that supports those affected by leprosy and all types of disabilities and focuses on empowerment and education people with disabilities as well as improving accessibility.
What transpired during each week of virtual innovative Bootcamp?
Due to the Covid-19 pandemic, the plan was to hold an off-line Bootcamp but this was later changed to an online event instead.  A series of the 6-day Bootcamp event was organized for 3 weeks in August and September 2021, and the event of each week was conducted for 2 days. There were the same participants from different rightsholders groups and grantees who were invited to attend the event from the beginning till the end.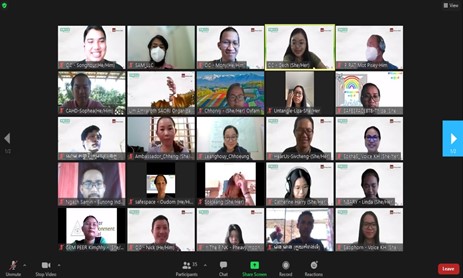 The first week of the Bootcamp aimed at orienting participants on how to develop and design innovative projects. The project ambassadors were introduced to 10 diverse groups. The second ​week focused on project technical design, project management, and budgeting based on home assignment surveys. Each group was required to do a presentation of a project assignment survey in the third week.
In general, during each week, the participants discussed integrated topics such as social entrepreneurship, social media-based advocacy, sustainable Development Goals (SDGs), non-violence communication, business model canvas, team roles, project management, design thinking, budgeting, stakeholder mapping, video production, leadership in action, the art of storytelling, self-love & self-empowerment, and the art of public speaking in pitching issues.
5 Voice ambassadors mentored and coached the 10 groups during the Boot. See more details Meet our passionate Voice Ambassadors – Cambodia NOW-Us! Awards
Mr. Yeang Sethsamprathna said,
"Social justice and right-based approaches are needed to improve and strengthen equality."
In addition, Prathna added, "Our innovative projects should strongly focus on advocacy and policy dialogues to promote human rights particularly the rights of women, indigenous people, people with disabilities, and improve social inclusiveness. Project approaches are designed with multiple innovative strategies to combat extreme inequality in society, reduce injustice, and amplify people's voices."
"Furthermore, the just-based approach (JBA) and rights-based approach (RBA) are emerging strategies that should be integrated into all project designs, implementation and monitoring, and evaluation. This approach is a platform to create more friendly social spaces where disabled people, LGBT, and indigenous people can exercise their rights, and their identities are respectively promoted."
Ms. Chansolinda Cheath, one of 20 participants, asked, "Why is there poor participation from women and youths? Women's participation should be respected and valued, and don't let them join the event just to complete a quorum.  Let them exercise their rights of decision-making."
"All conceptual topics of the event are ideas helping each group design and develop an innovative proposal with a focus of working for 5 rightsholder groups." Said Mr. THAY Pichmony, Program and Event Manager of Impact Hub Phnom Penh.
"With commitment, we have the same working goal of strengthening better social protection and care," said THAY Pichmony.