Linking and Learning pathways
The journey of Voice in the Philippines
By Yani Alonto, Programme Manager, YGoal, Inc. – Voice Philippines Linking & Learning Facilitating organisation
The year 2020 was a challenging year in the Philippines, as in most countries. It started with the crisis brought by the eruption of the Taal volcano in January 2020. A lot of lives were disrupted leading to the displacement of families residing in the affected area and loss of economic power due to the crisis. Concurrent to this, Covid-19 was on the rise and eventually unfolded a massive impact on the lives of Filipinos. While the pandemic has negatively impacted most of us, it has hit the most vulnerable sectors of society in deeper and more profound ways. Not only has it made their access to basic services even more challenging, it has also exacerbated the exclusion and exploitation that many of them already face even in ordinary times.
The effects of the global pandemic placed a major dent in the sustainability of the community of Voice Philippines (PH) grantees. Majority were focused on survival and self-preservation. All grantees' operations were on a halt given the mobility restrictions. Most of the advocates and rightsholder groups (RHGs), lost their means of earning resulting to financial instability. All grantees had to prioritise relief and pandemic response initiatives, leading to postponement of planned activities. This time pressed everyone to be more resilient.
The worsening situation became a turning point for the Linking and Learning (L&L) team. It called for an empathic response rather than completing a set of planned activities. We had to re-strategise; making sure that activities were sensitive to the contexts and responsive to the needs of the grantees and rightsholder groups. This prompted the conduct of Kumustahan sessions – a one-on-one check-in with the grantees. It intended to be a forum to get to know how each and every one was doing, provide emotional support and reinforce oneness as a Voice community. The data gathered then became the basis in designing the succeeding linking and learning activities.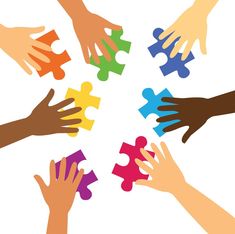 Emergence of Linking and Learning Pathways
The Voice PH L&L Pathways initiative emerged as a product of processing the information and learnings gathered from the Voice Kumustahan sessions (in April 2020 and the National Community of Stakeholders Summit held from June to August 2020). The data on the changing contexts of the grantees and rightsholder groups was then triangulated with the previously identified Communities of Practice (COPs) (these are spaces for grantees and rightsholder groups to reflect, articulate, and share challenges on specific thematic areas or implementation challenges) held in February 2020. As a result, it was concluded that most of the priority practices of the grantees and RHGs were still relevant but the global pandemic magnified the challenges they face. Thus, them leading the COPs became less of a priority. While disruptions were observed, it was also learned that harnessing capacities and sustaining learning exchanges on the identified COPs would help all grantees and RHGs not only to keep their advocacies afloat but also, would enable them to adjust and recalibrate their initiatives in the new normal.  
Several consultations were conducted to dig deeper on how the pathways could be relevant to them. Specific topics and concepts were identified and afterwards, the following pathways were developed: (1) Legislative Advocacy, (2) Communication and Advocacy Planning, (3) Psychosocial Support, (4) Enterprising, (5) Safety & Security, (6) New Normal Training Delivery and Remote Learning. A series of online learning exchanges were conducted from November 2020 to March 2021.
Linking and Learning as an Approach to Facilitating Linking and Learning
Upon surfacing the priority areas for learning of the grantees and rightsholder groups, the linking and learning team recognised that the grantees had varying capacities on these. The overwhelming impact of pandemic hindered them to be proactive in leading these COPs. As a resolution, we decided to partner with organisations whom we thought could temporarily hold the space for learning and share their expertise in the discussions. The online sessions were conducted together with the Collaborators (National Society of Parliamentarians, Sowing Legacy Movement, Inc. and Hagonoy Young Leaders Program).
Another pressing limitation was access to internet and technology among grantees and RHGs. With this, a Learning Management System (LMS) was established as an integral part of the L&L Pathways to ensure that no one is left behind. The LMS included video recording of the sessions, presentations of the resource persons/speakers, and pathway outputs. These materials were saved in a Google Drive acting as a knowledge product repository and shared to all grantees and stakeholders enrolled in the pathways. This way, they could access the materials had they failed to attend the online sessions.
Along the way, we learned that making these materials available online as means of asynchronous engagement was not enough. It only addressed the issue on conflicting schedule. We then decided to provide USB thumb drives to all grantees, for them to access the information even without being connected to the internet. Printed copies of these resource materials were also sent to those grantees who completely lacked internet connection.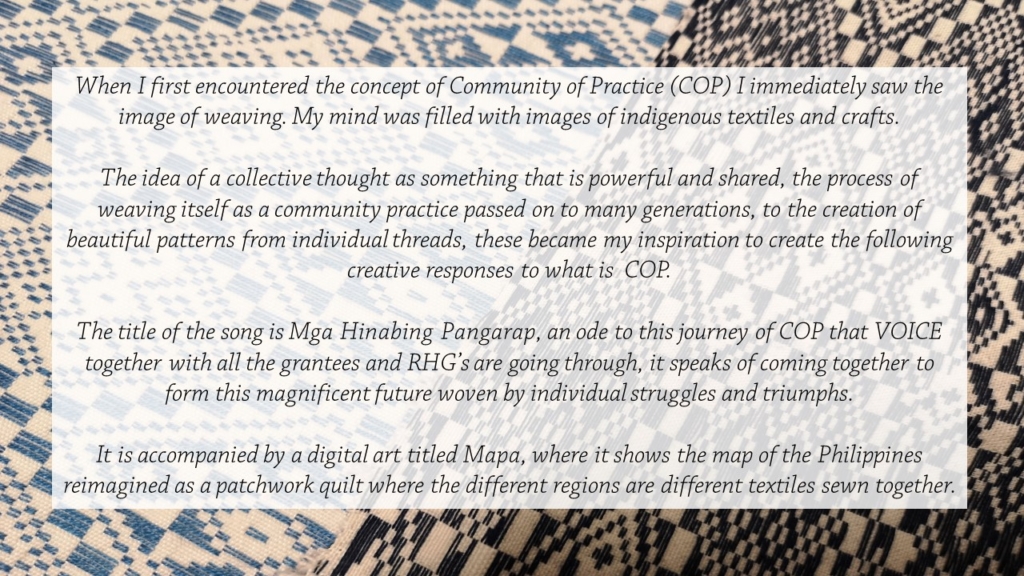 What some grantees and rightsholder groups had to say
Our engagement with Voice L&L activities are very helpful in pushing for our advocacy. Through the different initiatives of Voice L&L we can gain knowledge and skills that are useful in our organisation. We felt the help and support of Voice in this trying times. We are not alone." (Representatives from ULIKID, KAISAHAN, LCDPFI)
"I realised how the social enterprising can help create a better system for people who wants to start sustainable solutions to support the needs of different people." – Jerome Irabagon, Bukluran
"I learned practical tips on managing stress through the Psychosocial Support pathway." – Virginia Pacunio Guanzon, PSDM, Inc.
"Through research, (e.g., desk research, surveys, consultations), CSOs have better chances of lobbying for policies that promote or support the constituents and address their issues and concerns. There are available tools and strategies to effectively deliver messages to different groups such as policymakers, general public, and other actors. This increases the chances of the proposed policy being approved whether in local or national level." – Michael Vincent Mercado, Center for Disaster Preparedness
"Connecting with and engaging with other people can help with our coping in the pandemic." – Chantal Crisostomo, Metro Manila Pride
"I learned the ABC of self-care, awareness, balance and connection. I became aware of my limitations and at the same time thrive harder despite these limitations. Being in the moment and having focus are also good reminders for me." – Raddith M. Saldaña, Child Alert Mindanao
"We in ORKALEFF are very grateful for Voice that they have provided us pathways like these. You did not stop reaching out to us even in this pandemic times. Not only did you supported us with knowledge and learnings, your also linked us to different organizations and because of that we were inspired to know that we are not alone in this journey. We may have different advocacies but all are the same in the aim to serve the people in our community." – Loreta Arguelles, ORKALEFF
"It is a big help for us who are working from far flung areas in Mindanao. The modules and other materials linking and learning had provided have great contribution to our work specially in taking care of our self and our clients which are the children. We also became more efficient due to the contribution of the learnings in the module of linking and learning." – Child Alert Mindanao
"The pathway helped us to be reminded to seek other platforms and channels to lobby our advocacies. The sessions also helped us to be acquainted with other grantees, know their advocacies, and sharing lobbying experiences as well. Although we have experiences at the national level for lobbying, we also wanted to explore lobbying at the local level and we are glad that it was also discussed during one of the sessions. We agree with the recommendation to develop one political map, and have one-on-one session to help grantees develop their own advocacy plan." – Kim Alvarez, KAISAHAN
"I gained better understanding of policy advocacy, becoming one of the entry points in lobbying and taking advantage of network and resources. Reflections on how to apply parliamentary procedures to daily life and relationships with different people and groups were very helpful. There is an increase in social awareness and seeing the need to strengthen the capacity of persons with disabilities as advocates of inclusive policies", Anthony Rebenque, LAPDI.
"The Communication and Advocacy Planning pathway is a great help in learning different approaches and methodologies on how to effectively convey our message to the public. Like us, young farmers organisation, it helped a lot on how to encourage our fellow youth to engage in farmer through our advocacy."- Mary Jane Magan, KAISAHAN/ ORKALEFF
"The Psychosocial Support pathway is an important thing especially given our global pandemic context. It reinforces the strengthening of support system with constant sense of care, communication, and commitment. Listening with an open heart is very important. Thank you for the opportunity."- Melinda Gallego, MTWRC
"The Enterprising pathway was very helpful. The whole business model canvas content was very helpful for a strategy for advocating indigenous wisdom."-Elena Regpala, TPIF
Key Takeaways from the Initiative
Empathy has been our key to harnessing an open space and supporting the Voice PH community. The power of not knowing (setting aside assumptions, validating and challenging notions) and embracing the fullness of non-selective listening were highlighted in this experience. As Linking and Learning Facilitators, setting aside our personal assumptions, validating and even challenging them through empathy help us to be objective and intentional in our initiatives. It enables us to put the rightsholder groups at the center. The empathic process enabled us to co-create the pathways with them and respond to them with care and understanding.
The Linking and Learning (community) is a space that is constantly present even in the darkest times. It is a place where everyone is found and everyone is empowered to speak their own truth. It recognises diversity of truths and such diversity opens opportunities to connect with one another. It enables people to build a community that can withstand adversities. While L&L enable us to go and grow, it is also a place to breathe. It recognises the fact that advocates need an avenue to take care of their own wellness. Championing inclusion during these times can be tiring. Validating these not so rosy experiences and turning them into inspirations is possible in the linking and learning space.
Another thing that was highlighted by this experience is the power of choice. The global pandemic brought a lot of restrictions. In fact, it has paved way for further oppression. Part of the L&L pathways design is giving the grantees and rightsholder groups the freedom to choose the activities they would like to engage in. The L&L space enables one to hold the power towards personal growth. This reinforces the idea that linking and learning is not a forced process. The members voluntarily engage with it because they see the relevance mutually shared by all community members.
Being constantly present as the Linking and Learning Facilitators is also challenging. Same with all the grantees and rightsholder groups, we also experience disruptions and imbalance at organisational and individual levels. This vulnerability humbles us and enables us to recognise that while we hold the fort in sustaining the Linking and Learning space, we are also members of this community. The energy shared with us by our fellow grantees and RHGs fuels us to remain present. Seeing how this experience brought a stroke of hope is more than enough for us to push through.
As Linking and Learning Facilitators, we journey with our fellow Voice grantees and rightsholders. We dance to the rhythm of their voices. We sing their songs when they are silenced. We walk with them in their journey. There are times that we help them set their paths. We build a campfire – a place they can always go back to whenever they are in the crossroads or in need of company. A place of warmth and shared burning hopes.