Let's make a movie!
By Teyaorm Mas, Research and Consultancy Project Officer, This Life Cambodia, Linking and Learning Facilitator
When small organisations from across Cambodia came together for the Voice Linking and Learning event in March 2019 organised by us, we asked them to identify what help they needed to tell their stories. The majority said they would love to know how to make films – which made us think, who could help?
Step forward Bophana Audiovisual Resource Center!
Two months after the event, we partnered with Bophana Audiovisual Resource Center, a Voice Innovate and Learn grantee in Cambodia to host a film-making workshop. 16 Voice partners attended with some project participants, making a total of more than 34 participants. This event had a very diverse space as people with hearing difficulties and people from indigenous groups were all represented.
The first day of the two-day event began by introducing the participants to equipment such as cameras and basic skills for handling them. The day continued with introducing cinematography theory; looking at framing height and shooting elements such as extreme close-ups, medium close-ups, wide shots, full shots and many more.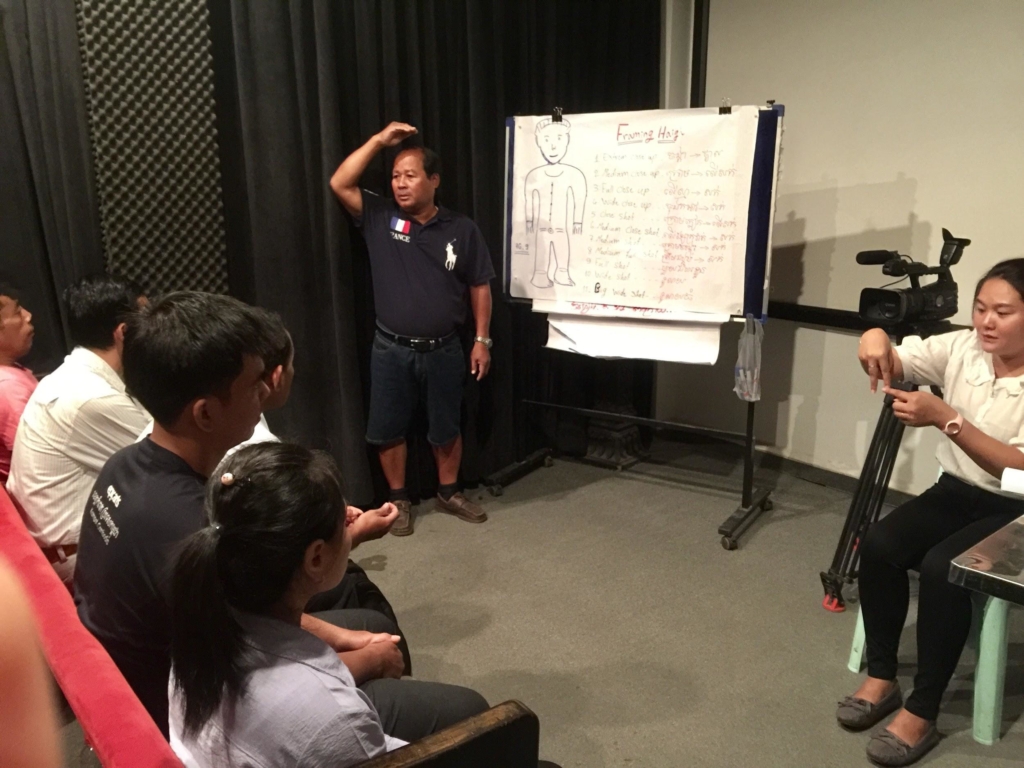 The eleven different filming elements were put into real practice in the afternoon shift. Practising helped the participants learn better… while also creating some fun memories.
On the second day, having learned how to shoot correctly in terms of the image, participants moved toward developing the concept of scenarios in order to draft ideas and create their own documentaries. They broke away into four groups and discussed possible themes and how they should produce their own film.

The four teams eventually started filming – with themselves as actors. The four subjects of the film were highlighting stories focusing on a person with a disability, a woman affected by HIV, early marriage awareness and a Cambodian art exhibition. The trainers were very impressed with the results because the teams were capable of producing such thoughtful stories which were well shot in a short period of time. There was a lot of enthusiasm and fantastic teamwork.

The event ended with the groups presenting their films to their colleagues. Constructive feedback and dialogue ensued which encouraged everyone to apply and adapt what they had learned and put into practice the next time their organisations needed to make a film.
This was truly a delightful event for This Life Cambodia to coordinate and would have been impossible without the support and talents from members of the Bophana Audiovisual Resource Center.
We cannot wait to see the organisations put their skills into practice!
PS: You can watch a snippet of the event in the video below