It all starts with a dream…
The story of Yama Diallo
Written by Sitan Coulibaly, Voice Linking, Learning and Communications Officer OXFAM au Mali
My dream is to become a journalist so that I can go from village to village to promote the rights of young women and girls. I was a young girl, powerless to see my village facing a rural exodus, a high school drop-out rate for young girls, child or forced marriages and early pregnancies.

Yama Diallo
Let me introduce myself, I'm Yama Diallo. I am a participant in an empowerment project entitled Inclusive Dialogue between young women and girls and their parents in the rural commune of N'Gara by the NGO CITOYENNE.
I am 15 years old and live in N'Gama, a village in Ségou, the 4th administrative region of Mali. N'Gama is a village where people migrate from, which has a low number of girls enrolled in school, or girls who do not finish their studies because they are forced to marry at a too young age. This trend is also encouraged by the girl's parents who tell her "Have you seen the neighbour's daughter? She left for the capital to find work and brought a lot of money to her parents. Why don't you do the same".
I had the same problem with my mom and I was about to leave school and the village because it hurt to hear her say that every day.
Before I made my decision I became aware of some young girl leaders who are implementing the Inclusive Dialogue between young women and girls and their parents in the rural commune of N'Gara in our village to raise awareness on the issues I shared earlier. The meeting was a great opportunity for me because I was about to drop out of school and I didn't know what could happen to me.
I joined the group and received training on gender-based violence, children's rights, early and/or forced marriage, the consequences of rural exodus as well as d communication techniques.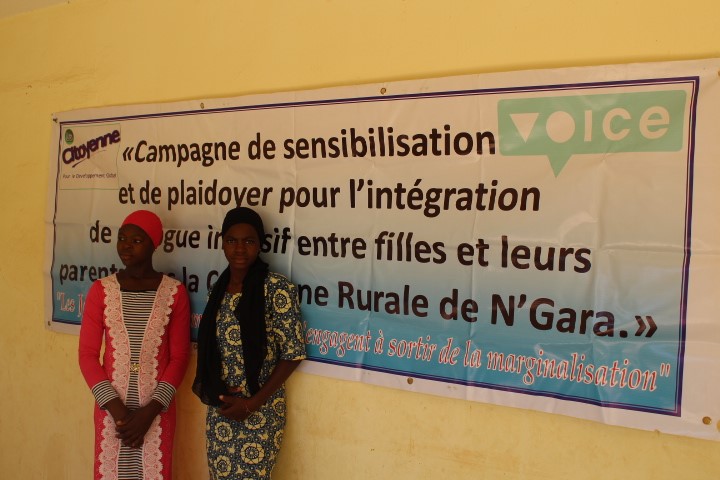 After this training I started to talk to my mother about different things, at first she had no time for me because these subjects are considered taboo between mother and daughter. But as time went by and because I understood the importance of education I was able to convince her to let me continue school. She told me this: "My daughter, I didn't know all these things, the consequences of girls not going to school and the rural exodus Thanks to you, I will be able to talk to the other mothers. We only see those who bring money but many girls are abused in the capital and most of them come back with children and empty hands."
I continued to raise awareness among my peers who wanted to drop out of school to leave for the city, I was able to convince some of them but others not. I am however not discouraged because it is an issue close to my heart and I will continue.
It is through these sensitisations that I developed a passion for journalism. I would like to finish my studies and become a great communicator and journalist to convey as many messages as possible in order to reach as many people as possible! But above all to be able to be in contact with communities to discuss with them about their stories and experiences in order to give their own perspectives.