Indigenous Women Rising
By Inez Hackenberg, Voice Coordination Team and Kayla Lapiz Communications, Linking and Learning Officer, Voice Philippines & Indonesia, Hivos South East Asia
"I see power, I see resilient people, and I see hope." – Rose Paragas, participant
The Voice Knowledge Exchange is a platform for Voice grantees, their communities, and stakeholders to come together and share experiences or discuss questions and concerns observed in the light of the grant-making programme.
The idea behind the exchange started with an observation revolving around the question: Where is the persistence of the women in movements, more specifically in indigenous movements, coming from? The programme decided to look at the ecosystems and forces behind the women's and indigenous movements, bringing together some fearless and strong activists to give insights on what it takes to keep fighting for their rights. Further, the leadership role of women in these movements was delved upon— what experiences are behind it and what recognition comes along with it?
Sharing and learning were not limited to the learning questions as the process allowed for more of the lived experiences and pressing issues to emerge. Emergent Theatre was the main methodology used along with other creative forms of expressions, creating an enabling and open environment. This helped in capturing the knowledge and experiences otherwise difficult to flesh out given the diversity within the group. Composed of representatives from eight countries, each shared their struggles and victories as they continue the double fight.
The video below shows a snapshot of the three days.
WOMEN FIGHTING FOR THE FUTURE
"The actual heroes are the women. They were the ones who slept under the blades of the bulldozers." Vergel Aniceto, Chairperson of Cordillera People's Alliance – Benguet Province
Hearing a man say this in the community gathering was amazing. Women rarely get credited by men for the victories they lead, even more so for indigenous women. They suffer extra layers of discrimination based on their womanhood within patriarchal societies. Beyond denial of Indigenous rights to self-determination and land, Indigenous women from all regions face discrimination based on their gender and related, less favourable cultural practices. These multiple layers of discrimination, however, did not make them cease to persist. During the exchange, this persistence points to one direction: the future. Fighting for the next generation, just as their ancestors protected their lands for them. It is this value of both nature and nurture and a deep understanding of the interdependency between / of ourselves and mother earth that creates a strong sense of responsibility toward their Indigenous lands and the environment.
"The pain the women suffer, is the pain the earth is suffering. The pain inflicted on the land is reflected in the pain inflicted on our women. Indigenous women's continued collective action is fuelled by pain. In the various experiences shared it was apparent how women, whether or not they are recognised, continue their involvement as they know it is the right thing to do. There is a need for broader social change, including in gender roles cutting across both policy level and everyday life, and Indigenous women continue to work towards it. It is a taxing and painful journey, but their courage is their threshold.
LAND IS LIFE
"The community has shown how they continue the legacy they learnt from their elders, and how they continue to fight for their rights as Indigenous People. Because this land is their ancestral land and for the indigenous people land is life and they will never give up the struggle until they are able to get back their land and to continue to live as peaceful communities on their ancestral lands." Jill Cariño, participant and former community organiser in the Cordilleras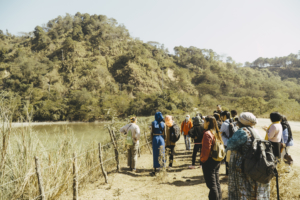 The community visit was one of the highlights of the exchange. This experience provided a version of reality that the indigenous women elders from the Cordillera Region endured during the height of their protest against open-pit mining. What was remarkable was the support given by their families, letting their wives and daughters join the frontline with an understanding of what is at stake and the strength they can bring. This support system continues to exist as they nurture the next generations. More than a legacy, it is a way of life. It is not just rooted to the hard-won victory against the extractive industry but to the connection that they have with their ancestral lands and the respect and value they have for the soils that enable life. It is also about showing and telling the world about existing forms of sustainable land use and the value of Indigenous knowledge and of healthy connections between all that grows and lives. It is about not giving in to fast economic wins. Indigenous women continue the movement as other issues arise— advancing together, bringing in the younger generations and the learning they gained from the past.
This visit was an inspiration for other regions who continue to experience land abuse and aggression from corporations and their governments. The participant from Uganda shared how the land situation is similar but very different in terms of youth involvement. For the Maasai community in Kenya, the participant shared that it is the elders who seem to be taking advantage of the tribal wars that result from land issues. This then reiterates the significance of intergenerational transfer, the importance of storytelling, and the importance of family.
PERSISTENCE, SOLIDARITY AND UNITY
"I think we really need to make very visible our very strong contributions." Joji Cariño, participant
Their reason for persisting is the generations to come and their armour in this struggle is their community. This exchange provided an opportunity for them to expand that community of strong women and men reformists who continue to fight for their rights. Knowing that they are not alone, that oceans away there are people who reflect the same journey, keeps them ignited. It is one of the significant realisations that support from the community is key to their strength.
From the rich sharing and reflections, needed actions were discussed in order to continue and further strengthen their movements. It surfaced from all regions that more capacity-strengthening on leadership, advocacy, and community organising should be initiated. Through these, opportunities of indigenous women's participation in decision-making processes both at local and national levels can be supported. Intensifying efforts for intergenerational transfer was amongst the significant lessons learnt that the participants deem important as they move forward.
Participants are also aware new times require, for example, (technical) knowledge of land rights and the proceedings to land titles, as well as understanding political and legislative processes. The younger generation is therefore motivated to study law or other related subjects.
Lastly, they saw the value of linking with other indigenous women's organisations and other local partners with bigger networks, just as they were able to experience in this event.
LEARNING HOW TO UNLEARN
"Our struggle is like a spiral and it brightens as we persist. And after persisting for so long, and when it goes to a success, then you still have something else to do. It never stops. You have again to start, either another problem you need to solve, either something else you need to sensitise about." Carolyne Ngala, participant
The knowledge Exchange led to learning but also to unlearning. The methodologies allowed for a safe and open space for all. How can we unlearn some protocol and top-down, controlled ways of working?
The honest sharing allowed for Indigenous women activists to share some feelings often unexpressed. On how they feel international processes and organisations often consult with them but don't engage, how the stories are used for achieving results rather than solidarity and collaboration, how they long for being listened to and for empathy. It's often in the way of working, the (lack of) time and the methodologies used.
It made one participant from an Indigenous peoples network say – since the start of this knowledge exchange I have just been unlearning.
Here are some further insighter's views of the Indigenous Women's Rising Knowledge Exchange.