Full Steam Ahead!
Or, where are we now?
Written by Marinke van Riet, global Programme Manager, Voice
Finally, the moment we have all been waiting for: an avalanche of new Calls for Proposals! While I write this blog we have fourteen Calls for Proposals open, and counting. They range from Linking and Learning grants to Influencing grants on movement building, repeat grantees to I-Rant for Nigeria – because Nigerian deserve a good rant, providing an opportunity to transform words into action.
The Calls have to be seen as a significant step as part of the transition leading up to the extension phase starting on 1st of April 2021. But they are only one step and it may be useful to explain what we have been up to leading to this moment, and what is still in store the coming months.
First, it is important to keep in mind that in order for Calls to be issued we had to consult with the Voice rightsholders, CSOs, other stakeholders and beyond to update the context at national level. After all, we live in a rapidly changing world and 2020 has simply been a rollercoaster, not in the least because of Covid-19! In most countries this exercise was done virtually carefully engaging the right voices, leading to a validation exercise to endorse the final results. The first tab of each country page is titled Context where the results of this exercise are documented. We start with the big picture, zooming in on voices behind the picture, their aspirations and zooming out again with the priorities for Voice in the coming years. Please read the context carefully, especially for grant-seekers as it will help you to ground your application.
A new look
Change demands a new look and feel! I am sure you have noticed our bold new home page, inspired by our Theory of Change, Voice(s) Untamed (Annual Report 2019) and the hope-based narrative Voice has embraced. The people in the hot-air balloon are some of the rightsholders journeying with us while we navigate the three pathways in our Theory of Change, to Empower, to Amplify and to Influence. The home page is presented in a small rhyme, describing in a nutshell what we do and aim for: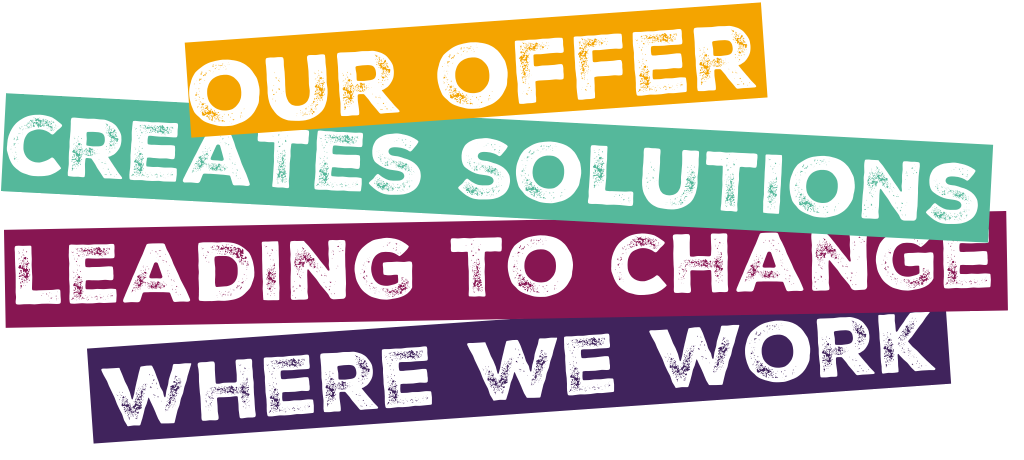 We are also working on an animation of the Theory of Change to be launched soon and continue to invest in changes to our application and reporting system, including rolling out a conversation-based reporting approach to replace the 6-month narrative report.
New roles
The transition phase will also see new roles and positions within Voice. At national level, we are adding a third full-time post to the country teams. In addition to a Project Coordinator (or equivalent title) and Finance Officer, we are recruiting a Linking, Learning and Amplifier Officer. This position is to coordinate the nexus between the three key components of Voice at national level, ensuring that rightsholder voices can be heard deep, wide and loud! Cambodia was the first to launch the role (now closed) but soon many other countries will follow. Keep on checking the website and our social media channels for recruitment announcements.
The global MandE role is in the process of being decentralised into two regional roles: a Roving Monitoring and Evaluation Officer for Africa (already recruited) and one for Asia. The latter is currently open for candidates based in Laos or Cambodia – with a deadline of 1st of December. In all our recruitment we are especially committed to inclusion, so are reaching out to the Voice rightsholders! Join us!
And finally we launched a Call for new Advisory Board members – particularly from the rightsholder groups Voice stands for. We are currently reviewing the many applications we received and will announce a new Advisory Board in January 2021.
Voice @5
On April 7, 2021 Voice will turn five! This calls for a small celebration. With Covid-19 still upending our lives we have decided to organise a virtual celebration, connecting the ten countries plus the Netherlands all at the same time. Some countries may decide to organise a face-to-face event – if possible- but in all instances it will be an occasion for the rightsholder groups to shine – in whatever form or shape. Watch this space!