Kadidjatou, champion and mother of all courage
The Fight of a lifetime
By Aida Toye, Linking, Learning and Amplifying Assistant, Voice Niger
Affected by polio at the age of 2, this champion has won several Paralympic Games medals and now looks after her children who have the sickle cell disease. That doesn't deter her energy in any way though!
Supported by the NGO GONI teams, a Voice Innovate and Learn grantee in Niger, she learns how to slam and talks about her many fights in life.
This is her story.
Kadidjatou is 44 years old. She contracted poliomyelitis when she was only 2 years old and has had to live most of her life in a wheelchair. She met the team of the NGO GONI who since then has been coaching and training her in slam and public speaking.
Kadidjatou has a strong character and is the mother of 4 adorable children. Kadidjatou is quite courageous and thanks to her physical strength has won more than 15 medals in several disciplines- from gold to bronze and silver – including 3 obtained at the 8th African Games of 2003 in Abuja.
Behind this apparent strength and resilience, there is no sign of the deep wounds left by the daily struggle she has to endure to care for her children. Two of them suffer from sickle cell disease. "I have once gotten up at 2 am, gotten onto my tricycle to get a taxi to take us to a hospital because one of my children was having a seizure due to his sickle cell disease…" she shared during her speech at the Fail Fair.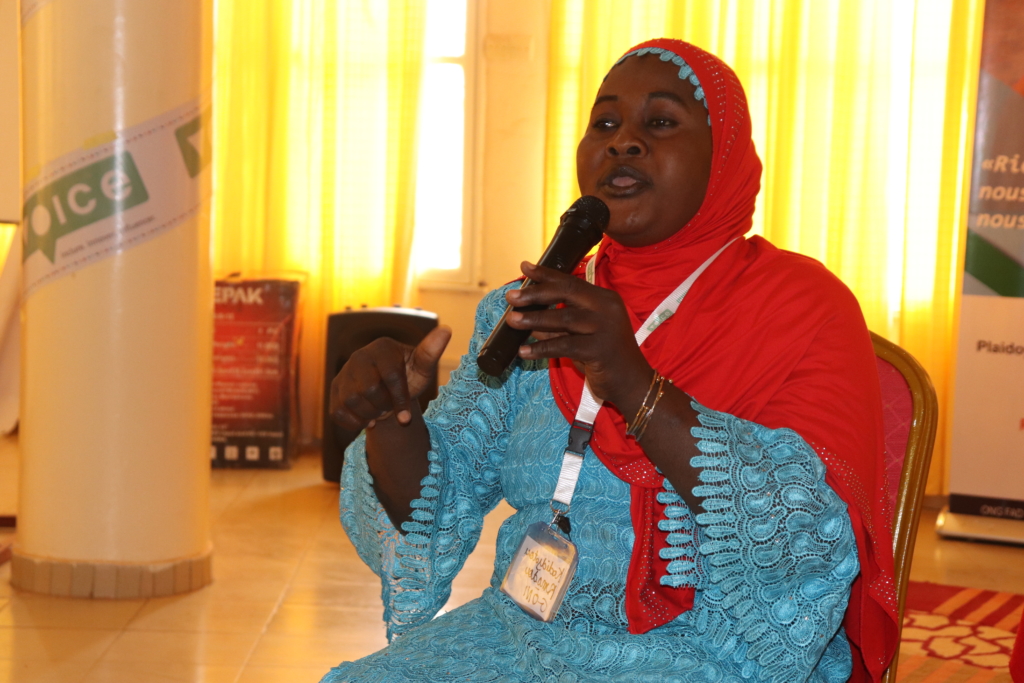 One of her greatest regrets is that she was not able to go far in her school studies. "I decided not to go to school anymore because the other children were making fun of me because of my disability. One day, after a fight between me and another child who was picking on me, I was the only one to be punished and flogged by the teacher. 'We've had enough of you,' he said. 'You are always sowing discord'…" " But I was only defending myself" I cried out to the teacher. "After that day, I told my parents I didn't want to go back to school and they didn't force me back".
Today Kadidja, who owns a sewing workshop, doesn't believe in giving up. She always wears that beautiful smile that lights up her face. She never misses an opportunity to advocate, especially on the condition of her children. She hopes that the treatment of the illness they suffer from can be taken care of by those in power and decision-makers.