From Home (-maker) to Hospital (-driver)
The story of Mariam Diarra in Mali
From Home (-maker) to Hospital (-driver)
Written by: DIA Kadidia Tangara, Communications Officer, Accountability Lab, Linking and Learning Facilitator, Mali
To promote gender in transport especially for referrals to health centres in the case of obstetric emergencies, is precisely the innovation that NGO PIEACPD, (Plateforme d'Initiatives, d'Expertises en Éducation et d'Appui à la promotion des Collectivités Décentralisées or Platform for Initiatives, Expertise in education and support for the promotion of decentralised bodies) would like to develop as part of an Innovate and Learn grant in Mali. This is under the project of prevention and response to obstetric fistula through improved transport.
The 'operation' kicked off in a Community Health Centre in Samine in the Segou region. Mariam Diarra had the honour as one of the first women to participate.
The problem: fistula
Fistula is a hole in the birth canal caused by obstructed labour. It happens more in rural areas where there is a lack of medically qualified personnel. It is caused by, among others, delays in referring to hospitals (so-called 'first delay'), harmful gender-based practices such as Female Genital Mutilation, child marriage, poverty, distance from a health centre, delays at the facility itself to administer health care, and giving birth at a young age (under 18), as well as malnutrition.
The consequences of obstetric fistula can be enormous. They include, for example, injury, stillbirth, social exclusion, marginalisation, isolation, religious exclusion, abandonment by the husband, divorce, legal separation, reduced working time and loss in purchasing power, and psychological trauma.
For NGOs like PIEACPD, safeguarding social well-being also means access for all to quality health care, including reproductive health, and obstetric fistula.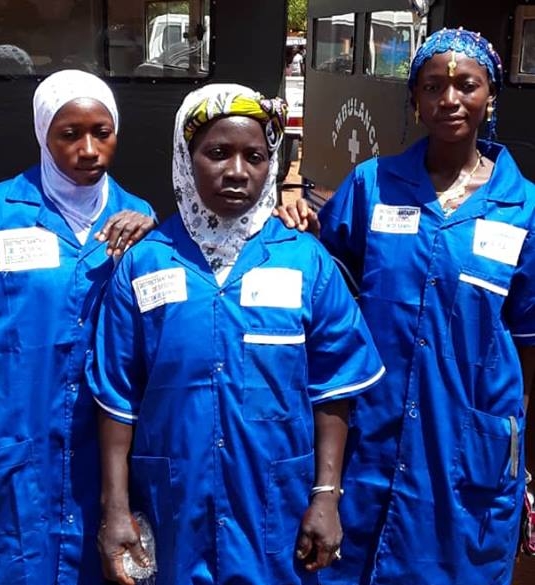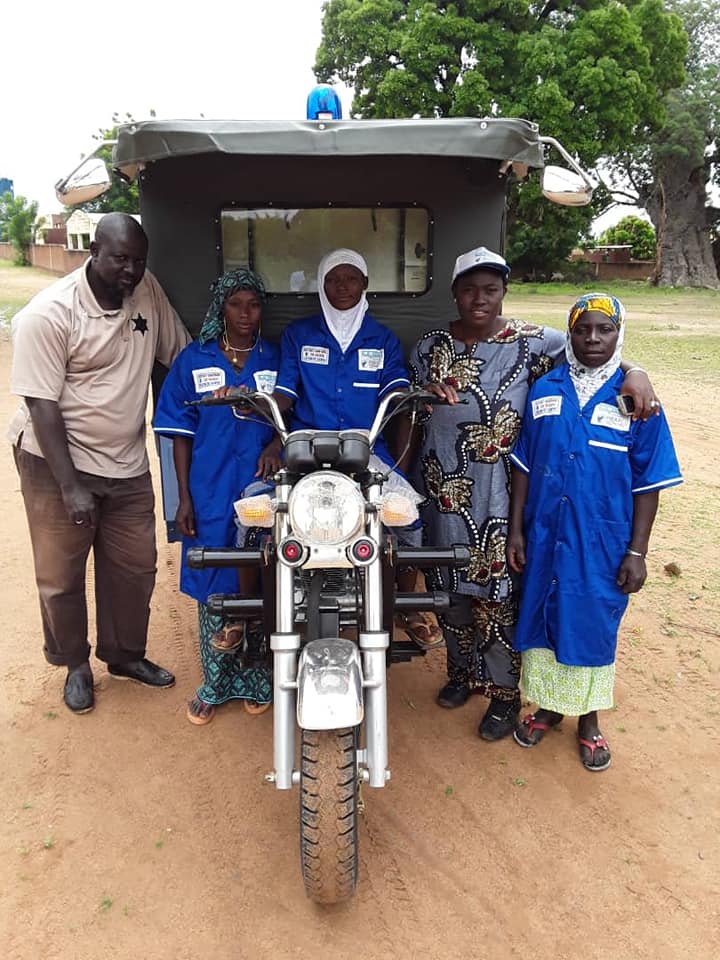 The case of Mariam resembles that of thousands of women who, in anonymity, suffer quietly the after-effects of obstetric trauma.
Following the first meetings with PIEAPCD, as part of the Voice project to reduce the risk of obstetric fistula, Mariam Diarra was one of the first candidates for driving a motorbike ambulance for the Samine Community Health Centre.  Driving an ambulance is a role reserved for men only and, the motorcycle ambulances are also a novelty, at least in this locality where men dominate in decision-making. Because of this role, Mariam Diarra and two of her colleagues have obtained a status in which they will be more respected and will henceforth participate in decisions on referral management in case of medical evacuation.
Mariam has strengthened her skills in understanding how to drive, she knows how to use the motorbike ambulance by learning and with the support of another organisation she has a telephone and is accessible to all women requiring referral to the Community Health Centre.
She uses her motorcycle ambulance to raise awareness among women and youth about obstetric fistula and participates in case identification to be treated at the NIANAKORO FOMBA Hospital in Ségou.
A housekeeper, Mariam Diarra has become a driver or a femme fatale and now is a key component of the management of the Samine Health Centre. The project is demonstrating that it is possible that women, too, can play the role of ambulance attendants and participate effectively in reducing obstetrical risks and improving emergency care.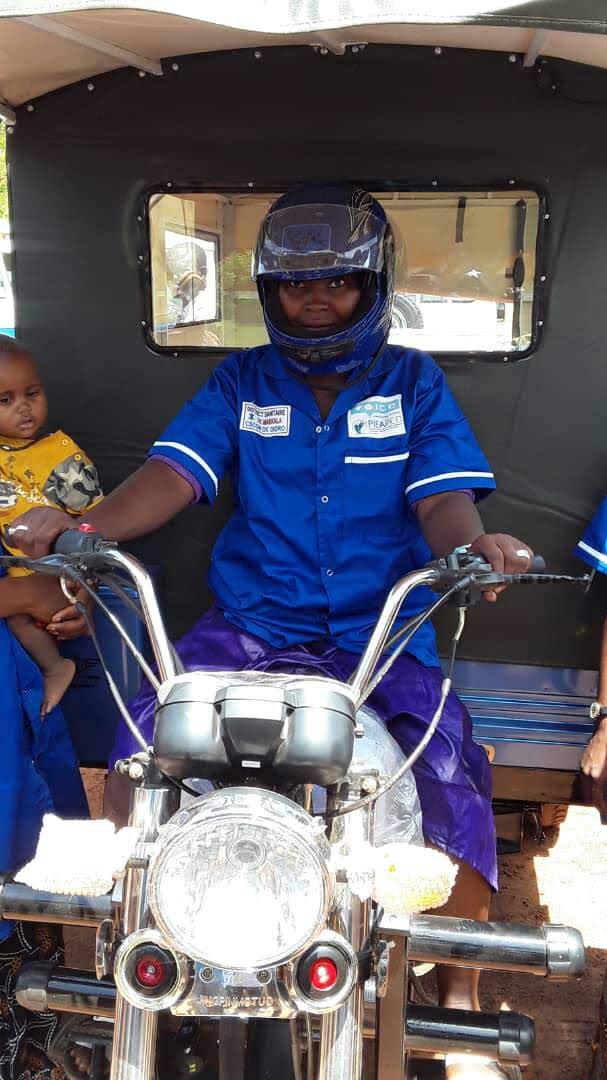 In her own words:
« I have already been a survivor of obstetrical risks, I know the suffering, I was evacuated to Segou, my child did not survive, I had the chance to be alive, but I could no longer have children as the doctors performed a hysterectomy. Here I have another chance, I can help other women to go to the health Center quickly by driving the motorbike ambulance myself. I also have a motivation related to this work that allows me to take care of my children. I feel more useful in my community, participating in public meetings. »
Mariam Diarra is a great example of promoting gender equality in the transport sector and more specifically to help improve access to health care for women in rural areas.