An inclusive response
Using a disability-inclusive data collection tool for COVID-19 response
By Michael Vincent Mercado, Project Manager, Center for Disaster Preparedness , Philippines
2021 has come and we continue to tread through the changes together. In this journey, People with Disabilities in the Philippines, together with the Center for Disaster Preparedness (CDP) a Voice Innovate and Learn Grantee, have co-created an inclusive path amid the pandemic. Let us take a look at how an inclusive approach through CDP and its partner communities' for the Project has developed a disability-inclusive data gathering tool, which came in handy as COVID-19 set in. 
As the COVID-19 pandemic crept through major cities in the country, the national government made swift decisions to put large swathes of the country's population under mass isolation -lockdowns and curfews. This was to contain or slow down the spread of the virus. However, these rash decisions affected some groups disproportionately. Policy-makers and members of the Inter-Agency Task Force (IATF) had not yet adequately consulted communities, civil society, and those who have the experience and expertise on the secondary effects of lockdowns, social distancing measures and movement restrictions.
One particular group of concern is People with Disabilities (PWDs). This is why we launched an online survey to provide a quick overview of the situation for specifically this group. There were a total of 4,220 households who responded to the survey involving a total of 5,755 PWDs in the surveyed households. Loss of income or livelihood was the top issue among these households when asked how the community quarantine has affected them.
While the community lockdowns may have helped delay the spread of COVID-19, it also caused thousands of families to lose their livelihoods and sources of income. As a result, 64% of the total number of respondents indicated that they needed financial support and that they did not have access to basic necessities such as medicine and therapy. With the release of Joint Memorandum Circular No. 1 series of 2020, or the special guidelines on the provision of social amelioration measures to the most affected residents from the areas under enhanced community quarantine, we supported Life Haven's call for a disability-inclusive response. The aim was to have persons with disabilities and their households including children with disabilities and their families receive adequate assistance to manage the economic hardship that persons with disabilities and their households are experiencing.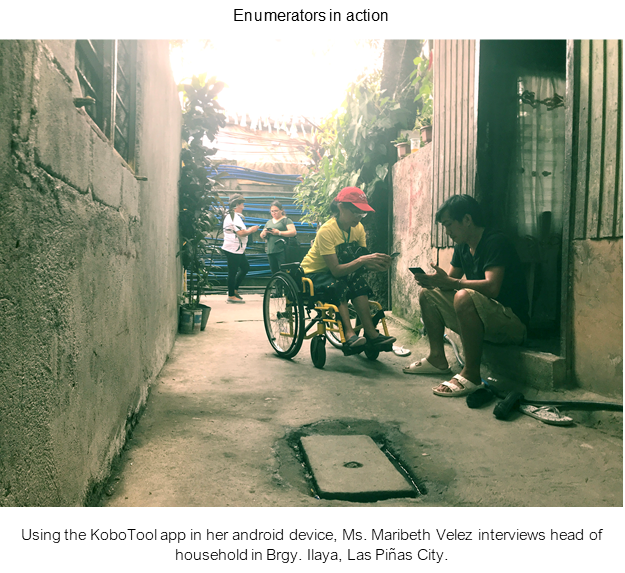 We helped petition the government to utilise all available data particularly, the Listahanan database of the Department of Social Welfare and Development (DSWD) as the main source of information. We wanted to know who the PWDs were, the records of every Local Government Unit (LGU) issuing PWD identity cards to complement the database of Listahanan, and the data of Disabled People's Organisations, organisations of parents of children with disabilities, and organisations of both to complement the database of Listahanan.
Fortunately, in our pilot areas — Barangay San Jose in Bislig City and Barangay Ilaya in Las Piñas City — a database of all the Persons with Disabilities residing in the community or Barangay was readily available for the Barangay LGUs. This facilitated the submission of a master list to the City Social Welfare and Development Office (CSWDO) by the Barangay Secretaries. In fact, John Lester Pusing, the head of enumerators during the data profiling activities in Barangay, Ilaya, noted that they were the first to submit their list for Social Amelioration Program (SAP) to the city.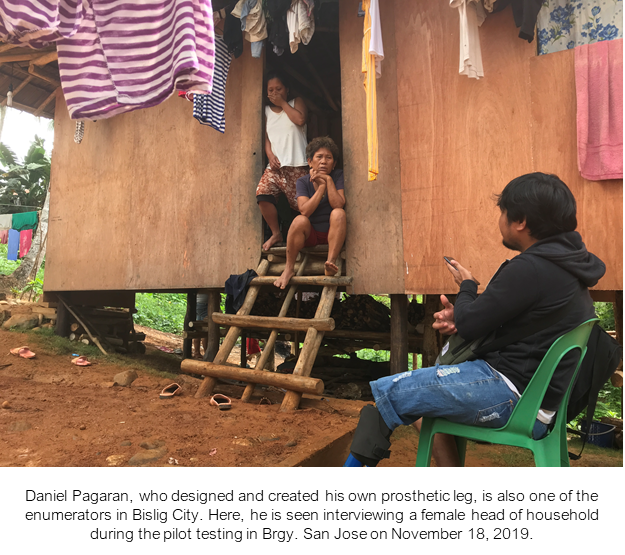 According to Marjorie Eson, the Barangay secretary of Barangay Ilaya, at the time of the community lockdown almost all of the 185 rightsholders that were identified through the Inclusive Data Management System (IDMS) pilot testing received the first tranche of Php 8,000 of DSWD's SAP. These individuals were included in the federation, she added, and were requested to register in the city, shortly after the pilot testing was done in December of 2019. She hopes that other Barangays will also be able to implement IDMS.
" Irerecommend ko din po. Sana ibang barangay matutunan ang IDMS para makatulong sa pagpapabilis ng pagkuha ng data (I'll recommend this to other Barangays as well. I hope other Barangays too will have IDMS to facilitate the collection of data),"

Marjorie Eson, the Barangay secretary of Barangay Ilaya
Through the data collected, they were also able to distinguish which individuals are receiving social pensions as senior citizens. Julius Dave Tecson, one of the rightsholders living in Barangay San Jose who also served as an enumerator during the pilot testing, noted that they were able to pinpoints Persons with Disabilities who are bedridden and they were prioritised in the Barangay's distribution of assistance. A total of 72 rightsholders received the additional cash assistance from their Barangay, while 80 others received SAP from the city.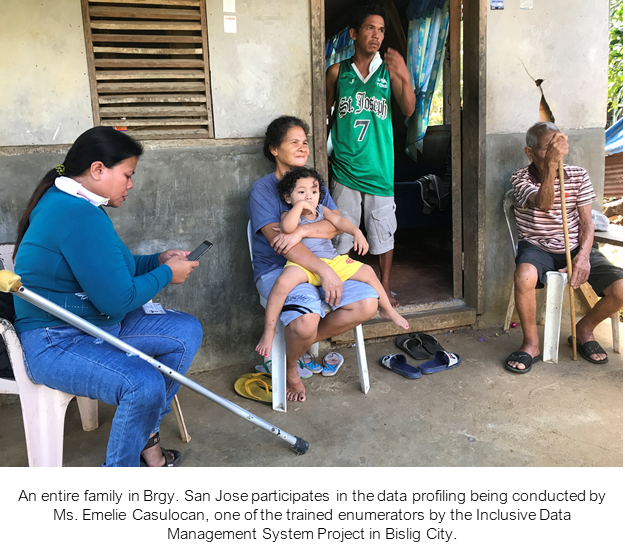 CDP innovates and learns through IDMS
CDP is used to conducting research and providing partners with technical assistance in Disaster Risk Reduction and Management (DRRM) related activities such as community risk assessments and planning. But the inclusive data management system project is the organisation's first real jab on employing innovation and learning in providing a viable solution to what it considers bottlenecks, where major issues confronting the disability sector root from.
The inclusive data management system is a tumultuous task, and CDP attempted to integrate it with its practice and expertise on community-based disaster risk reduction and management. To do this, first, it invited organisations of persons with disability, LGUs, and fellow CSOs in a series of consultations to gather existing tools and mechanisms being used by various LGUs in different parts of the country. As a result, CDP was able to come up with a definitive version of a data profiling tool that could be used by LGUs in collecting information for the inclusion of persons with disability in local government planning.
This was further enriched and refined by the experiences and suggestions of the trained enumerators who did the actual surveys. Utilising the tool in capturing disability-related information in a Barangay is one thing, but to actually use the tool in collecting data from a geographically isolated and disadvantaged area in Bislig City — and in the process, share helpful information to a less visible and underserved community — is another. CDP took advantage of a tool that could be used offline without hauling bulky sets of questionnaires. Through the project, CDP also gained more confidence in utilising technology which it hopes to employ whenever there is a need for data collection for communities it serves.
The capacity-building activities that were done through the project were entirely different from the type of training that CDP is used to handling. KoboTool use, data analysis and visualisation — these topics could be highly technical for participants from the Barangay and LGUs. Most of the participants said that they are often intimidated when they see several columns and rows in Microsoft Excel. But after learning the basics of data management and analysis from our Inclusive Data Management Training, they expressed a certain level of comfortability in navigating the program and handling large amounts of data for use in budgeting and planning. CDP provided this type of training by employing a hands-on approach and designing a learning activity that is easy to follow and understand.
We couldn't be any prouder of how the disability-sensitivity sessions and training on IDMS have made a mark on the Barangay officials from San Jose in Bislig City. Barangay Captain Evelyn Olano, along with her Barangay Councilors, have stepped up to serve their constituents better by supporting the activities of the project, especially the pilot testing. They have provided transportation and guidance for the project's enumerators to reach the most underserved portion of their Barangay. This is important to note as persons with disabilities living at geographically isolated and disadvantaged areas are especially invisible and marginalised due to their little if at all, participation in society on an equal basis with others.
In San Jose, they were able to locate the rightsholders and aid the CSWDO in providing Php 5,000 financial assistance to them. In addition to this, the Barangay was able to realign funds from activities that were not implemented and provide an additional relief that included Php 450 cash, five kilograms of rice, three cans of sardines, and packs of coffee to the rightsholders. So while persons with disability and older persons were priorities, they looked at other criteria in deciding who among their constituents are in dire need of help. This underscores the importance of having a database for Barangay LGUs especially in identifying which families or individuals to prioritise during crises.
Data collected during the pilot testing was provided to them during the Inclusive Data Management Training on March 3-6, 2020 at the Grand Palace Hotel in Butuan City. The data helped them identify residents in their barangay who have not been registered at the City Persons with Disability Affairs Office (PDAO). Which later on proved to be helpful. During the community quarantine, some of the persons with disability living in San Jose did not receive Php 5,000 cash emergency subsidy from DSWD SAP for failing to meet the criteria. This is, families who receive cash assistance must belong to the informal sector whose livelihoods has been most affected by the Enhanced Community Quarantine (ECQ). Quick to act, Barangay Captain Olano utilised their PDAO funds and reallocated other resources to provide cash assistance to the rightsholders.
It can be recalled that in 2019, Barangay Captain Olano and her Barangay councillors also increased the budget for their PDAO activities after attending sessions on disability sensitivity. If these are any indication, we will see more programs and projects from the LGU of Barangay San Jose designed to address the issues, concerns, and needs of persons with disability within their community.
It is also during these trainings that members of the community and officials from the Barangays can voice their concerns related to planning, budgeting, and data collection to personnel working for their parent Local Government Unit. In the training that was held in Butuan City, several heads of offices were invited, providing the officials from both Barangays San Jose and San Roque to raise their concerns to their parent LGU.
One of the most notable issues raised was that of unemployment and zero sources of livelihood for Persons with Disabilities. In response, Ms Laine Elechicon, the head of the City Public Employment Service Office, first acknowledged how the two Barangays have a lot on their plate, shouldering huge responsibilities. She then went on to invite both of the Barangays to visit her office any time to raise the issues and discuss concerns with her. She also noted that Bislig City complies with the law and have highlighted that the City PDAO and other organisations have continually hankered her office to employ Persons with Disabilities. She stressed that there are opportunities in the city for PWDs, even permanent positions.

"These things should emanate from the bottom — participation, cooperation, communication, and collaboration with the PDAO. Visit us. We can do great things together,"

Ms. Laine Elechicon, head of the City Public Employment Service Office