Louder and Prouder!
Behind the scenes of the first-ever Pride Crosswalk in Eastern Visayas, Philippines
By Kayla Lapiz, Linking, Learning and Communications Officer, Voice in the Philippines and Indonesia
---
San Julian Pride, Inc. or SJP, an Empowerment grantee with Voice in the Philippines, started its Pride Month celebrations with a bang! SJP gained attention from local to global level media outlets when it introduced the first-ever Pride Crosswalk built in Eastern Visayas, Philippines. SJP is currently implementing UnivLink, focusing on organising LGBTI students in three campuses and strengthening their capacity to counter discrimination in their campuses. Being a new grassroots organisation, they are also working on their own organisational development.
Undeniable resilience of San Julian Pride
The town of San Julian is located in the Eastern Visayas region, which is one of the most disaster-prone areas in the country. San Julian has experienced some of the worst disasters in the Philippines, including typhoon Haiyan. SJP, which started out as a loose LGBTI organisation, did not let these tragic events get in the way of their advocacy.
Rampa Este
SJP planned a couple of exciting activities to look forward to in celebration of the long pride month. They called this event-filled celebration "Rampa Este", which means to maintain your sashay. Here are some of the things they did

Pride walk schedule of activities

Pride walk schedule of activities


Pride walk schedule of activities
For starters, they opened the first-ever Pride Crosswalk in Eastern Visayas. Behind the colourful walk was a team full of heart. SJP shared how they went the extra mile in gaining permits from the local government, helping out the painter who had stomach flu at the time but chose to work because he knew how much it meant, and having a squad using their hair-dryers because the paint would not settle. Well, everything was worth it!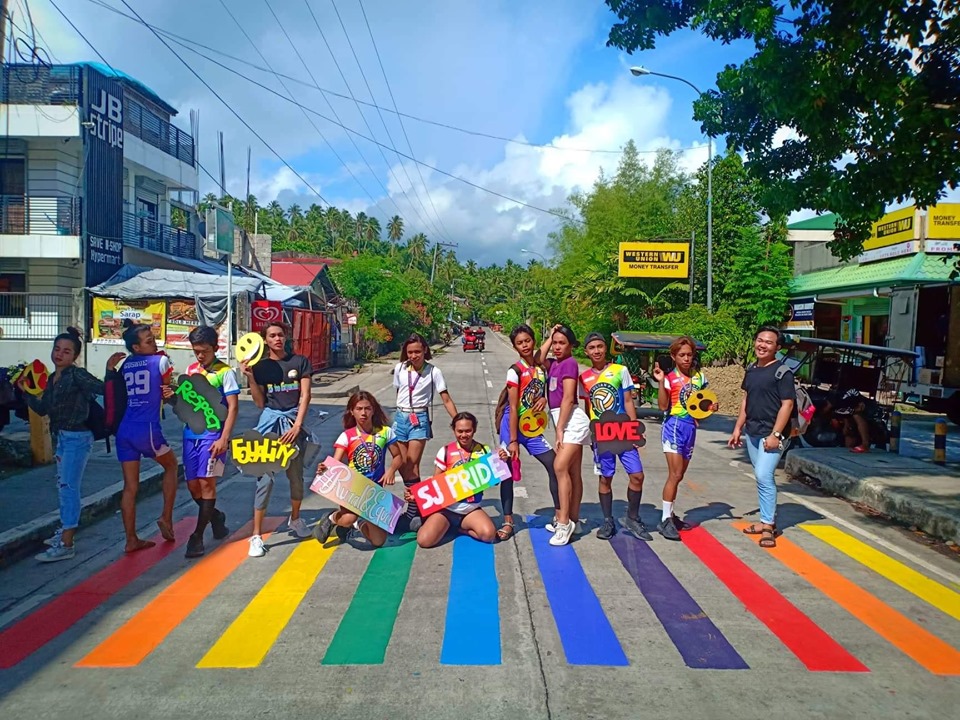 Pretty sight, isn't it? That was just the beginning. In the other events, there were other participants joining to get to know the rest of LGBTI community and straight allies in the whole province of Eastern Samar, which is composed of 22 municipalities and one city. For more information on these events, you may check their FAQs. What SJP wants everyone to know is that San Julian is a safe space for the LGBTI community. To further prove that, they also started developing a synergistic relationship with their local municipal government.
#RuralAndEqual
Apart from being the first to built the Pride Crosswalk in their region, SJP also made their town the first municipality in the Philippines to have an approved Anti-Discrimination Ordinance (ADO) — talk about being on a roll! In August 2014, inspired by the cities and provinces in the Philippines that have passed ADOs, Roel Andag led the local LGBTI community to lobby with the municipal council to pass a local ADO. The ADO was approved in October that year, its Implementing Rules and Regulations were signed by the Local Chief Executive on December 10, 2018 – International Human Rights Day – after some determined lobbying by SJP.
With their hashtag, #RuralAndEqual, they made their voice resonate with the whole LGBTI community and the rest of the world: that they are here, doing their part in creating a kinder, more inclusive, and more peace-loving society. They do this not just with their big smiles and colourful personalities, but also with braver souls as they came to voice.
"From our small rural corner to the rest of the word, Happy Pride!" – SJP
Below are the links to various features on the love-filled crosswalk:
Keep up the glimmer, San Julian Pride!