Claiming our space! We belong!
"I was discriminated from childhood. I was called demeaning names by the villagers. Children did not want to associate with me; it was because of having loving parents who negotiated to have me sit at the front of the class, that I was able to study. Even in my adult life, this discrimination persists, I had difficulty finding a job and later when applying for a promotion as an education assistant, I later learnt that I was not considered for the position because of having albinism".
Phillip Makasi, primary school teacher, father of four. Albinism Umbrella Member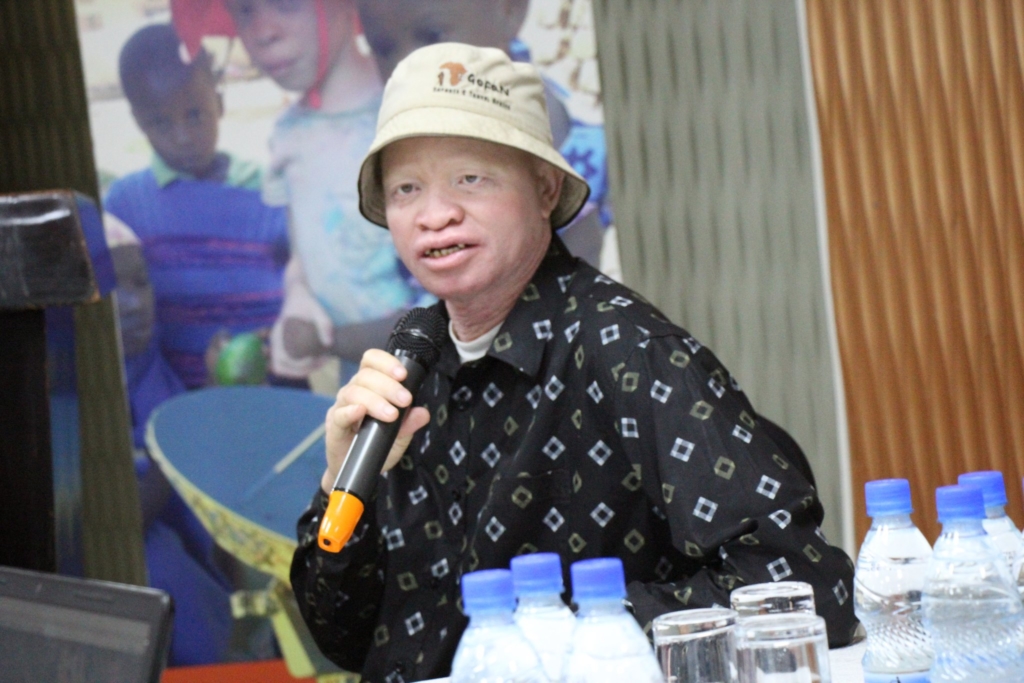 What are you doing to ensure that everyone's voice is heard and is part of the conversation? The diversity amongst us is the one thing that makes us unique and ensures that society is a better place for all. Promoting diversity, especially by and for people with albinism lies at the heart of the work of Albinism Umbrella, an Innovate and Learn grantee in Uganda.
On 21st May 2019, their Director, Olive Namutebi, -a woman with albinism herself- launched the-first-of-its-kind report titled Spatial mapping and profiling of persons with albinism in East Uganda. The groundbreaking report discusses community perceptions about albinism as well as offers a database of Persons with Albinism and organisations serving them in 10 selected districts in Uganda.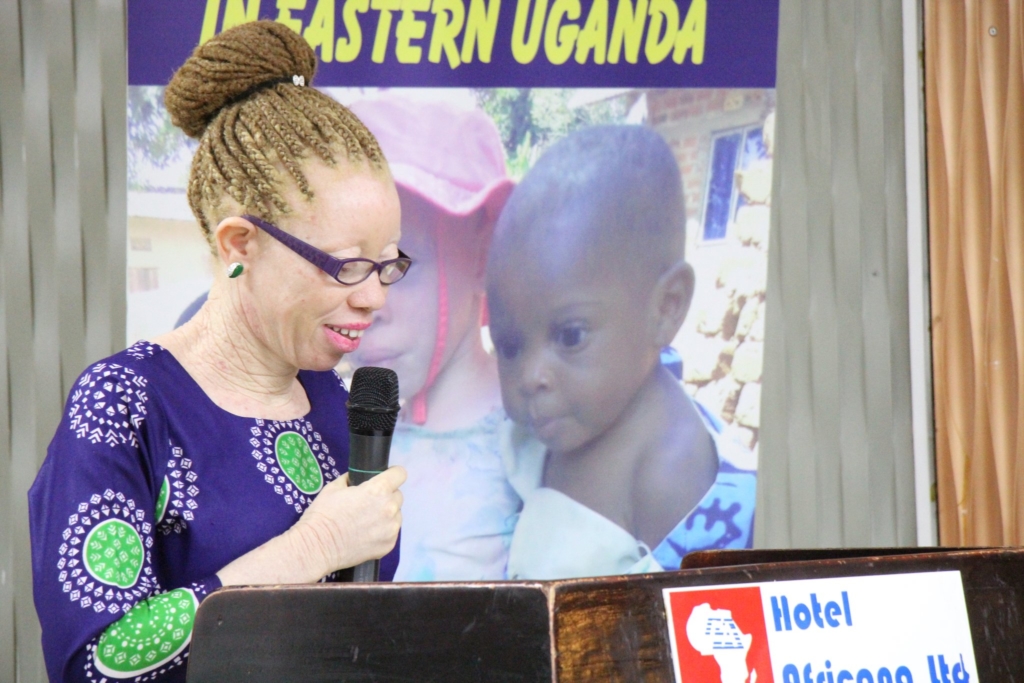 Even though there is a need for nationwide mapping of people with albinism, some of the findings are already startling. Did you know for example that close to 70% of people with albinism do not know the cause of the condition? And that the key way to prevent it is by using sunscreen, which is only accessible to 11%?
Left: Olive Namutebi shares her story
76% of PWA do not know what causes skin cancer and how to prevent it
These were some of the sad results presented by Mr. Arthur Bagonza who was involved in doing the research and writing the report. Equally frustrating is the relationship between poverty and albinism: most mothers of kids with albinism cannot work as they are protecting their children from any harm community members may want to do. As a result poverty rates are higher among families with children with albinism. This then has an impact on lower school attendance by albino kids due to not being able to pay for school requirements combined with fear for bullying, fear for their lives and poor eyesight. While as a school drop-out it is almost impossible to get a decent job, the experience from Philip Makasi -the starting quote- shows that for people with albinism this is even more challenging. And hence poverty is passed on to the next generation.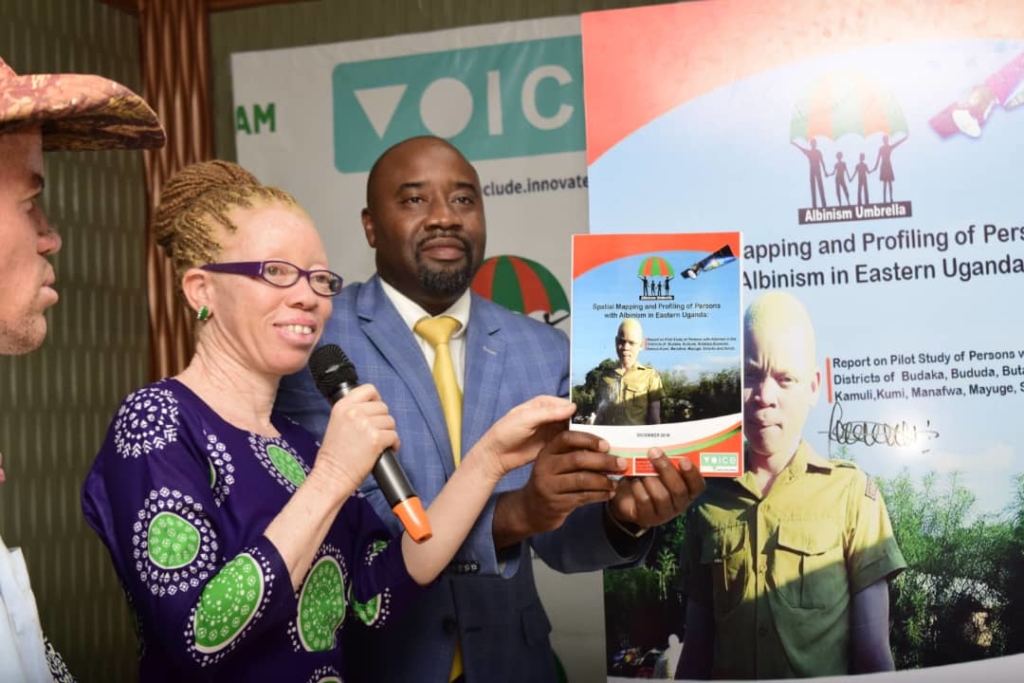 This report could not have come at a better time because cases of discrimination and violence are still a lived reality for people with albinism.Albinism is a common condition in Uganda, characterised by a lack of melanin which exposes persons with albinism to a high risk of developing skin cancer when exposed to the sun. In addition to the challenges already mentioned PWA experience limited access to legal services, myths and misconceptions about their existence, resulting in stigma, kidnap and attempted capture for ritual sacrifices for blessings and riches.
Unfortunately existing government policies and programmes such as Vision 2040, National Development Plan II and the National OVC Policy don't consider them as vulnerable persons. The poor and fragmented documentation, weak policies in existence as well as the stigma passed on by the community to people and households with albinism have led to many not able to access basic lifesaving and developmental interventions.
An impressive dignitaries listened to this sad state of affairs, such as Mr. Bernard Mujuni, Commissioner Equity and Rights, within the Ministry of GenderLabor and Social Development, Mr Anatoli Mulekerwa, the Deputy Police Commissioner, Honorable Safia Nalule who represents National Woman MP for PWD in parliament and the District Commissioner of Sironko District. In his exposé, the latter stated: "To be honest, I never gave them attention before. Now I know there are some 50 persons with albinism in my district. We have the Northern Ugandan Social Action Fund which should be able to support them." In his remarks, Mr. Mujuni affirmed that the study will be useful in determining where the ministry needs to take affirmative action to improve the welfare of persons with albinism.MP Nalule went even further by having the report lie at the foundation of a special bill for persons with albinism, due to their own unique challenges. And Mr. Mulekerwa committed to generate more awareness among police officials to ensure the protection of persons with albinism in the country.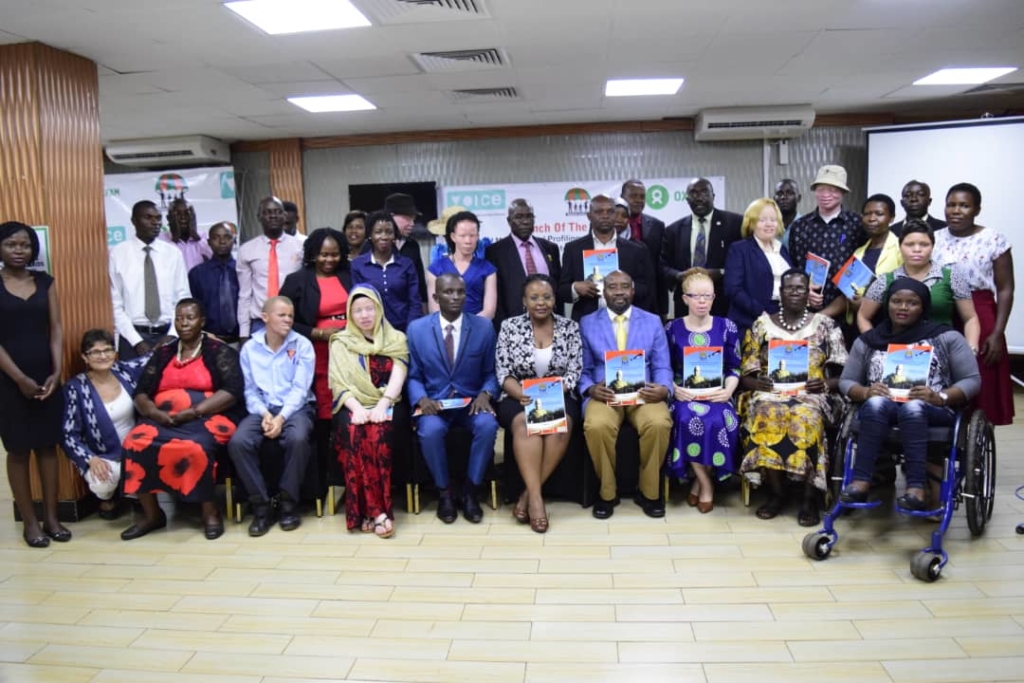 An impressive list of commitments which require diligent follow-up by all. In short thanks to a great report, Albinism Umbrella already claimed space to ensure we all belong.
We would like to thank the efforts of Albinism Umbrella in creating awareness of persons with albinism in Uganda!