We refuse to be forgotten!
By Rochelle S. Agualin, Community Development Officer, Coalition of Services of the Elderly, Inc. (COSE), Philippines
When it all started…
For many years, Mario Nucup Sunga has been attending training and activities with the Coalition of Services of the Elderly, Inc. (COSE), an influencing grantee in the Philippines. In 2009, aged just 55, Mario and other senior citizens from various areas from the Confederation of Older Persons of the Philippines (COPAP) and COSE rallied along Mendiola an area in Manila to demand a social pension. Mario worked as a member of the Lupon Barangay or Lupon municipality where he became an Officer of the Senior Citizens Affairs (OSCA) staff, and later on was elected as President of the Senior Citizens Association in Barangay San Juan Bano.
Before the Voice-supported influencing project titled Enhancing Access to Social Protection Programme started, Mario's knowledge and awareness on laws, policies, rights and privileges of senior citizens were limited. He was not active in participating in group discussions, and not confident enough in expressing his views and opinions during trainings and workshops.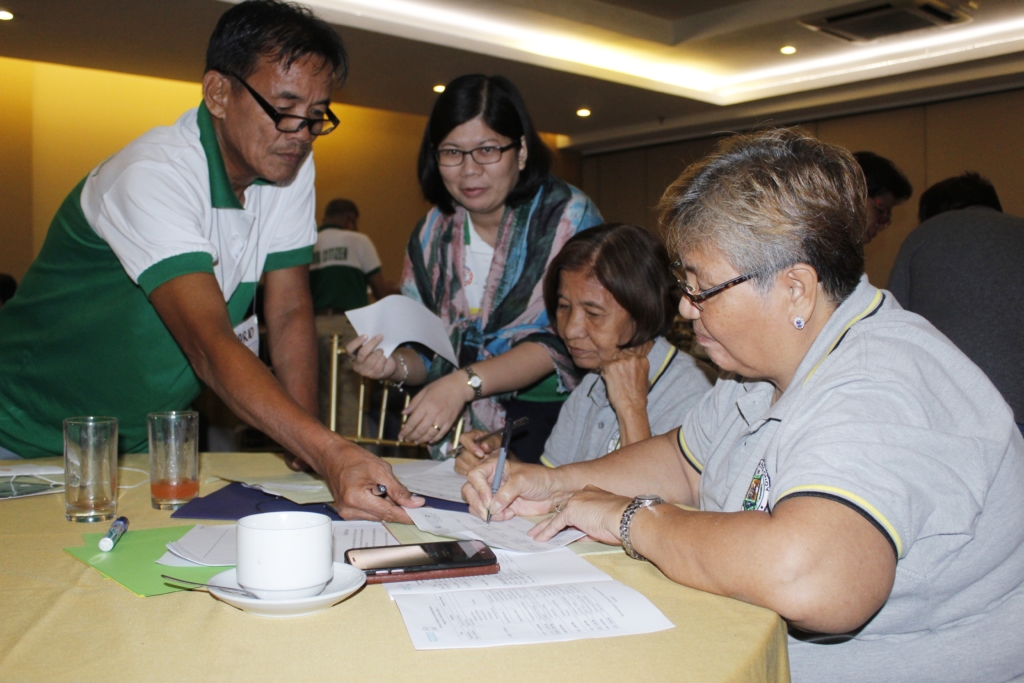 After attending many capacity strengthening activities sponsored by the project, such as Leadership Training, Team Building, and Resource Mobilisation, Mario points out that he can now answer questions clearly and confidently, be it on social pension or on Philhealth programmes.
"Almost every day, I encounter questions such as; why I am not receiving a social pension yet? Until when I am going to wait for my pension? What is the criterion for the social pension programme? And many more. I don't think I could have answered these questions clearly had I not attended any trainings from the Project", Tatay Mario admits.
The many activities provided by COSE have opened up many opportunities and new experiences for him. "I really appreciate the National Linking and Learning Session we had in October 2018 in Quezon City (Metro Manila) as I had the opportunity to share and learn with fellow older persons from other project areas (Calumpit and Hagonoy, Bulacan). We have learned a lot from each other's experiences.
"The visit to the Senate of the Philippines was also a new experience for me. I got to know who among our Senators are on the side of senior citizens' issues", Tatay Mario shares.
The Impact
Tatay Mario is one of the most active and well trained Older Persons Organisation (OPO) leaders from the 30 barangays of Arayat. His skills and talent are being recognised by his fellow leaders of the Arayat Senior Citizens Association, Inc. (ASCA). When leaders are asked who has the capability to be a helpdesk volunteer, Tatay Mario's name never fails to come up. He is also one of the few selected leaders to draft the Memorandum of Agreement (MOA) and concept note for the helpdesk, which is one of the activities under the project.
Tatay Mario's journey as a leader has had its own shares of ups and downs. He admits that there were times he was really low not just because of the incessant questions about social pension benefits, selection and validation of pensioners, but also because of some few senior citizens questioning his residency in their Barangay, and that he should not be nominated and elected as president of the senior citizens' organisation.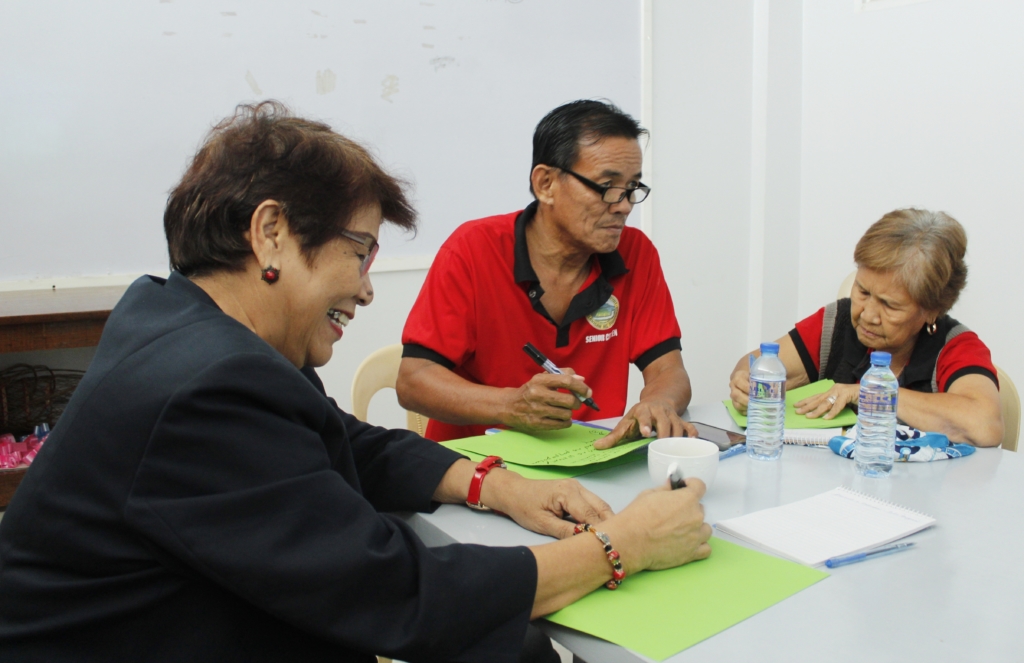 However, the idea of quitting was never an option because he felt the support and love of more senior citizens not just from their community but also from his fellow OPO leaders of ASCA."During difficult times I always remind myself to be more calm and patient. I focus and spend most of my time on more important matters like organising our association, educating and informing my fellow older persons of their benefits and rights, attending trainings, workshops to improve my skills and be more informed on what is happening to older persons here and in the world.
What next?
Tatay Mario shared that every time he went home to Brooke's Point (a municipality in Palawan), he was always invited by officers of the Senior Citizens Association to attend their meetings, share his knowledge on matters concerning senior citizens' rights and benefits and his experiences as a leader in Arayat.
I am more confident when speaking in front of groups of senior citizens, especially when discussing our rights and privileges. The training on radio broadcasting as well as the six months regular radio guesting has also improved my skills on communications", Tatay Mario says.
He also shares, "sometimes, people ask me why I am wasting my time and energy working so hard for senior citizens when I don't get any money from it. But honestly, I could not think of a better way to spend my senior years than to be working with and for older persons".
During the Orientation on Situation and Laws and Policies on Older Persons activity, Tatay Mario emotionally said, "I've been attending COSE activities for so many years already, but this is the first time I've felt happiness like this. This, us, holding hands and singing together, is something that I will always remember because I felt the sincerity and love within the group. Honestly, I've never been this happy. All thanks for all of us here and to the COSE-VOICE Project".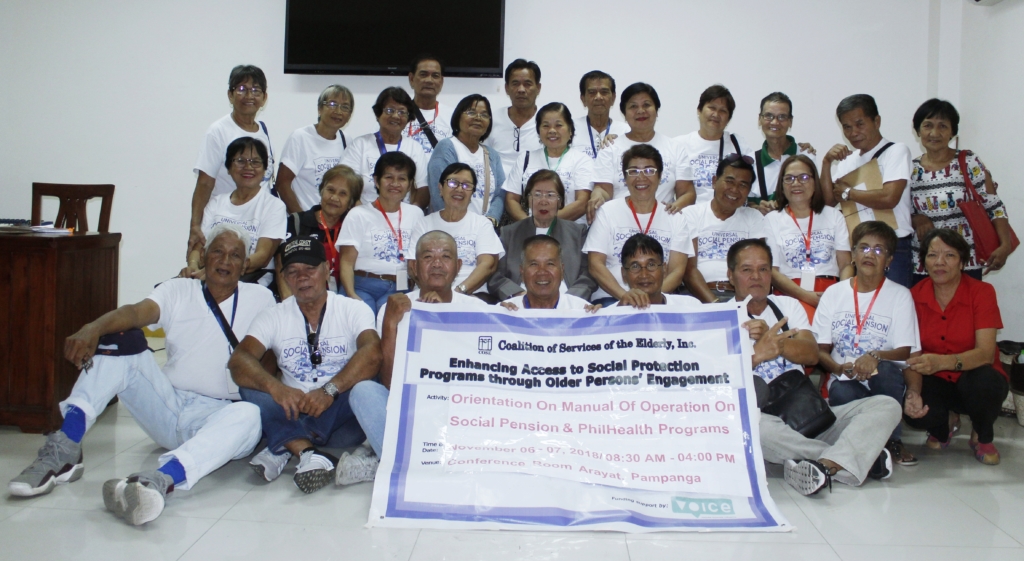 A special thanks to Tatay Mario whose voice was key in the creation of this article.