An admired community leader, Mr. Khim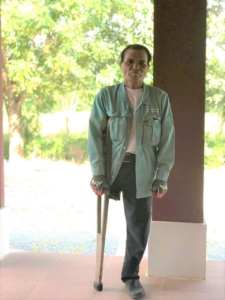 This is a short story about Mr Khim Rieng, a 60-year-old man living in Tassa Village, Battamang province in Cambodia. Mr Khim is an active member of The Federation of Association Supporting Older People AEK PHNOM (FASOA). A non-governmental organisation keen on helping older people particularly older women, women with disabilities and poor families and communities. FASOA's main objective envisions a world where older people, especially those in Cambodia are able to live with dignity, hope, without isolation and working together in order to advocate towards government and NGOs to bring benefits to older people.
Khim's Identity
Khim lost his right leg while working as a soldier during the Khmer Rouge war. Khim admits that because he is a war veteran, he doesn't get mocked, scorned or discrimination at locally unlike other persons living with a disability. People admire him for his sacrifice and his leadership in the area.
The beginning of his journey
Khim started out by volunteering wtih the Elderly Association. He wanted to help other elderly persons in the area as well as be part of a community of elderly people. Over time he volunteered to be the leader of the association. He lets the members know about the meetings which he organises every two months and they appreciate him for that.
Khim has attended several trainings and continues to learn and understand the human rights of the elderly and persons with a disability. He shares this knowledge with both people with disabilities in the area as well as the elderly and this is why the community see him as a good leader!