A Tale of Hope and Hopelessness
An older woman's perspective
Written By Rochelle S. Agualin, Community Development Officer, Coalition of Services of the Elderly, Inc. (COSE)
I am worried about my safety as well as for the well-being of my fellow older women and senior citizens who are at higher risk of getting infected with the coronavirus. When will this crisis end? I am missing my old busy life, but I know the situation and things will never be the same again when the Enhanced Community Quarantine (ECQ) is over. We will surely be starting a new life

Luzviminda M. Venasquez, a 70-year-old leader of a senior citizens' organisation in Arayat, Pampanga.
Before the ECQ was declared on March 16, Nanay Luz, as her friends call her, was actively doing her duties and responsibilities as Vice-President of Barangay Gatiawin Senior Citizens' Association. She is also a member of the Older Citizens Monitoring Committee (OCMC) and a Helpdesk Officer of the Municipality. (OCMC is a community-based monitoring committee that generally aims to monitor the implementation of government's social protection programmes).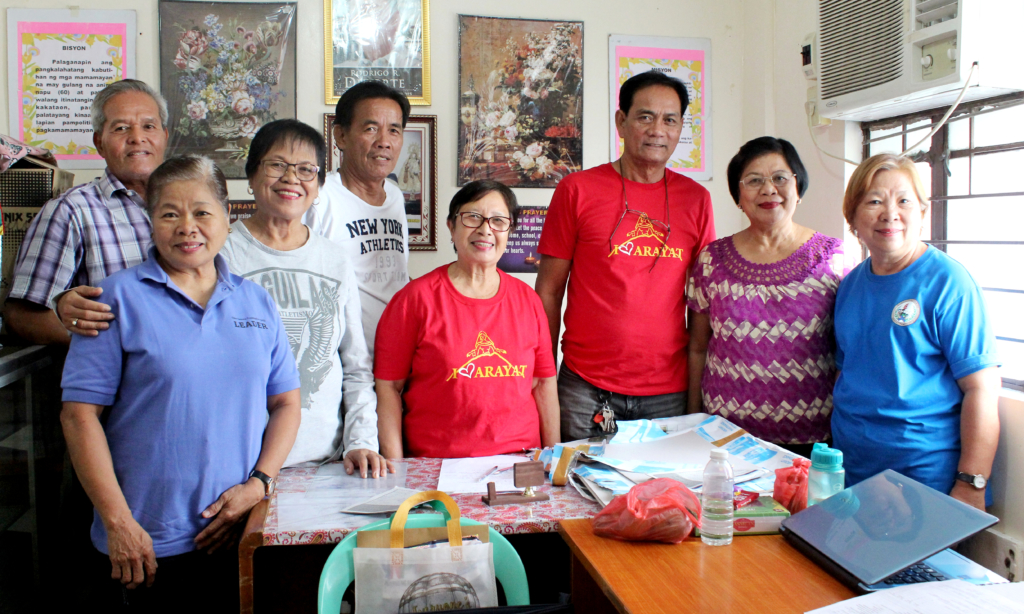 But her life suddenly changed due to the COVID-19 pandemic.
"I can no longer go out to check the situation of my fellow older women and other older persons in our barangay. I am not sure if they've been informed of the government programmes and services related to this crisis. Many of the social pensioners are probably wondering now when they are going to receive their money"
However, despite being under a strict quarantine, Nanay Luz is keeping herself busy everyday with watching the news and daily morning exercise.
"I am constantly receiving text messages from children and relatives of older persons asking for clarification and explanation about the Social Pension and Social Amelioration Programs of the Government. As a leader, I am trying to answer them as long as I can".
Nanay Luz shared that many senior citizens found hope in the Social Amelioration Program (SAP), but their hope is fleeting and didn't last long because of the surfacing different guidelines. The inclusion of all families with senior citizens, as what reports on national television say, is becoming more and more blurry and is creating chaos amongst older persons.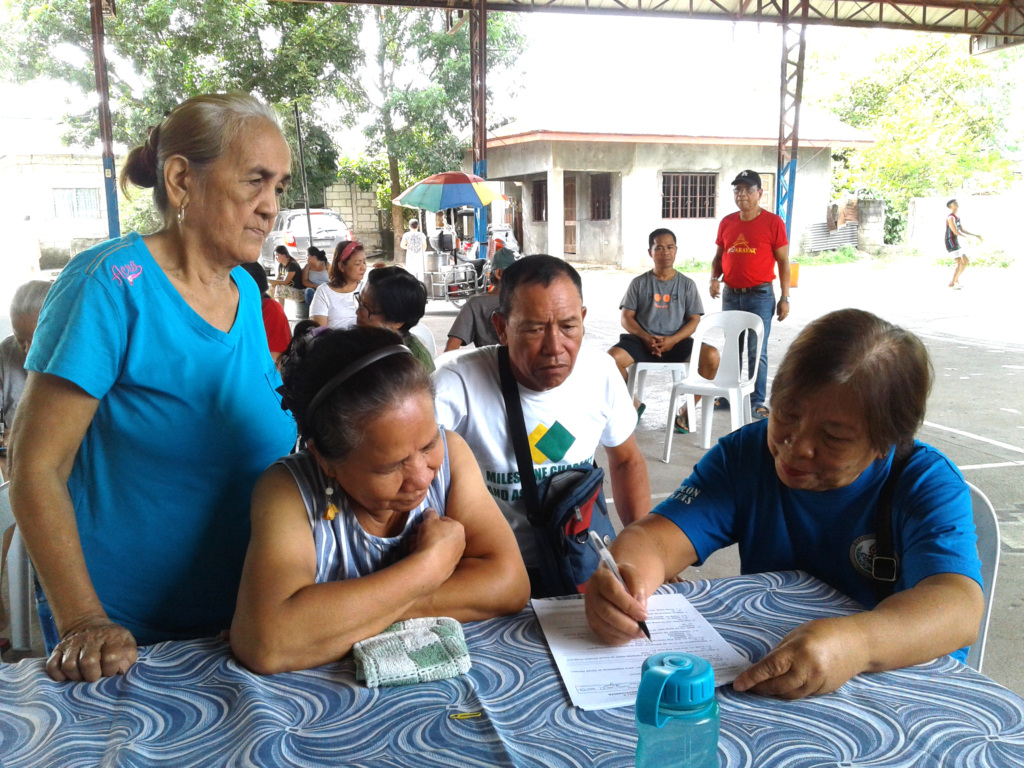 "Some guidelines say that if senior citizens have children working abroad or with professional children, or a social pensioner, they are automatically not included. Guidelines like this are blind about the real situation and needs of the older persons especially at times like this where our vulnerability, if not doubled, are tripled or more".
For older persons like Nanay Luz, the crisis brought by the COVID-19 makes the lives of older women and men even more challenging – be it in health or finances. The government programmes and services that should be lifting their hope and easing their lives, at some point, are causing hopelessness and worry for some especially for older women who are widowed and no one to lean on at times like this.
"At least I have a pension from the GSIS, I will not be relying on my children's support, at all times, since they have their own families already. But how about my fellow older women and senior citizens who are relying on their children for financial support? How can they survive knowing that their children are also affected by the crisis?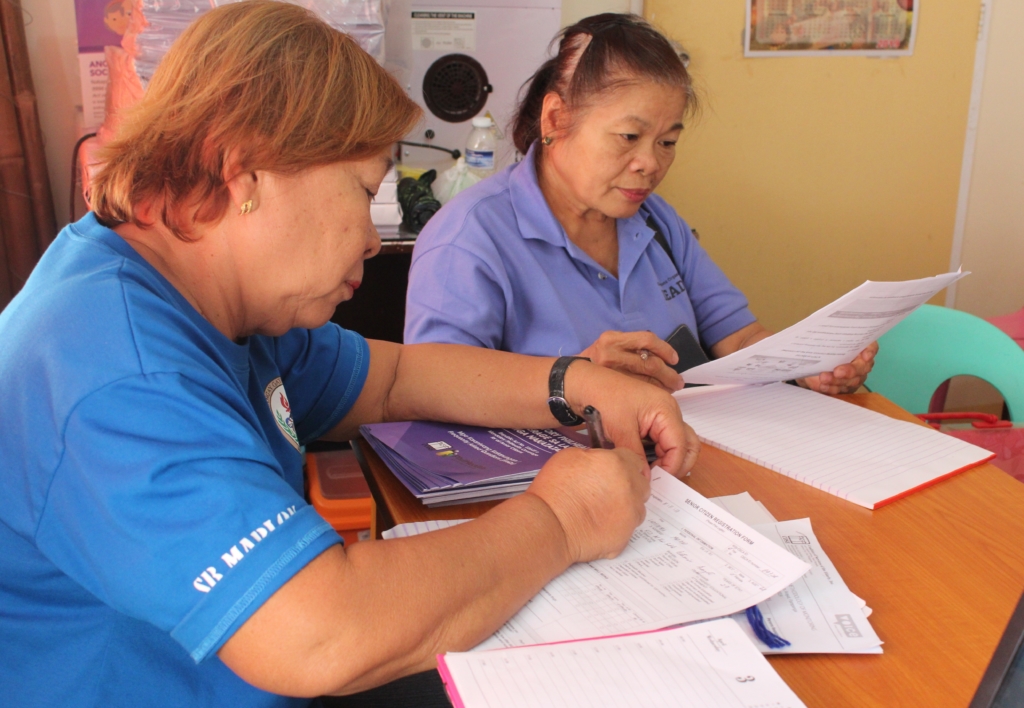 While the Local Government Unit (LGU) provides equal assistance to the community members, Nanay Luz said that it is not enough to cover the daily needs of the disadvantaged older persons.
"Many members of our association are taking maintenance medicines, but with the present crisis, this will no longer be possible for some. If this crisis will take longer, many older women and men will suffer and may experience hunger, get sick and might die".
Nanay Luz explained that social pensioners kept asking her when will their benefit be delivered so they will have money to spend on food and medicines.
"We have 36 social pensioners out of 525 senior citizens in our barangay. Of the beneficiaries, three (3) have not received their 2019 benefit yet. And, two (2) social pensioners have already died and will no longer enjoy their social pension for the first semester of 2020. I hope that the social pension is given soon so that the beneficiaries may still use this during these trying times'.
However, on a lighter mode, Nanay Luz said that she and her fellow senior citizens' leaders are hopeful that this crisis will end soon.
"After Covid-19, I will be going rounds and check how the members of our association are doing and if they're still okay".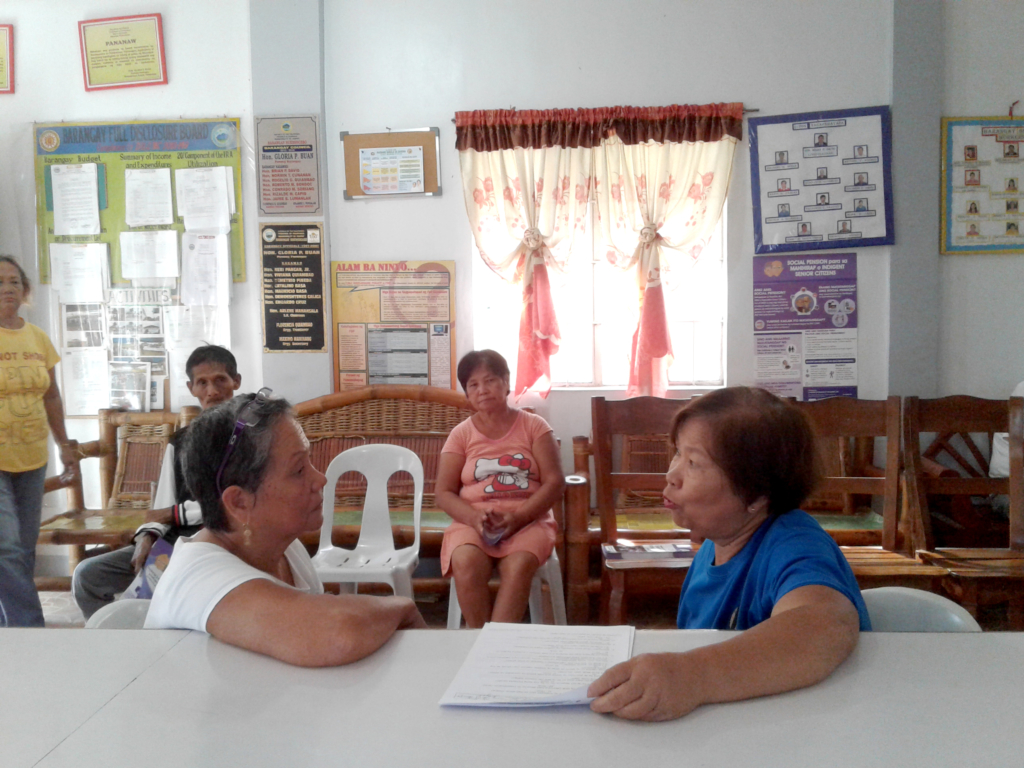 When asked what message Nanay wants to convey to her fellow older persons, she recommended the following:
"Listen and follow the advice of the Department of Health (DOH) and please stay at home to keep safe. We will still be seeing each other and listen to each other story how we cope with COVID-19 crisis once this is over".
Lastly, to the leaders, Nanay had a clear recommendation:
"Prioritise and ensure the inclusion of all older women and men in the government programmes and services – not just in the guidelines but more importantly on the actual implementation. Please don't make us feel that in this battle, we are being neglected and alone".