The unexpected adventure of the elected women of the of Illéla region.
Written by Abdoulaye Harouna Head of NGO Cœur Citoyen,
The elected women of the communes of Illéla, Badaguichiri and Tajaé are united and united in solidarity within their framework of inclusive consultation. Thus, to consolidate the achievements of the project, the NGO COEUR CITOYEN organised a workshop to review the Project "Empowerment of the Socio-Economic Status of Women.
Women members of the three municipal councils of the department of Illéla", on 8 April 2023, in the presence of all the Project's Stakeholders and, in particular the rights holders who are the 21 elected women. This meeting allowed us to discuss the Project's achievements and propose solutions to overcome the few shortcomings observed. We noted with satisfaction the significant achievements of the Project, which include
– Capacity strengthening for these elected women through three types of training (associative life, the rights and duties of local elected representatives, and personal development and female leadership)
– Community mobilisation through Outreach sessions with community radios;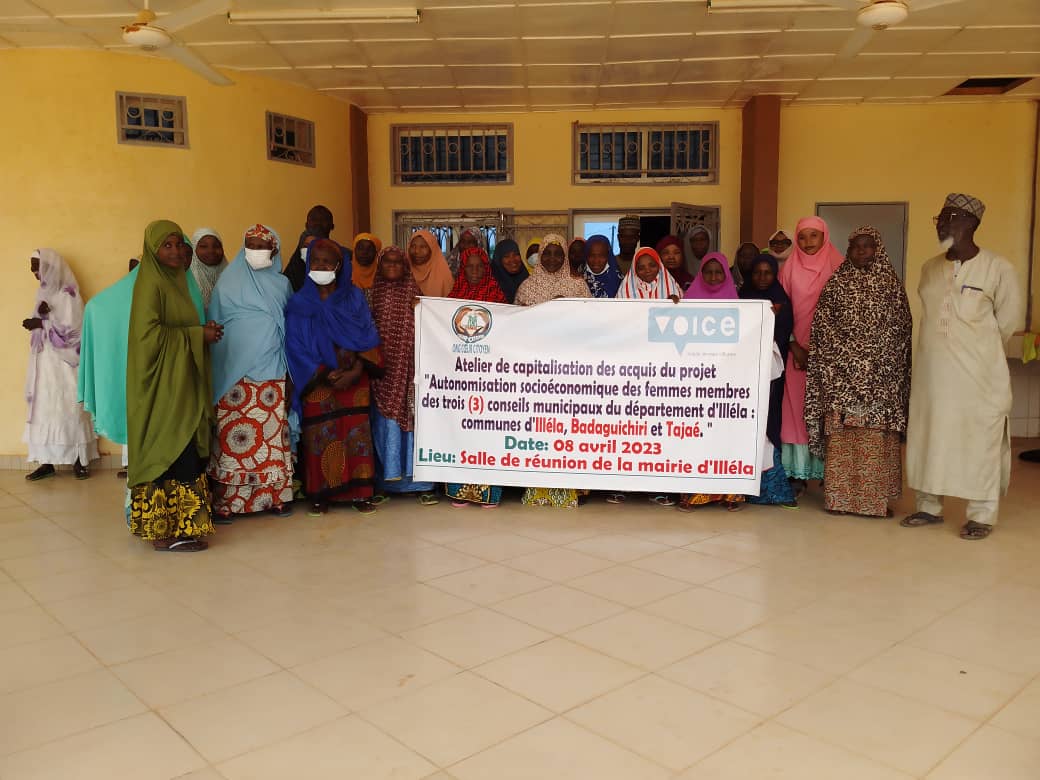 In this respect, these brave warriors delivered strong messages in terms of community mobilisation through radio broadcasts. They have given a lot of thought to public speaking to promote not only a change in behaviour and mentality on certain paradoxes of life but also, above all, to reverse the tendencies that disadvantage women while acting strongly on complex social phenomena.
According to Hadiza Mahamadou, a counsellor from Illéla: 'We no longer have our tongues in our pockets. We speak about ourselves in front of the public.
 Marie Guéro, councillor from Illéla: "We have become true pioneers of community development through the training we received in the framework of this Project".
From this unexpected adventure, they have managed to overcome some challenges that have lasted too long. However, in order to combine business with pleasure, they expressed their wish to see the creation of a women's home designed to provide a range of income-generating activities that could serve to enhance and shape their human potential and bring about concrete and sustainable Empowerment for all the women of the Illéla region.