Innovating – amidst a crisis
Linking & Learning adaptions in Uganda
By Edith Nantongo, Lauya Nasejje & Richard M. Kaye, Linking and Learning Facilitators, Uganda 
Since 2018, the Linking and Learning in Uganda was largely in-person, allowing grantees and rightsholders to freely interact with each other and enjoy a strong social and emotional connection. The Covid-19 pandemic and resulting lockdown from March 2020 led to closure, and suspension of most activities including all community level engagements and activities. The loss of connection was almost immediate as different rightsholders were left isolated in a bid to observe the Covid-19 standard operating procedures.
Furthermore, there was an immediate interruption of the Linking and Learning activities as most of which were planned as physical in nature. Many Voice grantees and rightsholders had a yearning to share their experiences, learn from others and explore ways to address the challenges they were facing. For the Linking and Learning Facilitators (LLFs), this was a time to pose, reflect and devise strategies to continue facilitating linkages among grantees, rightsholders and other stakeholders by ensuring that interventions were adjusted to fit within the 'new normal' environment.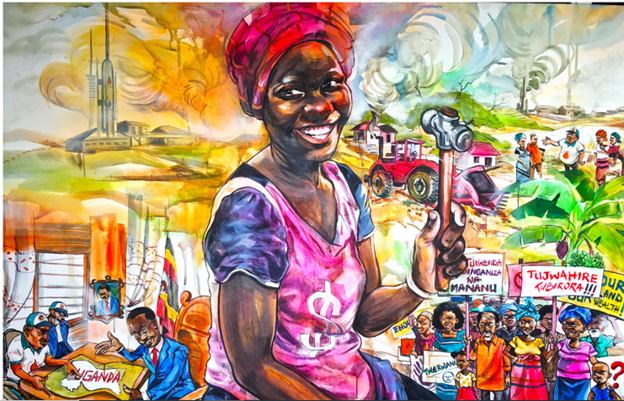 Adaptations made in Uganda:
The facilitators used monthly online catch-up meetings with Voice grantees and rightsholders. Sharing experiences allowed grantees to learn from each other and to get important resources such as available support to vulnerable groups by government and other NGOs. Different stories of how the different rightsholders were coping was shared, which inspired others to also take action. For example, stories of how a Voice influencing grantee, Platform for Labour Action, that was reaching out to domestic workers using community networks inspired other grantees to reach out to their rightsholders and start conversations geared towards addressing their emerging needs.
Additionally, during this time, seven new grantees were on-boarded by Voice and there was a question on how the kick-off meeting, an orientation session on Linking and Learning would be conducted. In August 2020, the LLFs organised an online kick-off meeting that replaced the traditional physical meeting. Each grantee was supported by the facilitator prior to the meeting, to prepare short presentations on their project goals, activities, rightsholders that they would need to support and possible linking and learning needs. At this start-off meeting, grantees used approaches such as creative art and infographics to share their project focus areas. A mentorship plan was developed to continuously engage grantees individually and in small groups. In the following weeks several online and a few physical meetings were held where facilitators provided tailored support to grantees including on how to use to digital platforms and documentation support.
In September 2020, an online learning event was held allowing outgoing Voice grantees to share their change stories and discuss lessons learnt with new grantees. Peer-to-peer exchanges were also virtually organised allowing grantees to share more experiences. The limited physical interaction between grantees and facilitators also called for innovation in as far as profiling the voice of change stories and disseminating them was concerned. Materials such as newsletters and change stories were shared in soft copy and audio-visual formats with grantees and rightsholders on email, WhatsApp platforms and uploaded on the Voice website. During this period, there was greater use of the online platforms particularly WhatsApp. Grantees actively held conversations about several activities which they were implementing which helped to keep them connected. The facilitators also used WhatsApp to provide updates on events and activities within and outside the Voice family. The platforms also enabled facilitators and grantees to share upcoming activities, post learning questions, enlist input into planned activities, share Voice knowledge products among others which has become a culture within the Voice family in Uganda.
The learning and take-home points from the above adaptations by the facilitators is that whereas covid-19 negatively affected the smooth implementation of Linking and Learning activities in Uganda, it has given them and grantees an opportunity to learn and explore more innovative approaches to Linking and Learning.