World March of Women – Philippines
World March of Women 2019 – Philippines
To mark International Women's Day, women's organisations in the Philippines joined in the World March of Women to celebrate and protect the legislative progress made and to advocate for more! Together with other women's grassroots organisations, Voice grantee the Coalition Against Trafficking in Women – Asia Pacific issued the following press release. Its Executive Director, Jean Enriquez, is also the Coordinator of World March of Women Philippines.
Press release for International Women's Day 2019: Women's Coalition Asserts Hard-won Victories amid Fascism
Around eight hundred women from the feminist grassroots coalition, World March of Women (WMW) will gather at KM 0 near Luneta Park on March 8, at 3 in the afternoon. They will later join the broad mobilisation of other women's groups at 5 pm around La Madre Filipina monument at the national park.

"The World March of Women has consistently filed charges against misogynists in government, and continues to fight for economic, social and political rights despite challenges posed by the state itself,"


declares the grassroots feminist coalition in a statement.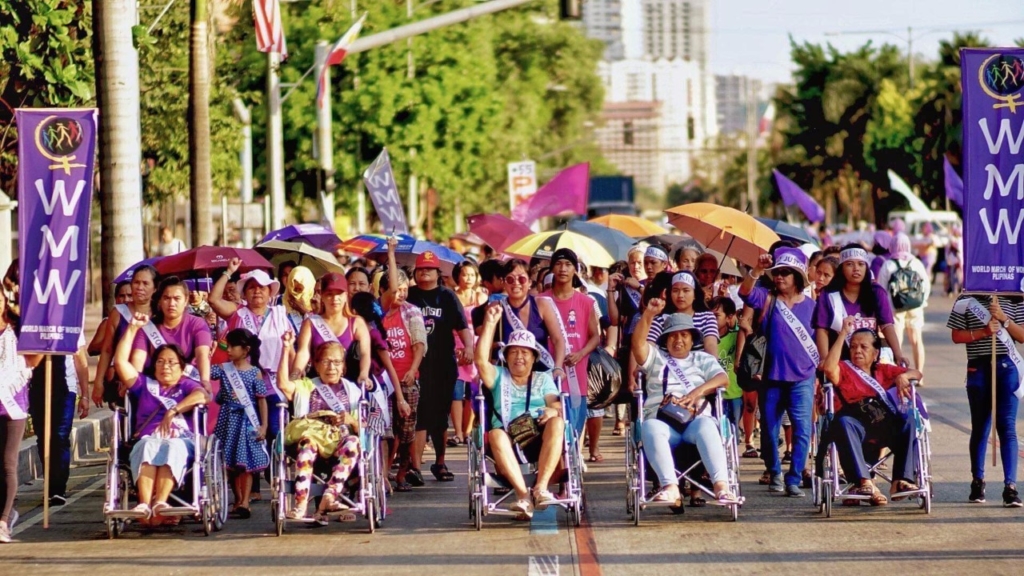 According to Jean Enriquez, Coordinator of WMW in the Philippines, "women and women's movements are under attack worldwide by conservative, authoritarian, misogynistic—and even rogue—regimes." She added that in the Philippines, President Duterte has been all out in his attack on women even before the start of his government—in his remarks that encouraged sexual violence of women and have debased women's place in the family, community, and society; to his "kill policy" related to a "war on drugs," that left thousands of women and children still without assistance from the government.
Judy Pasimio, National Coordinator of LILAK, underscored the military in its implementation of martial law in Mindanao and in bombing Marawi, as well as for the killings of community and indigenous leaders fighting for their lands.
Clarissa Militante, WMW leader, said "the legislature has been instrumental in the authoritarian regime's efforts to change the Constitution in order to weaken, if not erase, its human rights provisions and open up the country's resources to full foreign ownership and control."
Jelen Paclarin, Executive Director of the Women's Legal and Human Rights (WLB), cited among pushbacks against women and children's rights are the proposed lowering of minimum age for criminal responsibility, and inaction to amend the Anti-Rape Law and place lack of consent at its centre.
Nice Coronacion, Deputy Secretary General of Sentro ng mga Nagkakaisa at Progresibong Manggagawa (SENTRO) – Women also critiqued the legislative's inaction on the anti-prostitution bill that would shift accountability from prostituted persons onto pimps and buyers. She similarly condemned the business or corporate sector's collusion with legislators and politicians in ensuring that the anti-ENDO law will not pass.
"RA 11203, an anti-farmer law that has brought the rice industry to its deathbed, wherein big corporations only stand to benefit in importing unlimited volumes rice, when what is needed is support to local production and not to importation."


Amparo Miciano, Secretary General of the Pambansang Koalisyon ng Kababaihan sa
Kanayunan (PKKK), hit the Duterte administration and its legislature for liberalizing imports through rice tariffication. Miciano called for the repeal of the law.


Meanwhile, Judy Miranda, Secretary General of Partido Mangagawa (PM) – Women claimed the recent victory of Extended Maternity Leave law as the fruit of more than two decades of work, particularly by those from the labor sector.
Hazel Cotoner of Center for Migrants' Advocacy (CMA) vowed that they will press forward as women and hand-in-hand with people's organizations and broader social movements in defending the Constitution and fighting charter change; in putting a stop to this government's misogyny and violence against women; in winning legislative advocacies; in ensuring that the coming elections will truly be an opportunity to advance women's and the people's social, economic, and political rights, and not the selfish agenda of this administration.
Other members of the Coalition who will be part of the action are Bagong Kamalayan Prostitution Survivors' Collective, Inc., BUKLOD – Olongapo, Foundation for Media Alternatives (FMA), SARILAYA, WomanHealth Philippines, and the Youth and Students Advancing Gender Equality (YSAGE).
Press Release by Jean Enriquez, Executive Director, CATW- AP