May Day for Inclusive Employment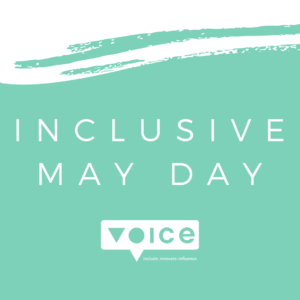 The first of May is traditionally a day to celebrate the achievement of workers all around the world. For some people having work is not a given. They face discrimination and marginalisation and might never be able to get a decent living wage, a steady pension, or loyal customers for their business.
In line with the Voice impact theme on improved access to productive resources, we fund multiple projects that work around these issues. Let us show you you their work today! Onwards to inclusive employment!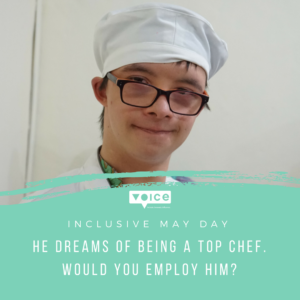 Morgan has come a long way since he first got involved with the Down Syndrome Care Foundation Indonesia (YAPESDI), an Empowerment grantee in Indonesia. Similar to his peers with Down Syndrome, they were shy and unable to communicate with others. People with intellectual disabilities in Indonesia rarely have the opportunity to speak out and would not dare to do so. They are almost never accepted in public schools. Some adults believe they do not have the capacity to understand their own situations.
Over the past year, YAPESDI has been facilitating sessions with Morgan and 19 other teenagers in Jakarta to strengthen their communication skills through a structured and thematic approach. They explore different topics such as education, hobbies, friends, romantic relationships, and projects. The sessions have developed their self-confidence and ability to express themselves.
Morgan dreams to be a top pastry chef and continues to develop his passion for desserts.  Persons with disabilities have the right to work and employment on an equal basis with others.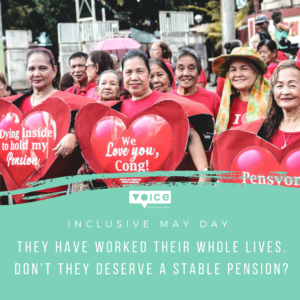 Coalition of Services of the Elderly, Inc. (COSE), an Influencing grantee from the Philippines, has been working with the Confederation of Older Persons Association of the Philippines for the passage of a Universal Social Pension Bill. Many older persons have worked their whole lives to support themselves and their families. Many, especially those in informal work and agriculture, were unable to save money for their retirement and old age. A Universal Social Pension aims to expand and increase the support to ALL older persons. To support this national-level campaign, COSE's Voice project focuses on strengthening Older Persons' Organizations at the municipal level. They are forming Older Citizens Monitoring Committees to influence local government policies and spending on social protection.Everyone will eventually reach their old age. The advocacies of older persons today have a great impact on the older persons of tomorrow.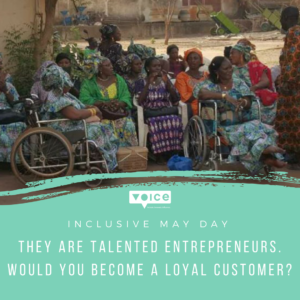 These women in Mali happen to be living with a disability. However that has not stopped them from becoming entrepreneurs.
Empowerment grantee, UMAFH supports these women with a mentoring and learning programme that builds up their confidence and business skills. In that way they will be better equipped to get their market share.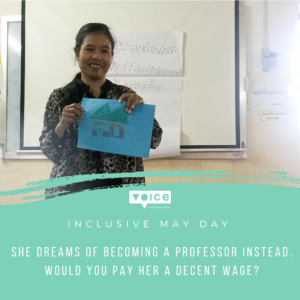 Independent Democratic Informal Economy Association (IDEA), is an Empowerment grantee from Cambodia. They are a group of informal economy works with over 10,000 members ranging from TukTuk drivers, Moto-taxi drivers, street vendors, small restaurant workers, domestic workers and load carriers.Voice is supporting their work to strengthen 451 members and new 200 members who are domestic workers in Phnom Penh. They are building their capacity to practice their rights, document abuses, report human rights violations, and ensure implementation of existing labour rules and regulations.
Last March, Centre Culturel 'Maison Agoratoire 'Communication,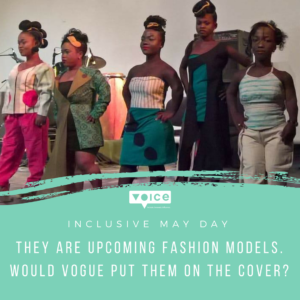 Formation, Arts et Culture organised Festival International de Slam et Humour in Mali. It was a cultural festival showing the power of art, slamming and spoken word in demonstrating and practicing inclusion.As an Empowerment Grantee in Mali, they are focusing on the empowerment of youth with intellectual disabilities to build their self-esteem, self-confidence, and leadership skills. Yet for the festival, they brought together members of the albino community and little people expressing themselves through fashion. Labour and employees come in all shapes, sizes, colour and abilities.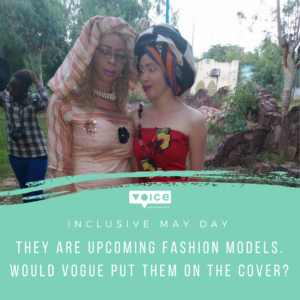 In Mali many people with albinism are isolated from social life, stigmatised and even persecuted in some villages. Whether it is about access to schools or finding a job, albinos have a hard time finding their place in Mali.
Voice empowerment grantee AMPA – MALI raises awareness at all levels in Mali about the fact that albinos are also people who deserve equal opportunities in society.
The project informs the general public about albinism, promotes the social integration of albinos by empowering them to trust each other.
Labour and employees come in all shapes, sizes, colour and abilities.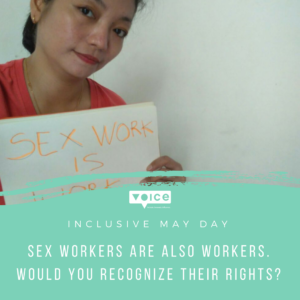 "During this International Worker's Day, we want to voice our rights. Sex work is also a work. Like everyone else, our work fulfills the needs of our children and families."
This is a short message from Liana, the national coordinator Organization of Social Change of Indonesia/Organisasi Perubahan Sosial Indonesia(OPSI). They are an association of female, male, and transgender sex workers working against the stigma and discrimination towards their profession.OPSI is part of a consortium with AIDS Research Center Unika Atma Jaya on the "Yes, I Can" project. They aim to improve the quality of life of sex workers, transgender youth, and street children by improving their access to basic services, and their economic and social status.