World Internet Day: Sharing experiences and best practices of media advocacy in Uganda
By Lauya Nasejje and Joanna Namirimu – Linking and Learning Facilitators
29th October was World Internet Day. Voice grantees in the Media Advocacy Community of Practice (CoP) group in Uganda with support from the Voice Linking and Learning Facilitators held an online panel discussion to reflect on how the internet which is a medium of communication has been harnessed for media advocacy, highlight best practices, challenges and explore creative strategies to steer successful media campaigns amidst the shrinking civic environment.
The online panel discussion that attracted 62 participants from Uganda, Kenya, Tanzania, and Indonesia; was led by a key note speaker, Mr. James Nkuubi the Director of Programmes at Chitua cha Katiba and two panellists i.e. Ms Grace Kenganzi a Communications Manager at Center for Human Rights and Development (CEHURD), a human rights organisation in Uganda advocating for the right to health particularly among youth and women. The second panellist was Ritah Asiimire, the Communications Manager at Center for Constitutional Governance (CCG) a Voice  influencing grantee partner in Uganda.
The discussion was moderated by Agaba Anthony, the Chairperson of the media advocacy CoP and Coordinator of the Voice project at COVOID, a Voice grantee advocating for a reduction of gender-based violence (GBV) in western Uganda.
The key note speaker focused his discussion on how we could  harness the internet for strategic media advocacy, highlighting the fact that the internet was a very chaotic place and it is upon the user to turn it into a conventional tool for communication.  He noted that the internet is like a double-edged sword which brings about the good and bad out of chaos. It can be used for resistance among ordinary citizens, challenging conformity.  It is a platform for both good and rude advocacy, and posing the question of whether it is indeed meant for the weak. He pointed out that Twitter has sometimes been used as battle space for citizens vs state. Also, it was noted that many millennials use the internet as a space to generate attention and therefore we all have to be intentional in the way we use the internet for advocacy.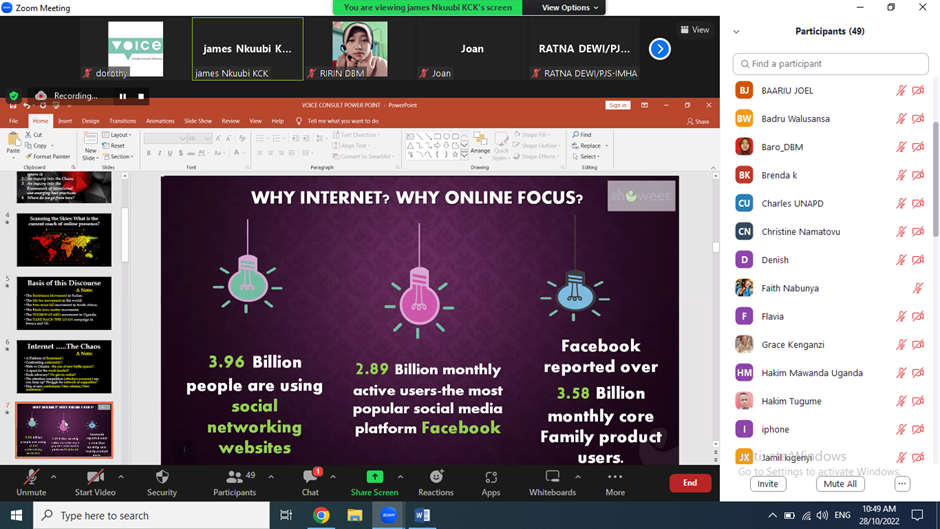 A screenshot taken during the online panel discussion on experiences and best practices of media advocacy organized by the Uganda Linking and Learning Facilitators
The key note speaker premised the discussion on six successful movements[1] in the world as key examples of learnings having registered great traction and impact using media advocacy because they were robust and achieved their agenda.
From this online panel discussion, the key note speaker and panelists highlighted some key take-away points to achieve success when using the internet for media advocacy:
Understanding the ladder of engagement which includes high, moderate and low levels of engagement e.g. subscribing, liking, or sharing is critical when planning a media campaign. We need to select the level of engagement based on who we want to target and where in the hierarchy of power they are located as well as the intensity of our campaign. High level engagement may extend beyond use of digital platforms to physical meetings and other in-person engagements. For effectiveness of media advocacy, there is need for both digital and physical engagement;
Individualism vs collectivism. One needs to choose if the campaign is to be steered individually or collectively with other actors. In each of these cases, the campaign requires a clear goal and a roll-out plan which allows for more intentional posting of messages;
Media advocacy is about content marketing. It was noted that content creation is not only in the entertainment industry but also in advocacy. We need to develop a content creation strategy to avoid the business of 'wake-up and post' but rather a 'create, share, attract and retain' strategy;
Profile auditing: It was noted that your profile on the internet speaks volumes and therefore one needs to ask self, how actionable the individual or organization's profile is; and whether it attracts the attention that is desired. Profile auditing should be an on-going process so one remains competitive and attractive;
Understand the art of storytelling because we are in the era of mind manipulation. Never do advocacy online and forget that people are human and the story needs to be compelling;
Visuals bring more views than texts. You therefore need to develop a a visual strategy in order to survive in the competitive world of visuals. Note that attention captures the struggles and you will be trending when you stand out of the crowd;
Having a clear media advocacy strategy is vital to guide your campaign. It is also important to have a monitoring and evaluation plan for your campaign to assess if it is on-track and that the goal is being attained;
Safety and security are important considerations as well to overcome threats such as hacks. Furthermore, depending on the matter of contestation especially where the state is rising, you need to be ready and also stay at the right side of the law;
Social media influencers for a particular campaigns are critical in promoting your advocacy agenda to increase its reach and engagement;
Crafting your story around an issue such as climate change issues, gender-based violence calls for a full understanding of the problem. The human side of the problem needs to be portrayed while ensuring respect of those affected; and,
In reference to the Computer Misuse (Amendment) Bill, 2022 for Uganda which seeks to enhance the provisions on unauthorized access to information and data among others, participants were called upon to focus on the good in this law because it also seeks to protect the rights of some people which Human Rights Defenders have always demanded for. However, it is also a true that a section of the population is worried about this law.
At the end of this online panel discussion, participants agreed that internet plays a critical in harnessing media advocacy. The discussion was timely in light of the increasing relevance of employing internet-based tools in advocacy. There is therefore a need to continue this conversation in other spaces both within the Voice program and beyond to reflect on the on-going improvements in our interventions and advocacy efforts to leave no one behind.
[1] The Resistance Movement in Sudan, The Me-Too Movement in the World, The Fees Must Fall Movement in South Africa, The black Live Matter Movement in USA, The Togikwatako (Don't Touch It) Movement in Uganda and The Take Back The Loan Campaign in Kenya and Tanzania.