Closing the health gap!
How technology can help improve access for the Maasai
By: Marion Sumari-de Boer, Kilimanjaro Clinical Research Institute, Innovate and Learn grantee, Tanzania
Dust, Heat, Wind….
Here and there, one can see the red shuka (cloth) of a Maasai gliding between the dry thorny bushes. Fifty meters away under a tree, our colleagues are providing a training to Maasai women about sexually transmitted infections at the Isoitok tented camp in Manyara. As I am waiting, Mr. Kipamba, one of the Maasai elders comes running towards me to say 'Hi'. I tell him that I missed him at the training the day before and ask if he will attend today. He says he is too busy with the cattle. I tell him that our m-health system is ready and give him the free phone number that he can call. He immediately calls the number and shouts: " Eeh…she is talking Kimaasai."(meaning the Maasai language). We shake hands and off he goes into the bushes while continuing listening to his phone.
The journey to awareness on sexual and reproductive health and right.
Three years ago, I had a conversation with a young Maasai man employed at Isoitok Camp, Mbayani, who got married and had one child. He tells me that he doesn't want to have more than two kids and asks me how to prevent having more. Being a health scientist, I could at least give the minimal information I know about the fertility cycle and about contraceptives. He tells me that the Maasai in his area are not aware of this and asks if we can assist, and this is how the ONDOILO (voice in Kimaasai) was born. We managed to get an Innovate and Learn grant from Voice in Tanzania to help us move from theory to practice.
Access to health information
Since then, we have had informal discussions with Maasai and later collected structured data on the knowledge and use of contraceptives among Maasai. This strengthened the anecdotal statement from Mbayani. The Maasai in Esilalei have limited access to health information due to illiteracy, limited understanding of Kiswahili (the national language of Tanzania) and healthcare often being far away.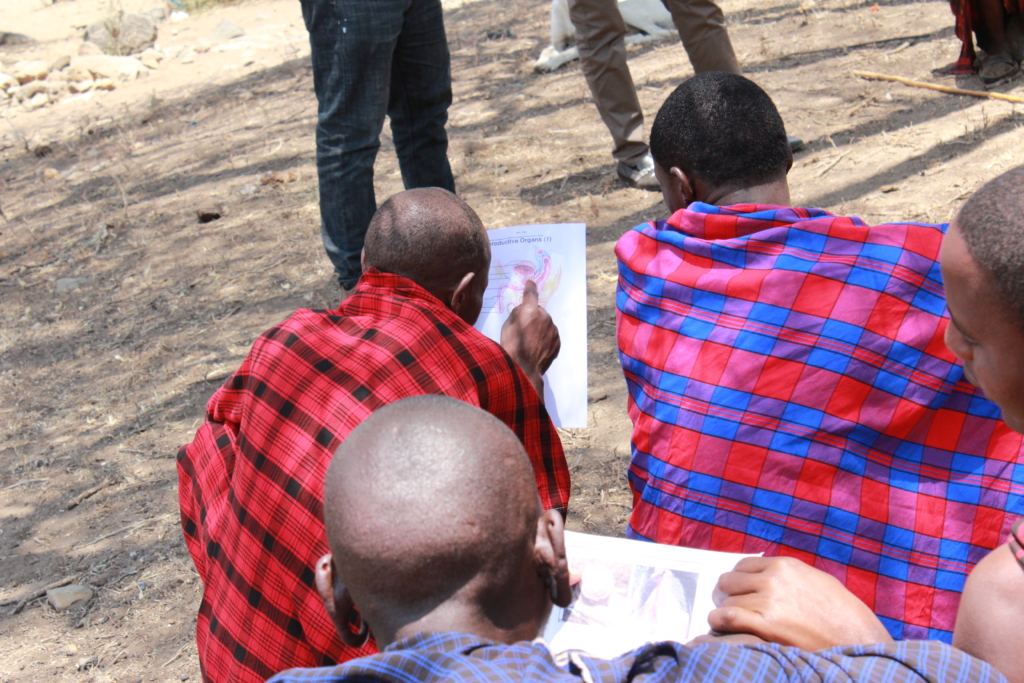 Based on the data and the Tanzanian guidelines for family planning and contraceptive availability, we designed a so-called interactive voice response calling (IVRC) system to increase access to information about sexual health and related factors. The system is called 'Embiotishu', meaning health in Kimaasai and is freely available through a given phone number. One can call the phone number and a friendly lady can be heard talking about the programme in Kimaasai and asking the caller to feel free to ask for more information that they wish to know more about. She, for example, says: "If you want to know more about the fertility cycle, please press 3." The caller can then press any of the given numbers as per instructions given.
Creating digital literacy
Just before my conversation with Mr. Kipamba, we had introduced the m-health system to Maasai couples by showing them the phone number. In addition, as some of them cannot read, we took them through which button stands for nabo (1), are (2), uni (3) etcetera. Many started calling the phone number immediately and seemed to be listening with interest. Our project is a so-called participatory action research approach, which means that the intervention will be developed together with the groups. The system is dynamic and will still need changes as we learn. However the seed has been planted to increase access to health information for Maasai!
KCRI team members explaining the m-health system during a session

Young Maasai testing the application. Does it work?

Young Maasai testing the application