Building Blocks of Linking and Learning
– By Zack Lee, Linking and Learning Officer for Voice Indonesia and The Philippines
Voice distinguishes itself by placing linking & learning (L&L) at the heart and soul of what we do. It is rooted in the belief where grantees will produce evidence to support their advocacies, learn from each other, and scale-up innovative solutions. All of these will lead to transformative changes for the most marginalised and discriminated groups.
L&L envisions learning not as something coming at the end of a project when a report needs to be written or an event has to be organised. It is a process threaded throughout a grantee's time with Voice, hopefully even after. Some may have L&L already embedded in their practice. Others however, may need help in thinking what L&L can mean to them at both a personal and an organisational level.
How do you then introduce L&L to someone who has no idea what it is? I have been mulling over this question over the past few months as grantees in both Indonesia and the Philippines come on board. At this point in the Voice program, many grantees have begun their projects. It is the right time to discuss what L&L is and what it could be. But how? It's something we had to figure out last November in Jakarta for the very first L&L meeting with grantees.
What follows briefly describes how we organised the meeting. It offers insight on the process we pursued and our thinking behind it. It was a collaborative effort between the Voice Indonesia team and the Linking & Learning Grantee, Engage Media. Much was adapted from the experience of the Voice Philippines team. The hope is to share our work in the spirit of L&L to trigger feedback, discussion, and further improvement.
Gauge the Grantees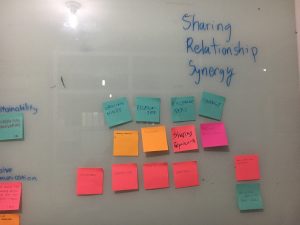 After the introductions and an icebreaker, we asked grantees what words they imagine upon hearing the words "linking" and "learning". We needed to gauge what their perceptions were and how they understood the concept. Some of their responses were opening minds, collaborations, sharing experiences, making connections, synergies. I was definitely surprised. These words showed how they focused on the linking component of L&L. They immediately saw it as an opportunity to create relationships, to learn from each other, and to work together. Their innate sense of community building within L&L anchored how we proceeded with the rest of the meeting.
Reflect
We then shared how L&L is actually defined within Voice documents:
"a process that encourages sharing of lessons learned, and provides a forum for mutual learning and empowerment of the most marginalised and discriminated groups"
More than anything else, we focused on the word "process". It signals L&L to be more than just a requirement from Voice, a sharing platform, or an innovation grant. It is a set of practices grantees can adopt and continue even after Voice ceases to exist.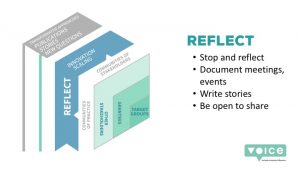 The first step in this process is to REFLECT. Some grantees have very complex projects with very tight timelines. Depending on an organisation's capacity, smaller projects can also take up a lot resources and time. There is a tendency, albeit sometimes necessary, to focus on implementation and follow the plan.
Reflection asks grantees to take some time to simply stop and examine their work. It provides the opportunity to look back and ask questions. Is everything going according to plan? Are there ways we can do this better? What has surprised me since starting the project? Are we reaching the right audiences? Reflections trigger questions and hone into what we want to learn about our work.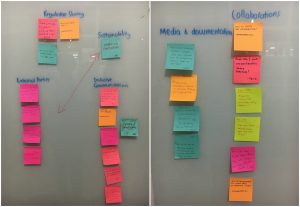 Grantees were asked to document their reflections through stories. These could take the form of blog posts on their website, a short video about an event, or an audio recording of a conversation. They could use whichever media they find convenient and fits within their current capacity. It is important they are able to share their stories, their success and challenges with a broader community. These are opportunities for them to connect with stakeholders and other potential partners to identify potential points for collaboration. In turn, Voice can amplify these stories through our website and other social media channels.
As a meeting activity, grantees wrote down what questions they were asking about themselves and their work. Examining their responses, the questions were grouped into 6 topics: 1) Media & Documentation, 2) Collaboration, 3) External Parties, 4) Knowledge Sharing, 5) Sustainability, and 6) Inclusive Communications. They were able to see what questions other grantees, their peers also have. They could visualise how their own questions are connected with what others are thinking, how similar they are, and the slight differences in each one. Grouping the questions showed grantees they are not alone and can work together with others to find answers.
Explore

When you have your questions pinned down, the next step is to EXPLORE. You want to know what are the boundaries of your questions. Who has already tackled the questions you are asking? Are there others with similar queries? Where can you get more information? How do you answer your questions? Is there an expert I can ask?
Exploration requires grantees to go out into the community. Within Voice, our annual L&L events serve as opportunities to bring the community together, providing spaces where stories and questions can be discussed. We are aware not everyone can join these once-a-year events. In addition, our planning also includes regional or emergent L&L events depending on what the grantees need. These events can focus on capacity strengthening or regional meetings with communities of practice and stakeholders.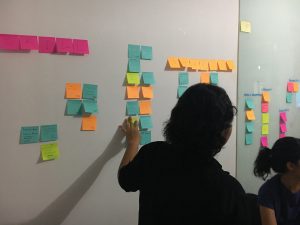 In order to explore what the grantees can offer to each other, we asked them to write on sticky-notes the skills or expertise they could share and what they want to learn. The responses were exciting, sowing the seeds of future connections through L&L. One grantee has expertise in designing research projects, which others have expressed a desire to learn more about. This same grantee however has only started to work with video production and storytelling to share their research findings. They want to know how they could breakdown ideas and recommendations to communicate to a wider audience. Fortunately, enough, another grantee has years of experience in storytelling and media production. Our debrief discussion centred around connecting the grantees with each other based on their strengths and what they are lacking. The activity attempted to embody the exploration step in L&L where their questions can be answered through an exploration within their immediate community.
Test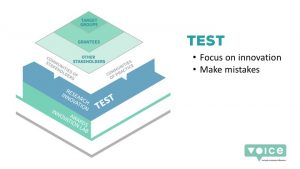 Once you have explored your question, the next step is to put what you learned in practice and TEST. You want to know if what you learned will work in your context. Does it apply to the target group you are working with? Is it the solution you are looking for? What needs to be modified in order to apply a new technique in your practice.
Focus is on testing innovations. Innovation can simply mean something that has not been tried in your context or a technique your organization has not tried before. It is rooted in reflections on what you and your organization has done before, followed by an exploration of what others have attempted. Testing an innovation is learning from the successes and failures of others and trying to do it differently. This is why failure and making mistakes is an essential component of L&L. Failure teaches us what does not work, pointing us to something else that could. Sharing mistakes prevents others from taking the exact same actions again with the exact same results.
Part of our upcoming plans is to have focused Innovate & Learn Grants based on specific learning questions grantees, stakeholders, and other community members are interested in. The grants will serve as the basis of innovation labs where organizations tackling the same questions can come together even if they are not Voice grantees. Everyone will be encouraged to form consortiums and collaborations when applying in order to have the broadest possible range of participants and variety of projects.
Bringing It All Together
When all 3 steps are brought together, they form a circular image representing L&L as a cyclical process. Testing an innovation requires evaluation and assessment, a period of reflection about the project. New questions will arise stemming from previously unidentified challenges. These will then be explored with the community to see if others are experiencing similar situations. Further iterations, adaptations, modifications, and innovations have to be tested again to see if they do lead to better outcomes. It goes on and on and on.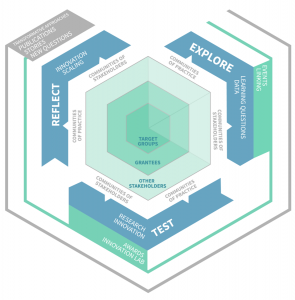 After the meeting, seeds of L&L have already started to bear fruit. As the International Day of Persons with Disabilities (IDPD) was approaching, one grantee asked if everyone could say a short message of support. Everyone took turns on video to share their vision of how persons with disabilities can participate in Indonesian society. What surprised us the most was what came a few days later. Without our knowledge, two grantees worked together on making another video for IDPD. They only shared the final product after it was completed. It was a heart warming moment, showing how L&L can work.
Grantees expressed excitement on what L&L could mean to them and in the future. Now, they are looking forward to meeting other colleagues outside of Jakarta during the upcoming annual L&L event. Crossing our fingers it will lead to even more connections and relationships within the Voice community.