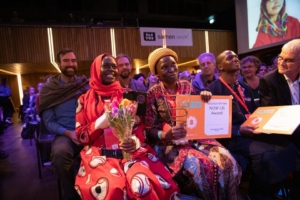 October 2019 is my special moment. I remember being on edge all day long. All staff alert and keenly following the best innovation for development and best humanitarian innovation presentations taking place in Amsterdam live on our Facebook page! Our Director, Ms Habiba Mohamed and fistula survivor, Nadhifa Jama, were presenting our Voices of Hope and Action- a fistula survivors movement project.
Emotions ran high as we waited for the scoring and final tabulations. Restless and nervous, my patience was wearing thin. A glance at my team calmed me down as they were proud and confidently following the presentation. The microphone thudded as the host took it from the stand, I jumped at the sound. It was time to announce the winner!
"Third place goes to…" I could hear my heart bit faster and louder as the first and second-placed winners took to the stage.
"And the Winner of the NoW-Us! Awards goes to… WADADIA!
I did not wait for the director to get to the stage. I jumped up and down as I thanked God. "We did it! We did it! We made it!"
The room was suddenly filled with ululations, dances and songs of praise as Ms Habiba and Nadhifa walked to the stage to accept the trophy. They bowed down in thanksgiving prayers to Allah and delivered an acceptance speech. Back in the office, everyone glowed with joy. Then it hit me. Someone was listening and our important work was getting recognition. This right here was the highlight of my magical moment.
Ours is a journey that started with sensitising fistula survivors, bringing them together, to put their voices on the table and be heard. When we heard about this opportunity on social media back then, we decided to apply and include the voices of fistula survivors, who have been marginalised for so long, to be part of the decision-making in matters affecting their sexual reproductive health rights and socio-economic development.
Winning this award was so crucial for us and meant that after so many years, Fistula survivors had not only found a voice but a strong bold voice.
Happy birthday Voice!